PENGARUH PELARUT POLAR TERHADAP AKTIVITAS ANTIOKSIDAN DAGING BUAH NAGA MERAH (HYLOCEREUS POLYRHIZUS) YANG DIEKSTRAKSI DENGAN METODE MICROWAVE ASSISTED EXTRACTION (MAE)
Keywords:
Antioksidan, Buah naga merah (Hylocereus polyrhizus), DPPH (2,2 diphenyl-1picrylhidrazyl), IC50
Abstract
Buah naga merah (Hylocereus polyrhizus) mempunyai kandungan senyawa bioaktif yang bermanfaat bagi tubuh seperti asam askorbat, antosianin, dan betakaroten, sertaserat pangan dalam bentuk pektin. Antosianin merupakan kelompok senyawa flavonoid dan memiliki aktivitas antioksidan. Pada penelitian ini akan dilakukan studi mengenai aktivitas antioksidan ekstrak pada daging buah naga merah yang diekstraksi menggunakan metode Microwave Assisted Extraction (MAE) dengan variasi pelarut, yaitu air, etanol 95%, campuran etanol 95%: air (4:1). Aktivitas antioksidan diuji dengan metode spektrofotometri menggunakan pereaksi DDPH (2,2 diphenyl-1-picrylhidrazyl). Pengujian aktivitas antioksidan dilakukan pada panjang gelombang maksimum (λmaks) 519 nm. Hasil pengujian aktivitas antioksidan dari daging buah naga yang diekstraksi dengan campuran etanol 95%:air (4:1) memberikan IC50 sebesar 104,025,33 ppm, lebih kecil dibandingkan dengan ekstrak etanol 95% sebesar 111,2511,05 ppm dan ekstrak air sebesar 134,800,20 ppm. Hal ini menunjukkan bahwa aktivitas antioksidan dari ekstrak etanol 96%:air lebih tinggi dibanding ekstrak etanol 95% maupun ekstrak air. Aktivitas antioksidan ini dapat menjadi dasar pemanfaatan daging buah naga merah sebagai antioksidan, terutama untuk sediaan pada kulit.
References
Aryani, T., & Mu'awanah, I. A. U. (2019). Aktivitas Antioksidan dan Kadar Vitamin C Daging Buah dan Sirup Buah Naga (Hylocereus costaricensis). Biomedika, 12(2), 149–157. https://doi.org/10.31001/biomedika.v12i2.592
Astika Winahyu, D., Candra Purnama, R., & Yevi Setiawati, M. (2019). Test of Antioxidant Activities in Red Dragon Fruit Extract (Hylocereus polyrhizus) Using DPPH. Jurnal Analis Farmasi, 4(2), 117–121.
Dida F.L, Lizma F., M. A. M. (2015). Analisis Senyawa Metabolit Sekunder Ekstrak Etanol dan Ekstrak Air Kulit Buah Naga Merah (Hylocereus polyrhizus). Seminar Nasional Kefarmasian Ke-2.
Ghasemzadeh, A., Jaafar, H. Z. E., Baghdadi, A., & Tayebi-Meigooni, A. (2018). Alpha-mangostin-rich extracts from mangosteen pericarp: Optimization of green extraction protocol and evaluation of biological activity. Molecules, 23(8), 1–16. https://doi.org/10.3390/molecules23081852
Ingrath, W., Nugroho, W. A., & Yulianingsih, R. (2015). Extraction of anthocyanin pigments from red dragon fruit peel (Hylocereus costaricensis) as a natural food dyes using microwave (Study heating time in the microwave and addition of solvent ratio of aquadestand citric acid). Jurnal Bioproses Komoditas Tropis, 3(3), 1–8.
Katrin, A. B. (2015). Aktivitas Antioksidan Ekstrak, Fraksi dan Golongan Senyawa Kimia Daun Premna oblongata Miq. Pharmaceutical Sciences and Research, 2(1), 21–31. https://doi.org/10.7454/psr.v2i1.3332
Kemit, N., Widarta, I. W. R., & Nocianitri, K. A. (2016). Pengaruh Jenis Pelarut dan Waktu Maserasi Terhadap Kandungan Senyawa Flavonoid dan Aktivitas Antioksidan Ekstrak Daun Alpukat ( Persea Americana Mill ). Jurnal Ilmu Teknologi Pangan, 5(2), 130–141.
Lidya Simanjuntak, Chairina Sinaga, & Fatimah. (2014). Ekstraksi Pigmen Antosianin dari Kulit Buah Naga Merah (Hylocereus polyrhizus). Jurnal Teknik Kimia USU, 3(2), 25–29. https://doi.org/10.32734/jtk.v3i2.1502
Mahargyani, W. (2018). Identifikasi Senyawa dan Uji aktivitas Antioksidan Ekstrak Etanol Kulit Buah Naga Merah (Hylocereus polyrhizus). Prosiding Pertemuan Ilmiah Nasional Penelitian & Pengabdian Masyarakat (PINLITAMAS 1), 1(1), 614–621.
Noviyanty, A., Salingkat, C. A., & Syamsiar, S. (2019). Pengaruh Jenis Pelarut terhadap Ekstraksi dari Kulit Buah Naga Merah (Hylocereus polyrhizus). KOVALEN: Jurnal Riset Kimia, 5(3), 271–279. https://doi.org/10.22487/kovalen.2019.v5.i3.14037
Sari, A. K., & Ayati, R. (2018). Penentuan Aktivitas Antioksidan Ekstrak Etanol Daun Jeruk Purut (Citrus hystrix D . C ) dengan Metode DPPH (1 ,1-diphenyl-2- picrylhydrazyl). Journal of Current Pharmaceutical Sciences, 1(2), 69–74.
Wathoni, N., Yuan Shan, C., Yi Shan, W., Rostinawati, T., Indradi, R. B., Pratiwi, R., & Muchtaridi, M. (2019). Characterization and antioxidant activity of pectin from Indonesian mangosteen (Garcinia mangostana L.) rind. Heliyon, 5(8). https://doi.org/10.1016/j.heliyon.2019.e02299
Widianingsih, M. (2016). Antioxidant Activity Extract Methanol of Red Dragon Fruit and Evaporation by Dry Air. 146–150.
Yasa, Q., Shiddiqi, A., Apriyani, R. F., Kusuma, D., & Karisma, A. D. (2021). Anthocyanin Extraction from The Pericarp of Red Pitaya (Hylocereus polyrhizus) Using Microwave Assisted Hydrodistillation (MAHD) Method. 05(200), 30–37.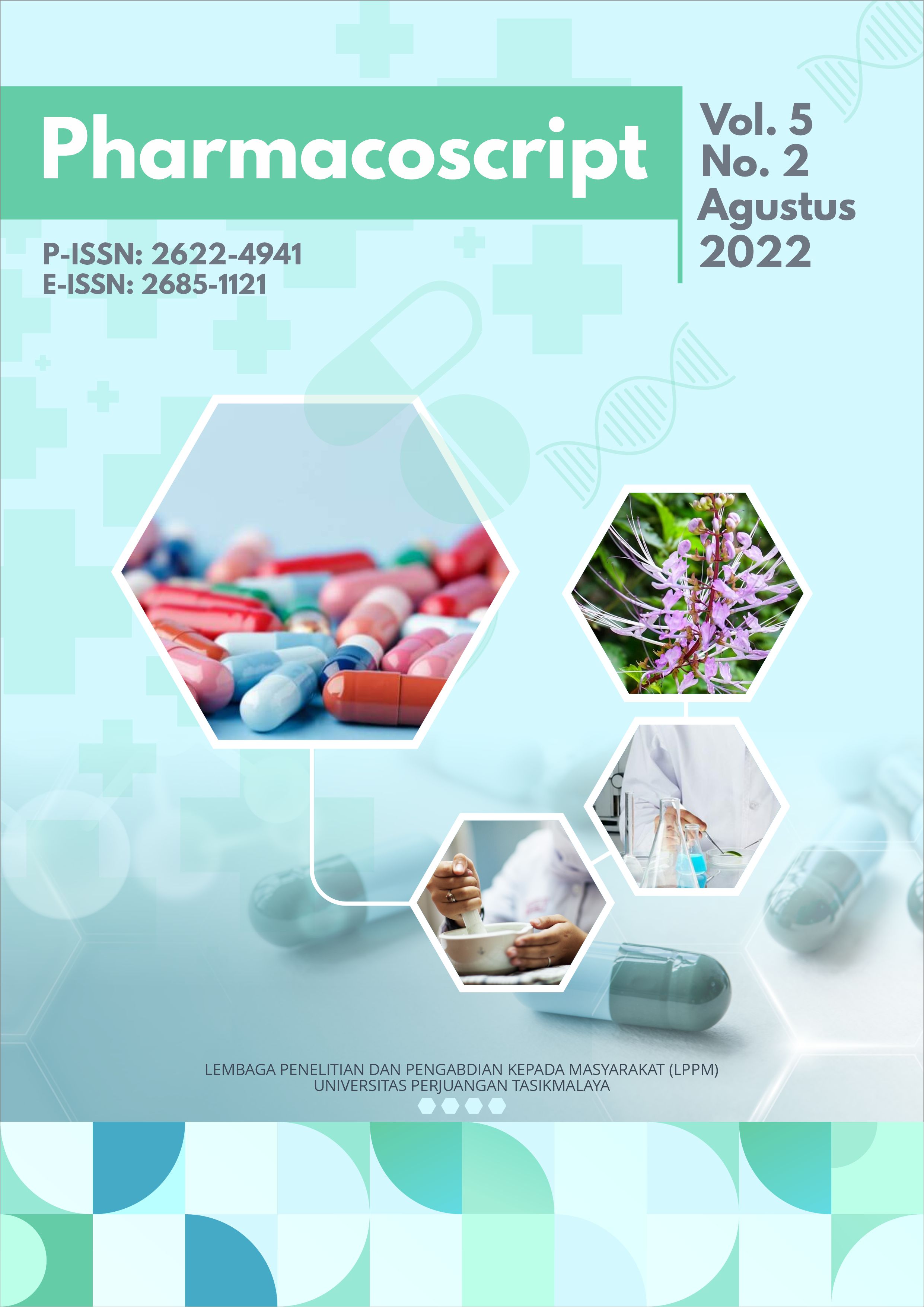 Downloads
License
Copyright (c) 2022 Ine Suharyani, Yuniarti Falya, Yulia Afidah, Rindiyani, Nisa Nurmaya
This work is licensed under a Creative Commons Attribution-ShareAlike 4.0 International License.
Authors who publish with this journal agree to the following terms:
Authors retain copyright and grant the journal right of first publication, with the work [SPECIFY PERIOD OF TIME] after publication simultaneously licensed under a Creative Commons Attribution License that allows others to share the work with an acknowledgement of the work's authorship and initial publication in this journal.
Authors are able to enter into separate, additional contractual arrangements for the non-exclusive distribution of the journal's published version of the work (e.g., post it to an institutional repository or publish it in a book), with an acknowledgement of its initial publication in this journal.
Authors are permitted and encouraged to post their work online (e.g., in institutional repositories or on their website) prior to and during the submission process, as it can lead to productive exchanges, as well as earlier and greater citation of published work (See The Effect of Open Access).