EFEK PEMBERIAN ANTIBIOTIK JANGKA PANJANG PADA ANXIETAS MENCIT (Mus musculus)
Keywords:
antibiotik, anxietas, mencit, floral normal, poros usus-otak
Abstract
Penggunaan antiobitik meningkat di masa pandemi Covid-19 terutama pada penanganan kasus-kasus dengan komorbid dan infeksi di Indonesia. Antibiotik dapat menurunkan jumlah kolonisasi flora normal (mikrobioma) dalam usus sehingga berdampak kepada poros usus-otak. Penelitian ini bertujuan menganalisis pengaruh antibiotik jangka panjang terhadap tingkat kecemasan pada mencit (Mus musculus). Metode penelitian ini menggunakan Quasi Experimental Research dengan desain pre-post test dengan kelompok kontrol. Bertindak sebagai objek penelitian, total 84 mencit digunakan pada penelitian ini yang terbagi menjadi kelompok eksperimen dan kontrol masing-masing sebanyak 42 mencit. Kelompok eksperimen diberikan antibiotik jenis Ciprofloxacin selama 12 hari. Kecemasan pada mencit diukur menggunakan The Successive Alleys Test. Data yang diperoleh dianalisis menggunakan Mann Whitney karena tidak berdistribusi normal. Hasil penelitian menunjukkan perbedaan kecemasan lebih tinggi pada kelompok eksperimen sangat signifikan (p=0.000). Kesimpulan penelitian ini adalah antibiotik jangka panjang meningkatkan kecemasan pada Mus musculus.  Dengan demikian pada penggunaan antibiotik jangka panjang perlu diwaspadai dampaknya terhadap poros usus-otak.  .
References
Adaninggar, A. (2017). Potensi pewarisan perilaku ansietas mirip autisme induk mencit (Mus musculus Linnaeus, 1758) GALUR BALB/c. Universitas Gadjah Mada.
Anggita, D., Nuraisyah, S., & Wiriansya, E. P. (2022). Mekanisme Kerja Antibiotik. UMI Medical Journal, 7(1), 46–58.
Amin, L. Z. (2014). HEPATIC ENCEPHALOPATHY. MEDICINUS, 27(3), 48–48.
Aprilia, I. (2013). Gambaran Terapi Dan Analisis Biaya Pasien Paru Obstruktif Kronik Rawat Inap Rsud Dr. Moewardi Di Surakarta Tahun 2010 - 2011. Universitas Muhammadiyah Surakarta Surakarta. Retrieved From Http://Eprints.Ums.Ac.Id/24257/15/Naskah_Publikasi.Pdf.
Asmarawati, T. P., Rosyid, A. N., Suryantoro, S. D., Mahdi, B. A., Windradi, C., Wulaningrum, P. A., Arifianto, M. V., Bramantono, B., Triyono, E. A., Rusli, M., Rachman, B. E., Marfiani, E., Endraswari, P. D., Hadi, U., Kuntaman, K., & Nasronudin, N. (2021). The clinical impact of bacterial co-infection among moderate, severe and critically ill COVID-19 patients in the second referral hospital in Surabaya. F1000Research, 10(May), 1–16. https://doi.org/10.12688/f1000research.31645.2
Bagheri, S., Heydari, A., Alinaghipour, A., & Salami, M. (2019). Effect of probiotic supplementation on seizure activity and cognitive performance in PTZ-induced chemical kindling. Epilepsy and Behavior, 95, 43–50. https://doi.org/10.1016/j.yebeh.2019.03.038
Bourgeois, T., Delezoide, A. L., Zhao, W., Guimiot, F., Adle-Biassette, H., Durand, E., Ringot, M., Gallego, J., Storme, T., Le Guellec, C., Kassaï, B., Turner, M. A., Jacqz-Aigrain, E., & Matrot, B. (2015). Safety study of Ciprofloxacin in newborn mice. Regulatory Toxicology and Pharmacology, 74(November), 161–169. https://doi.org/10.1016/j.yrtph.2015.11.002
Candra, G. (2021). Heboh Resep Obat Covid-19 Saat Isolasi Mandiri, Waspada! Cnbc Indonesia. https://www.cnbcindonesia.com/news/20210628065048-4-256345/heboh-resep-obat-covid-19-saat-isolasi-mandiri-waspada
Cerdó, T., Ruíz, A., Suárez, A., & Campoy, C. (2017). Probiotic, prebiotic, and brain development. Nutrients, 9(11), 1–19. https://doi.org/10.3390/nu9111247
Dwianto, A. R. (2021). Viral Resep Obat COVID-19 Saat Isolasi Mandiri, Ini Faktanya. Detik Health. https://health.detik.com/berita-detikhealth/d-5622300/viral-resep-obat-covid-19-saat-isolasi-mandiri-ini-faktanya
Dwika, D. A., Rokhmani, C. F., Kedokteran, F., Lampung, U., Ilmu, B., Jiwa, K., & Lampung, U. (2017). Gangguan Campuran Anxietas dan Depresi pada Wanita Usia 54 Tahun. Medula, 7(5), 75–78.
Febiana, T. (2012). Kajian rasionalitas penggunaan antibiotik di bangsal anak RSUP Dr. Kariadi Semarang periode Agustus-Desember 2011 Disusun. Universitas Diponegoro.
Foster, J. A., & McVey Neufeld, K. A. (2013). Gut-brain axis: How the microbiome influences anxiety and depression. Trends in Neurosciences, 36(5), 305–312. https://doi.org/10.1016/j.tins.2013.01.005
Hajma, L. P. A. (2017). Evaluasi Penggunaan Antibiotik Pada Penderita Diabetes Melitus Tipe 2 Dengan Komplikasi Ulkus/Gangren Di Instalasi Rawat Inap Rsud Dr Moewardi Surakarta. Universitas Muhammadiyah Surakarta.
Hemarajata, P., & Versalovic, J. (2013). Effects of probiotics on gut microbiota: Mechanisms of intestinal immunomodulation and neuromodulation. Therapeutic Advances in Gastroenterology, 6(1), 39–51. https://doi.org/10.1177/1756283X12459294
Lestari, T. Y. (2021). Antibiotik Ampuh Obati Infeksi Virus Corona? Ini Faktanya! Klikdokter. https://www.klikdokter.com/info-sehat/read/3646607/medfact-antibiotik-ampuh-obati-infeksi-virus-corona
Lyte, J. M., Proctor, A., Phillips, G. J., Lyte, M., & Wannemuehler, M. (2019). Altered Schaedler flora mice: A defined microbiota animal model to study the microbiota-gut-brain axis. Behavioural Brain Research, 356, 221–226. https://doi.org/10.1016/j.bbr.2018.08.022
Mahmudah, F., Sumiwi, S. A., & Hartini, S. (2016). Studi Penggunaan Antibiotik Berdasarkan ATC/DDD dan DU 90% di Bagian Bedah Digestif di Salah Satu Rumah Sakit di Bandung. Jurnal Farmasi Klinik Indonesia, 5(4), 293–298. https://doi.org/10.15416/ijcp.2016.5.4.293
Neufeld, K. M., Kang, N., Bienenstock, J., & Foster, J. A. (2011). Reduced anxiety-like behavior and central neurochemical change in germ-free mice. Neurogastroenterology and Motility, 23(3). https://doi.org/10.1111/j.1365-2982.2010.01620.x
Nisa, N. (2009). Efek hipnotik ekstrak valerian pada mencit BALB/C. Universitas Diponegoro.
Paluseri, A., Fajriansyah, Zulfahmidah, & Oktaviani1, R. (2021). Analisis efektivitas biaya penggunaan antibiotik levofloksasin dan azitromisin pada pasien penderita Corona Virus Disease. Jurnal Farmasi, XVII(1), 50–54.
Pramana, E., & Virdhani, M. H. (2021). Dokter Paru Ungkap Antibiotik Tak Tepat untuk Pasien Covid-19. JawaPos. https://www.jawapos.com/kesehatan/05/06/2021/dokter-paru-ungkap-antibiotik-tak-tepat-untuk-pasien-covid-19/
Rusdi, N. K. (2011). Gambaran Efek Samping Kombinasi Obat Dan Kesesuaian Dosis Pada Pasien Multiple Drug Resistance Tuberculosis (Tb Mdr) Di Rumah Sakit Umum Pusat Persahabatan Tahun 2010. Farmasains. Retrieved From Http://Farmasains.Uhamka.Ac.Id/Wp-Content/Uploads/2015/01/Farmasains-Uhamka- Vol-1-No-4-Numlil-Farmasains.Uhamka.Ac_.Id_.Pdf
Sarumpaet, D. R. (2013). Perbandingan Kepekaan Bakteri Pseudomonas Aeruginosa Rbandingan Kepekaan Bakteri Pseudomonas Aeruginosa Do Onas Ae Gi Os Terhadap Antibiotik Di Rumah Sakit Umum Pusat Haji Erhadap Antibiotik Di Rumah Sakit Umum Pusat Haji Adam Malik Medan Pada Tahun 2012. Universitas Sumatera Utara. Retrieved From Http://Weekly.Cnbnews.Com/News/Article.Html?No=124000
Stefani, A., Anggraini, S., & Oktofani, L. A. (2019). Probiotik Saccharomyces boulardii sebagai Pencegahan Infeksi Clostridium difficile Akibat Penggunaan Antibiotik Saccharomyces boulardii Probiotics as Prevention of Clostridium difficile Infection Due to the Use of Antibiotics. 2(1), 1–10.
Stock, A. D., Wen, J., & Putterman, C. (2013). Neuropsychiatric lupus, the blood brain barrier, and the TWEAK/Fn14 pathway. Frontiers in Immunology, 4(DEC), 1–9. https://doi.org/10.3389/fimmu.2013.00484
Sulianti, A., & Joneva, R. A. (2018). Aggressive behavior of rats induced by high testosterone diet. International journal of engineering sciences & research technology (IJESRT), 7(10), 38–43. http://www.ijesrt.com/issues pdf file/Archive-2018/October-2018/7.pdf
Sutejo, Budi Anna Keliat , Sutanto Priyo Hastono, N. H. (2011). Penurunan ansietas melalui logoterapi kelompok pada penduduk pasca-gempa di Kabupaten Klaten. Jurnal Keperawatan Indonesia, 14(2), 107–112.
Tanamal, M. A. (2016). Pengaruh stres dan nyeri terhadap resiko adiksi morfin pada hewan coba mencit (Mus musculus). Universitas Airlangga.
Vildayanti, H. Puspitasari, I. M., (2018). Farmakoterapi gangguan anxietas. Farmaka, 16(1), 222–230.
Wahyuti, E. (2016). Analisis praktik klinik keperawatan pada pasien pre-operasi dengan membaca dzikir asmaul-husna untuk menurunkan tingkat kecemasan di ruang instalasi gawat darurat RSUD Taman Husada Bontang [Sekolah Tinggi Ilmu Kesehatan Muhammadiyah Samarinda]. In IOSR Journal of Economics and Finance (Vol. 3, Issue 1). https://doi.org/https://doi.org/10.3929/ethz-b-000238666
Wallace, C. J. K., & Milev, R. (2017). The effects of probiotics on depressive symptoms in humans: A systematic review. Annals of General Psychiatry, 16(1), 1–10. https://doi.org/10.1186/s12991-017-0138-2
Westfall, S., Lomis, N., & Id, S. P. (2019). A novel synbiotic delays Alzheimer' s disease onset via combinatorial gut-brain-axis signaling in Drosophila melanogaster. 1–24.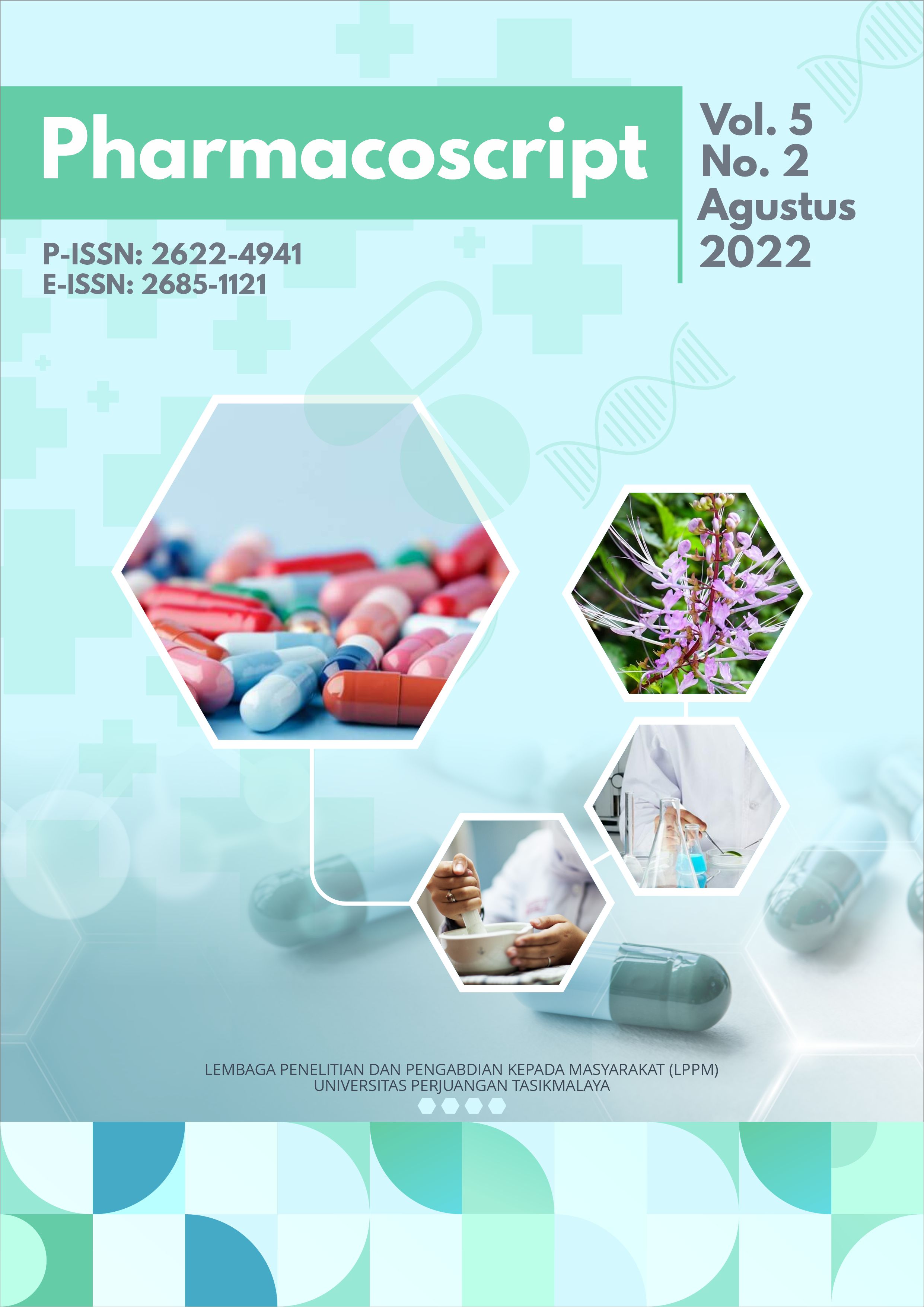 Downloads
License
Copyright (c) 2022 Ambar Sulianti, Dadang Sahroni, Endi, Devina Nurul Azizatunnisa, Syifa Rahma Tsania
This work is licensed under a Creative Commons Attribution-ShareAlike 4.0 International License.
Authors who publish with this journal agree to the following terms:
Authors retain copyright and grant the journal right of first publication, with the work [SPECIFY PERIOD OF TIME] after publication simultaneously licensed under a Creative Commons Attribution License that allows others to share the work with an acknowledgement of the work's authorship and initial publication in this journal.
Authors are able to enter into separate, additional contractual arrangements for the non-exclusive distribution of the journal's published version of the work (e.g., post it to an institutional repository or publish it in a book), with an acknowledgement of its initial publication in this journal.
Authors are permitted and encouraged to post their work online (e.g., in institutional repositories or on their website) prior to and during the submission process, as it can lead to productive exchanges, as well as earlier and greater citation of published work (See The Effect of Open Access).