TOKSISITAS AKUT DAN LETHAL DOSE (LD50) EKSTRAK BUAH WALAY (Meistera chinensis) ASAL SULAWESI TENGGARA TERHADAP MENCIT (Mus musculus)
Keywords:
Lethal dose, buah walay (Meistera chinensis), Sulawesi Tenggara, toksisitas
Abstract
Buah walay (Meistera chinensis) mengandung senyawa fenolat, flavonoid, steroid, terpenoid, alkaloid, dan saponin. Beberapa metabolit sekunder, termasuk triterpenoid dan flavonoid, memiliki potensi sebagai antioksidan, antibakteri dan toksisitas. Berdasarkan penelitian sebelumnya dengan menggunakan metode Brine Shrimp Lethality Test ekstrak buah Meistera chinensis memberikan efek sangat toksik dengan IC50 dari 5,02 ± 1,11 mg/mL. Penelitian ini bertujuan untuk mengetahui efek toksik yang ditimbulkan dari ekstrak buah walay ditinjau dari penentuan nilai LD50. Jenis penelitian ini adalah penelitian eksperimental. Penentuan kategori toksisitas berdasarkan Generally Recognized As Safe/GRAS dan perhitungan LD50 menggunakan Reed-Muench Penelitian menggunakan ekor mencit yang dibagi ke dalam 5 kelompok. Kelompok kontrol diberi Na-CMC 0,5 % dan kelompok perlakuan diberi ekstrak buah dengan dosis 50 mg/KgBB; 500 mg/KgBB; 5000 mg/KgBB dan 15.000 mg/KgB Rute pemberian yang digunakan adalah secara oral. Parameter yang diamati dalam penelitian ini adalah gejala toksik yang timbul dan nilai LD50 yang diperoleh berdasarkan perhitungan jumlah hewan uji yang mati. Hasil penelitian menunjukkan bahwa ekstrak buah walay  memberikan gejala toksik berupa penurunan aktivitas gerak, laju nafas cepat serta tremor dan nilai LD50 adalah 865,765 mg/KgBB (Toksisitas ringan). Berdasarkan hasil penelitian dapat disimpulkan bahwa ekstrak buah walay (Meistera chinensis) memiliki efek toksik ringan.
References
Al-Enazi, N. M. (2018). Phytochemical screening and biological activities of some species of alpinia and Convolvulus plants. International Journal of Pharmacology, 14(3), 301–309. https://doi.org/10.3923/ijp.2018.301.309
Bourhia, M., Lahmadi, A., Achtak, H., Touis, A., Elbrahmi, J., Ullah, R., Shahat, A. a., Mahmood, H. M., Aboudkhil, S., Benbacer, L., & Khlil, N. (2019). Phytochemical analysis and toxicity study of aristolochia paucinervis rhizomes decoction used in moroccan alternative medicine: Histopathological and biochemical profiles. Evidence-Based Complementary and Alternative Medicine, 2019. https://doi.org/10.1155/2019/1398404
BPOM RI. (2014). Peraturan Kepala Badan Pengawas Obat dan Makanan RI Nomor 7 Tahun 2014 Tentang Pedoman Uji Toksisitas Nonklinik Secara In Vivo. https://peraturanpedia.id/peraturan-badan-pengawas-obat-dan-makanan-nomor-7-tahun-2014/?quad_cc
Chan, E. W. C., Lim, Y. Y., & Wong, S. K. (2011). Phytochemistry and pharmacological properties of Etlingera elatior: A review. Pharmacognosy Journal, 3(22), 6–10. https://doi.org/10.5530/pj.2011.22.2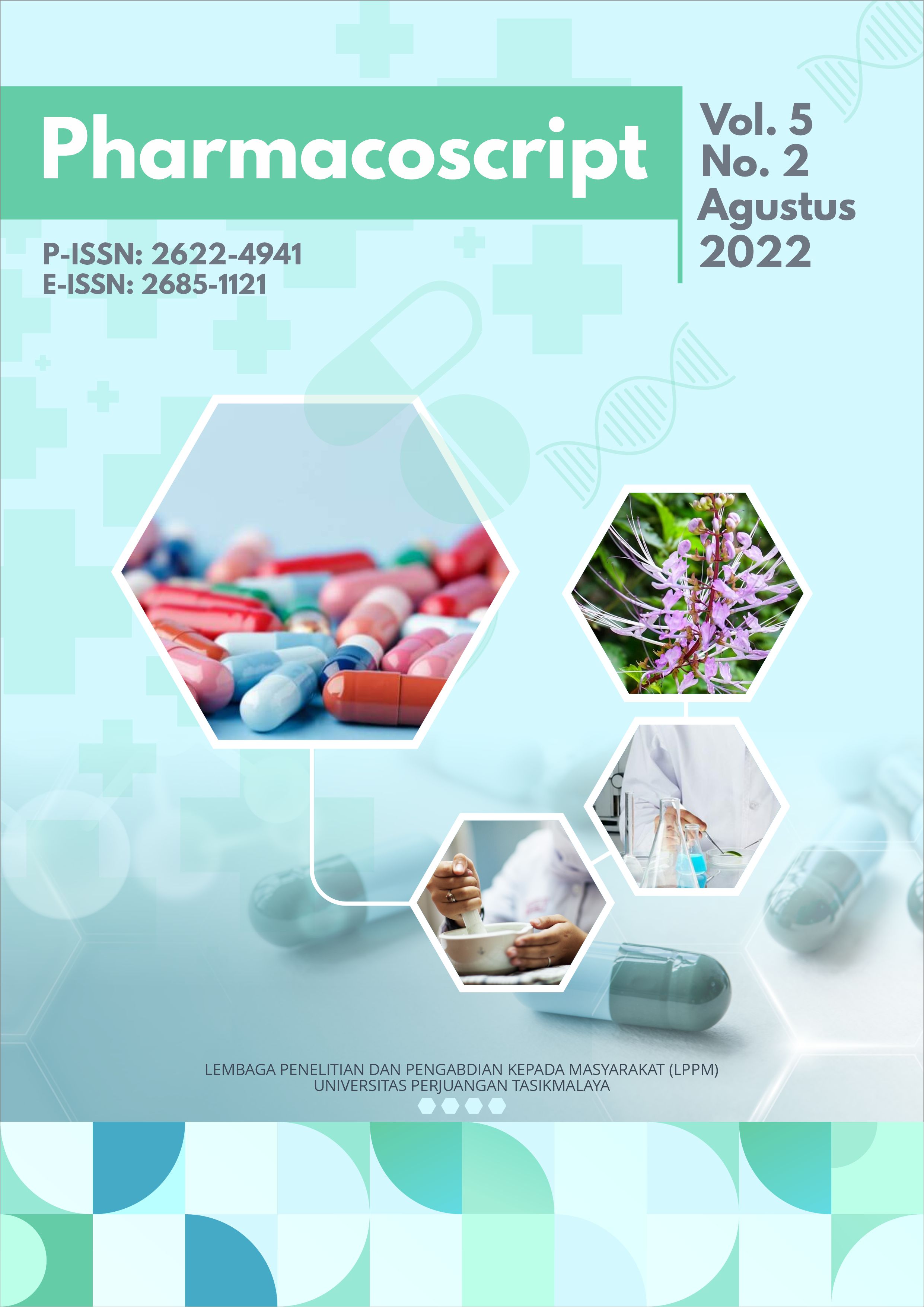 Downloads
License
Copyright (c) 2022 Musdalipah Musdalipah
This work is licensed under a Creative Commons Attribution-ShareAlike 4.0 International License.
Authors who publish with this journal agree to the following terms:
Authors retain copyright and grant the journal right of first publication, with the work [SPECIFY PERIOD OF TIME] after publication simultaneously licensed under a Creative Commons Attribution License that allows others to share the work with an acknowledgement of the work's authorship and initial publication in this journal.
Authors are able to enter into separate, additional contractual arrangements for the non-exclusive distribution of the journal's published version of the work (e.g., post it to an institutional repository or publish it in a book), with an acknowledgement of its initial publication in this journal.
Authors are permitted and encouraged to post their work online (e.g., in institutional repositories or on their website) prior to and during the submission process, as it can lead to productive exchanges, as well as earlier and greater citation of published work (See The Effect of Open Access).