AKTIVITAS AFRODISIAK EKSTRAK ETANOL UMBI TUMBUHAN BUNGKUS (Smilax rotundifolia L.) TERHADAP FERTILITAS TIKUS PUTIH JANTAN
Keywords:
afrodisiak, umbi (S.rotundifolia L.), fertilitas
Abstract
Beberapa negara, termasuk Indonesia, khususnya di wilayah Papua, memakai tanaman bungkus (Smilax rotundifolia) sebagai penambah seksual, namun belum ada penelitian lebih lanjut mengenai pengaruh aksi afrodisiaknya terhadap fertilitas pada tikus putih jantan. Tujuan dari penelitian ini adalah untuk menentukan metabolit sekunder yang terdapat pada umbi tanaman Smilax rotundifolia, untuk menentukan efek afrodisiak ekstrak umbi tanaman Smilax rotundifolia terhadap parameter fertilitas tikus putih jantan (Rattus norvegicus). Penelitian ini memakai 45 tikus putih yang terbagi dengan rasio 1: 2 (tikus betina;tikus jantan) kedalam kelompok perlakuan kontrol normal, kontrol positif dan kelompok ekstrak dosis 200 mg/kgBB. Hasil penelitian dianalisis memakai uji statistik SPSS menunjukkan bahwa ekstrak akar tanaman bungkus mengandung metabolit sekunder flavonoid, saponin dan antioksidan kuat. Pemberian ekstrak umbi bungkus (Smilax rotundifolia L.) dengan dosis 200 mg/kgBB menunjukan perbedaan nilai persentase indeks kehamilan dan pengaruh yang signifikan pada nilai indeks fertilitas.
References
Dasuki, M. S., Khaizil Emylia, Z., Noor Izani, N. J., & Mohsin, S. S. J. (2012). Evaluation of antioxidant and antiproliferative activities on methanolic extract of smilax myosotiflora tuber. International Medical Journal, 19(3), 188–192
Dutta, S., & Sengupta, P. (2018). Medicinal herbs in the management of male infertility. Journal of Pregnancy and Reproduction, 2(1), 1-6.
Firawati, & Pratama, M. I. (2018). Isolasi dan Identifikasi Senyawa Saponin umbi Bungkus (Smilax rotundifolia) Memakai Metode Spektrofotometri Ultraviolet. Jf Fik Uinam, 6(2), 115–121.
Hilmi, W. M., Norliza, A., & Sul, M. (2013). Aphrodisiac Properties of Methanolic Extract of Smilax myosotiflora Tubers in Male Rats. International Journal of Medical Sciences and Biotechnology, I(II), 41–50.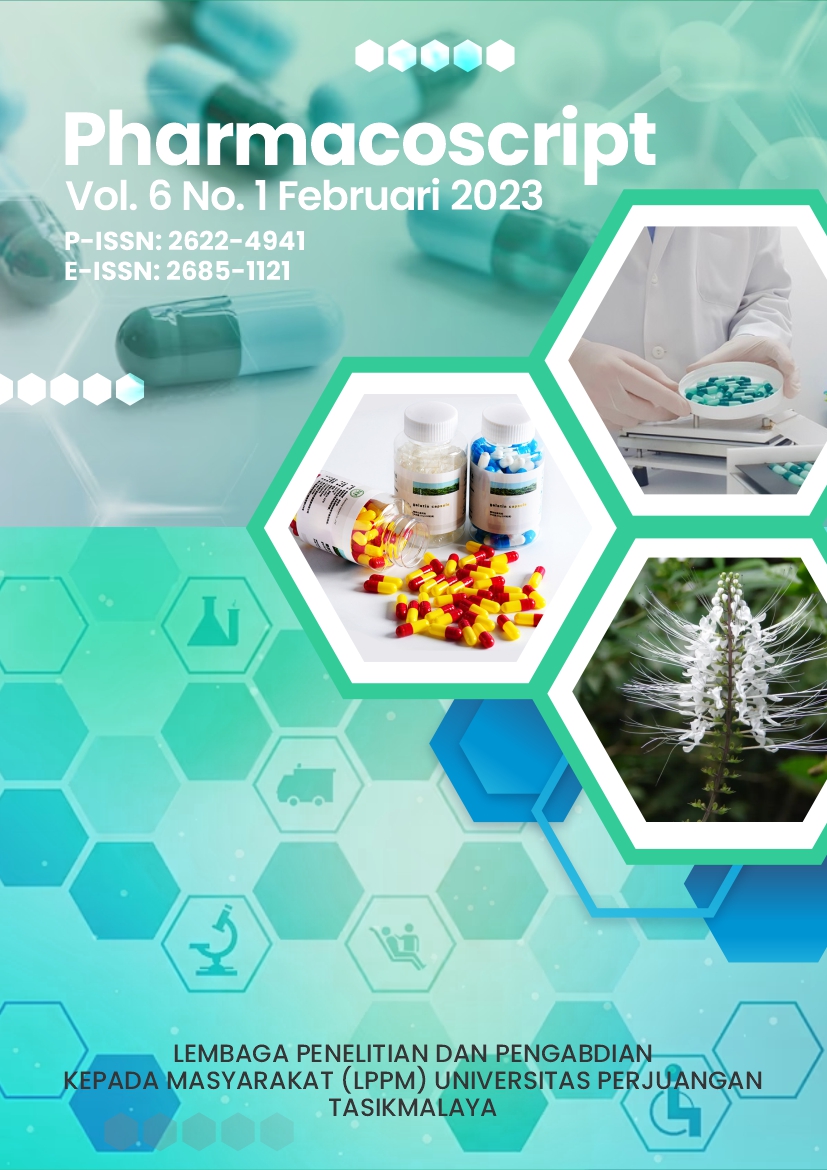 Downloads
License
Copyright (c) 2023 Ayu Wulandari
This work is licensed under a Creative Commons Attribution-ShareAlike 4.0 International License.
Authors who publish with this journal agree to the following terms:
Authors retain copyright and grant the journal right of first publication, with the work [SPECIFY PERIOD OF TIME] after publication simultaneously licensed under a Creative Commons Attribution License that allows others to share the work with an acknowledgement of the work's authorship and initial publication in this journal.
Authors are able to enter into separate, additional contractual arrangements for the non-exclusive distribution of the journal's published version of the work (e.g., post it to an institutional repository or publish it in a book), with an acknowledgement of its initial publication in this journal.
Authors are permitted and encouraged to post their work online (e.g., in institutional repositories or on their website) prior to and during the submission process, as it can lead to productive exchanges, as well as earlier and greater citation of published work (See The Effect of Open Access).