ANALISIS DRUG's RELATED PROBLEMS (DRP's) PADA PASIEN DENGAN KASUS CHRONIC KIDNEY DISEASE (CKD) DI RUANG RAWAT INAP RUMAH SAKIT BHAYANGKARA TK II SARTIKA ASIH KOTA BANDUNG
Keywords:
Chronic Kidney Disease (CKD), Drug's Related Problems (DRPs), Potensial, Pharmaceutical Care Network Europe (PCNE)
Abstract
Chronic kidney disease atau CKD adalah penurunan progresif fungsi ginjal (penurunan sejumlah fungsi nefron) yang terjadi lebih dari beberapa bulan sampai beberapa tahun. Masalah medis yang kompleks umumnya ditemui pada pasien dengan diagnosa CKD baik dengan komorbid atau tanpa komorbid, sehingga hal ini rentan menyebabkan timbulnya masalah-masalah yang berkaitan dengan obat yang dapat mempengaruhi hasil terapi. Tujuan dari penelitian ini adalah mengidentifikasi dan menilai kejadian masalah terkait obat potensial pada pasien CKD dengan atau tanpa penyakit komorbid. Penelitian yang dilakukan merupakan penelitian non-eksperimental deskriptif dengan rancangan cross sectional secara prospektif dengan melihat data rekam medik pasien selama periode Mei 2022-Juli 2022. Teknik pengambilan sampel dengan menggunakan metode non-probability sampling   yaitu total sampling, dengan jumlah sampel 76 pasien. Kriteria inklusi adalah pasien baru masuk rawat inap dengan diagnosis CKD, dan dengan atau tanpa penyakit komorbid, berusia diatas 18 tahun (pria/wanita), memiliki LFG < 60 mL mnt/ 1,73 m2. Sedangkan, kriteria eksklusi meliputi pasien dengan rekam medis tidak lengkap atau tidak terbaca. Klasifikasi Drug Related Problems (DRPs) menggunakan Pharmaceutical Care Network Europe (PCNE) versi 9.1. Hasil analisis DRPs potensial menunjukkan bahwa terdapat terdapat 4 kasus indikasi tidak diobati (5,26%), 70 kasus interaksi obat potensial (93,33%), 67 kasus polifarmasi (88,16%). Analisis bivariat menunjukkan bahwa diagnosis penyakit dan jumlah obat secara signifikan meningkatkan kejadian DRPs pada pasien (p <0,05). Analisis multivariat menggunakan regresi logistik menunjukkan bahwa variabel diagnosis penyakit dan jumlah obat terdapat perbedaan signifikan dalam peningkatan kejadian DRPs pada pasien (p <0,05), dengan hasil Odds Ratio (OR) variabel jumlah obat yaitu 2,618 artinya pasien dengan penyakit CKD yang mendapatkan jumlah obat banyak (polifarmasi) memiliki peluang resiko 2-3 kali terhadap terjadinya DRPs, begitupun pada hasil OR variabel jumlah diagnosa penyakit yaitu 2,382 artinya pasien dengan penyakit CKD yang mendapatkan multidiagnosa  memiliki peluang resiko 2 kali terhadap terjadinya DRPs.
References
Adibe, M. O., Ewelum, P. C., & Amorha, K. C. (2017). Evaluation of drug-drug interactions among patients with chronic kidney disease in a South-Eastern Nigeria tertiary hospital: a retrospective study. The Pan African Medical Journal, 28, 199. https://doi.org/10.11604/pamj.2017.28.199.13622
Aisara, S., Azmi, S., & Yanni, M. (2018). Gambaran Klinis Penderita Penyakit Ginjal Kronik yang Menjalani Hemodialisis di RSUP Dr. M. Djamil Padang. Jurnal Kesehatan Andalas, 7(1), 42. https://doi.org/10.25077/jka.v7i1.778
Amiri, M., Ramezani Tehrani, F., Rahmati, M., Amanollahi Soudmand, S., Behboudi-Gandevani, S., Sabet, Z., & Azizi, F. (2020). Low serum testosterone levels and the incidence of chronic kidney disease among male adults: A prospective population-based study. Andrology, 8(3), 575–582. https://doi.org/10.1111/andr.12728
Anggreni, N. P. R. (2021). Pelaksanaan Konseling Obat Oleh Apoteker Di Apotek Kabupaten Badung. Indonesian Journal of Legal and Forensic Sciences (IJLFS), 11(1), 10. https://doi.org/10.24843/ijlfs.2021.v11.i01.p02
Ariyanto, A., Hadisaputro, S., Lestariningsih, L., & Adi, M. S. (2018). Beberapa Faktor Risiko Kejadian Penyakit Ginjal Kronik (PGK) Stadium V pada Kelompok Usia Kurang dari 50 Tahun (Studi di RSUD dr.H.Soewondo Kendal dan RSUD dr.Adhyatma,MPH Semarang). Jurnal Epidemiologi Kesehatan Komunitas, 3(1), 1. https://doi.org/10.14710/jekk.v3i1.3099
Bowman, K. S., Suarez, V. D., & Weiss, M. J. (2021). Standards for Interprofessional Collaboration in the Treatment of Individuals With Autism. Behavior Analysis in Practice, 14(4), 1191–1208. https://doi.org/10.1007/s40617-021-00560-0
Coates, P. T., Devuyst, O., Wong, G., Okusa, M., Oliver, J., York, N., Pattaro, C., Peixoto, A., Haven, W., Perazella, M., Haven, N., Peti-peterdi, J., Angeles, L., Quaggin, S., Reeves, W. B., Antonio, S., Reich, H., Rhee, C., Ross, M., … Emmett, M. (2021). Supplement to Kidney International. Official Journal of The International Society of Nephrology, 99(3), 51–587.
Dahlke, S., Hunter, K. F., Reshef Kalogirou, M., Negrin, K., Fox, M., & Wagg, A. (2020). Perspectives about Interprofessional Collaboration and Patient-Centred Care. Canadian Journal on Aging = La Revue Canadienne Du Vieillissement, 39(3), 443–455. https://doi.org/10.1017/S0714980819000539
Di Iorio, B. R., Bellasi, A., Raphael, K. L., Santoro, D., Aucella, F., Garofano, L., Ceccarelli, M., Di Lullo, L., Capolongo, G., Di Iorio, M., Guastaferro, P., & Capasso, G. (2019). Treatment of metabolic acidosis with sodium bicarbonate delays progression of chronic kidney disease: the UBI Study. Journal of Nephrology, 32(6), 989–1001. https://doi.org/10.1007/s40620-019-00656-5
Diputra, A. A., Sari, I. P., & Aries Nurulita, N. (2020). Analisa Drug Related Problem (Drps) Pada Pasien Gagal Ginjal Kronik Stadium Akhir Yang Menjalani Hemodialisa Di Rsud 45 Kuningan. Analisa Drug Related … Journal of Pharmacopolium, 3(3), 107–120.
Fu, Y. C., Xu, Z. L., Zhao, M. Y., & Xu, K. (2022). The Association Between Smoking and Renal Function in People Over 20 Years Old. Frontiers in Medicine, 9(June), 1–10. https://doi.org/10.3389/fmed.2022.870278
Kaufmann, C. P., Stämpfli, D., Hersberger, K. E., & Lampert, M. L. (2015). Determination of risk factors for drug-related problems: A multidisciplinary triangulation process. BMJ Open, 5(3), 1–7. https://doi.org/10.1136/bmjopen-2014-006376
Kementerian kesehatan Republik Indonesia. Situasi penyakit ginjal. Pusat data dan informasi kementerian kesehatan Republik Indonesia. Jakarta. 2018
Kimura, H., Tanaka, K., Saito, H., Iwasaki, T., Oda, A., Watanabe, S., Kanno, M., Shimabukuro, M., Asahi, K., Watanabe, T., & Kazama, J. J. (2021). Association of Polypharmacy with Kidney Disease Progression in Adults with CKD. Clinical Journal of the American Society of Nephrology : CJASN, 16(12), 1797–1804. https://doi.org/10.2215/CJN.03940321
Morton, R. L., Schlackow, I., Staplin, N., Gray, A., Cass, A., Haynes, R., Emberson, J., Herrington, W., Landray, M. J., Baigent, C., & Mihaylova, B. (2016). Impact of Educational Attainment on Health Outcomes in Moderate to Severe CKD. American Journal of Kidney Diseases : The Official Journal of the National Kidney Foundation, 67(1), 31–39. https://doi.org/10.1053/j.ajkd.2015.07.021
Neugarten, J., & Golestaneh, L. (2013). Gender and the prevalence and progression of renal disease. Advances in Chronic Kidney Disease, 20(5), 390–395. https://doi.org/10.1053/j.ackd.2013.05.004
Pasangka, I. T., Tjitrosantoso, H., & Lolo, A. (2017). Identifikasi Potensi Interaksi Obat Pada Pasien Gagal Ginjal. Ilmiah Farmasi, 6(4), 119–129.
Pernefri. (2016). 9th Report of Indonesian Renal Registry. Perkumpulan Nefrologi Indonesia, 1–46. https://www.indonesianrenalregistry.org/data/INDONESIAN RENAL REGISTRY 2016.pdf
Pharmaceutical care network Europe foundation (PCNE) V.9,1 2020, Classification for Drug Related Problems, Pharmaceutical Care Network European Foundation, Zuidlaren.
Ramdani, R., Skarayadi, O., Indrawati, W., Hermanto, F., & Wahyuni, E. (2022). Potensi Interaksi Obat Antihipertensi Pada Pasien Geriatri Rawat Inap Di Salah Satu Rumah Sakit Kota Bandung. Pharmacoscript, 5(1), 71–92.
Ravani, P., Quinn, R., Fiocco, M., Liu, P., Al-Wahsh, H., Lam, N., Hemmelgarn, B. R., Manns, B. J., James, M. T., Joanette, Y., & Tonelli, M. (2020). Association of Age With Risk of Kidney Failure in Adults With Stage IV Chronic Kidney Disease in Canada. JAMA Network Open, 3(9), e2017150. https://doi.org/10.1001/jamanetworkopen.2020.17150
Romejko, K., Rymarz, A., Sadownik, H., & Niemczyk, S. (2022). Testosterone Deficiency as One of the Major Endocrine Disorders in Chronic Kidney Disease. Nutrients, 14(16). https://doi.org/10.3390/nu14163438
Schmidt, I. M., Hübner, S., Nadal, J., Titze, S., Schmid, M., Bärthlein, B., Schlieper, G., Dienemann, T., Schultheiss, U. T., Meiselbach, H., Köttgen, A., Flöge, J., Busch, M., Kreutz, R., Kielstein, J. T., & Eckardt, K.-U. (2019). Patterns of medication use and the burden of polypharmacy in patients with chronic kidney disease: the German Chronic Kidney Disease study. Clinical Kidney Journal, 12(5), 663–672. https://doi.org/10.1093/ckj/sfz046
Sinjal, J., Wiyono, W., & Mpila, D. (2018). IDENTIFIKASI DRUG RELATED PROBLEMS (DRPs) PADA PASIEN CONGESTIVE HEART FAILURE (CHF) DI INSTALASI RAWAT INAP RSUP PROF. DR. R. D. KANDOU MANADO. PHARMACONJurnal Ilmiah Farmasi-UNSRAT, 7(4), 119.
Sponholtz, T. R., Sandler, D. P., Parks, C. G., & Applebaum, K. M. (2016). Occupational exposures and chronic kidney disease: Possible associations with endotoxin and ultrafine particles. American Journal of Industrial Medicine, 59(1), 1–11. https://doi.org/10.1002/ajim.22541
St. Peter, W. (2010). Improving Medication Safety in Chronic Kidney Disease Patients on Dialysis Through Medication Reconciliation. Advances in Chronic Kidney Disease, 17, 413–419. https://doi.org/10.1053/j.ackd.2010.06.001
Stauffer, M. E., & Fan, T. (2014). Prevalence of anemia in chronic kidney disease in the United States. PLoS ONE, 9(1), 2–5. https://doi.org/10.1371/journal.pone.0084943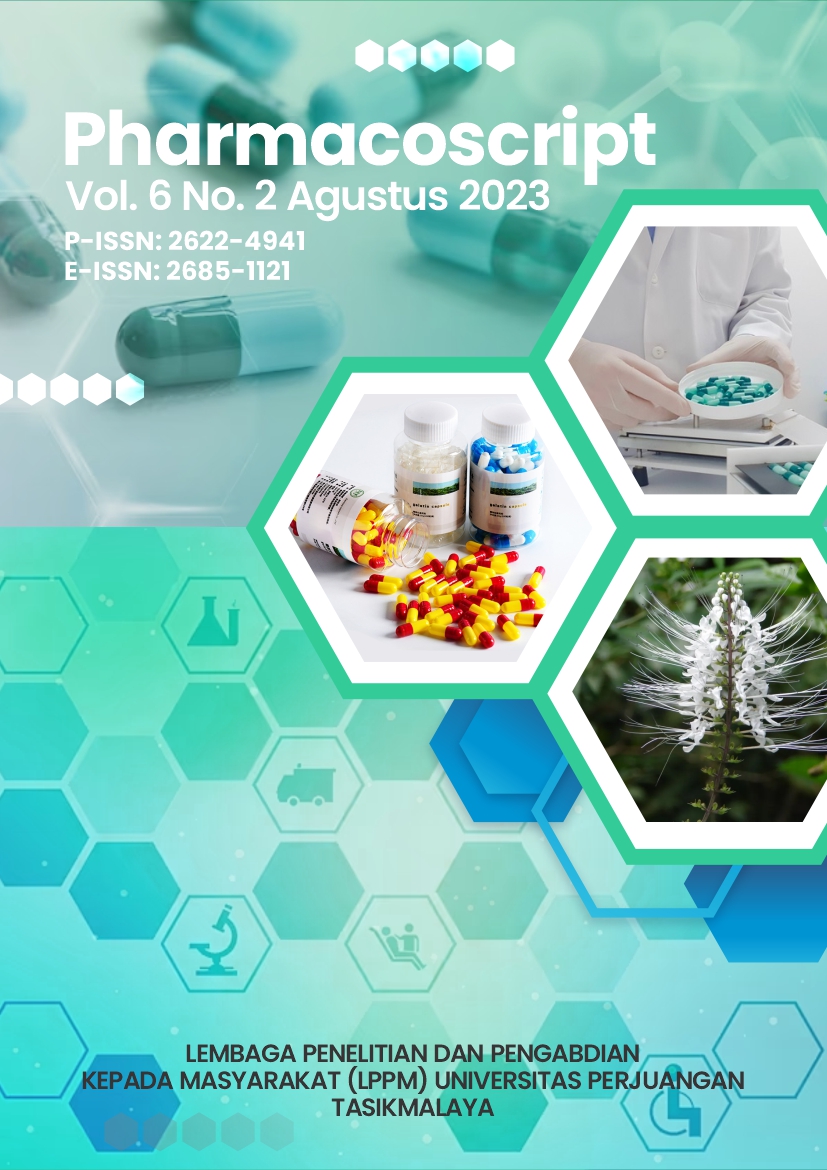 Downloads
License
Copyright (c) 2023 Setiadi Anggi, Prasanti Rani Wahyoe, Wikaningtyas Pratiwi
This work is licensed under a Creative Commons Attribution-ShareAlike 4.0 International License.
Authors who publish with this journal agree to the following terms:
Authors retain copyright and grant the journal right of first publication, with the work [SPECIFY PERIOD OF TIME] after publication simultaneously licensed under a Creative Commons Attribution License that allows others to share the work with an acknowledgement of the work's authorship and initial publication in this journal.
Authors are able to enter into separate, additional contractual arrangements for the non-exclusive distribution of the journal's published version of the work (e.g., post it to an institutional repository or publish it in a book), with an acknowledgement of its initial publication in this journal.
Authors are permitted and encouraged to post their work online (e.g., in institutional repositories or on their website) prior to and during the submission process, as it can lead to productive exchanges, as well as earlier and greater citation of published work (See The Effect of Open Access).