ANALISIS EFEKTIVITAS BIAYA TERAPI ANTIDIABETES PASIEN NEFROPATI DIABETES DI RUMAH SAKIT UMUM PUSAT (RSUP) FATMAWATI
Keywords:
Analisis Efektivitas Biaya, Nefropati Diabetik, Antidiabetika Oral
Abstract
Diabetes Mellitus (DM) merupakan gangguan kesehatan yang menjadi salah satu penyebab kondisi darurat kesehatan global dengan progresitas penyakit yang sangat cepat di abad 21. Prevalensi diabetes melitus diprediksi akan terus meningkat setiap tahunnya, hingga mencapai 643 juta orang pada tahun 2030. Kondisi DM akan memunculkan sebuah risiko komplikasi baik komplikasi mikrovaskular ataupun makrovaskular, serta akan berdampak pada besaran biaya yang diperlukan untuk sebuah proses terapi medis yang berkelanjutan. Pertimbangan kondisi komplikasi pasien, efektivitas, risiko efek samping, dan harga obat akan sangat menentukan pilihan terapi dan keberhasilan proses terapi pasien. Tujuan dari penelitian ini adalah menentukan terapi antidiabetika yang lebih cost effective untuk pasien nefropati diabetik. Penelitian ini merupakan penelitian deskriptif non eksperimental dengan menggunakan data rekam medis pasien rawat jalan di Rumah Sakit Umum Pusat Fatmawati dalam jangka waktu 1 (satu) tahun. Berdasarkan perhitungan secara ACER penggunaan Glimepiride lebih cost effective, namun secara ICER penggunaan Gliquidone lebih cost effective dibandingkan dengan pilihan terapi yang lain.
References
Andayani, TM. (2013). Farmakoekonomi : Prinsip dan Metodologi. Bursa Ilmu. Yogyakarta.
Campesi I, Franconi F, Seghieri G, Meloni M. (2017). Sex-gender-related therapeutic approaches for cardiovascular complications associated with diabetes. Pharmacol Res. 2017 May;119:195-207. Doi: 10.1016/j.phrs.2017.01.023. Epub 2017 Feb 9. PMID: 28189784.
Ciarambino, T.; Crispino, P.; Leto, G.; Mastrolorenzo, E.; Para, O.; Giordano, M. (2022). Influence of Gender in Diabetes Mellitus and Its Complication. Int. J. Mol. Sci. 2022, 23, 8850. https://doi.org/10.3390/ ijms23168850
Giunti S, Barit D, Cooper ME. (2006). Mechanisms of Diabetic Nephropathy: Role of Hypertension. AHA/ASA Journal; 48:519-26. https://doi.org/10.1161/01.HYP.0000240331.32352.0c
International Diabetes Federation. (2021). IDF Diabetes Atlas 10th Edition. The International Diabetes Federation. www.diabetesatlas.org.
Kementerian Kesehatan Republik Indonesia. (2012). Pedoman Penerapan Kajian Farmakoekonomi. Direktorat Jenderal Bina Kefarmasian dan Alat Kesehatan. Kementerian Kesehatan Republik Indonesia.
Kementerian Kesehatan Republik Indonesia. (2020). Tetap Produktif, Cegah dan Atasi Diabetes Melitus. Pusat Data dan Informasi Kementerian Kesehatan Republik Indonesia Jakarta.
Kementerian Kesehatan Republik Indonesia. (2017). Laporan Kinerja Pusat Pembiayaan dan Jaminan Kesehatan Tahun 2017. Pusat Pembiayaan dan Jaminan Kesehatan Sekretariat Jenderal Kementerian Kesehatan RI.
Malaisse WJ. (2006). Gliquidone Contributes to Improvement of Type 2 Diabetes Mellitus Management: A Review of Pharmacokinetic and Clinical Trial Data. Drugs R D. 2006;7(6):331-7. doi: 10.2165/00126839-200607060-00002. PMID: 17073516.
Naser Abdallah Y., et. al. (2021). Prevalence of Chronic Kidney Diseases in Patients with Diabetes Mellitus in the Middle East: A Systematic Review and Meta-Analysis. Hindawi International Journal of Endocrinology Volume 2021, Article ID 4572743, 9 pages https://doi.org/10.1155/2021/4572743
Perkumpulan Endokrinologi Indonesia. (2021). Pedoman Pengelolaan dan Pencegahan Diabetes Melitus Tipe 2 Dewasa di Indonesia. PB Perkeni. Jakarta. https://pbperkeni.or.id/unduhan
Ramadan, Indy N.A., (2020). Analisis Biaya Antidiabetik Kombinasi Pada Pasien Diabetes Mellitus Rawat Inap Jaminan Kesehatan Nasional (JKN) di Rumah Sakit PKU Muhammadiyah Yogyakarta. (Skripsi Sarjana, Universitas Islam Indonesia).
http://dspace.uii.ac.id/123456789/23840
Ritz E, Haxsen V. (2005). Diabetic nephropathy and anaemia. Eur J Clin Invest. Dec;35 Suppl 3:66-74. doi: 10.1111/j.1365-2362.2005.01544.x. PMID: 16281961..Blackwell
Roy S, et. al. (2021). Risk Factors and Comorbidities Associated with Diabetic Kidney Disease. J Prim Care Community Health. Jan-Dec;12:21501327211048556. doi: 10.1177/21501327211048556. PMID: 34634970; PMCID: PMC8516382.
Spallone V,. et.al. (2004). Does Autonomic Neuropathy Play a Role in Erythropoietin Regulation in Non-Proteinuric Type 2 diabetic patients? Diabet Med. 2004 Nov;21(11):1174-80. doi: 10.1111/j.1464-5491.2004.01306.x. PMID: 15498082.
Van Buren PN, Toto R. (2011). Hypertension in Diabetic Nephropathy: Epidemiology, Mechanisms, and Management. Adv Chronic Kidney Dis. 2011 Jan;18(1):28-41. doi: 10.1053/j.ackd.2010.10.003. PMID: 21224028; PMCID: PMC3221014.
World Health Organization. (2020). Diagnosis and management of type 2 diabetes (HEARTS-D). Geneva. (WHO/UCN/NCD/20.1). Licence: CC BY-NC-SA 3.0 IGO.
Wuryandari, Hikmah. (2021). Analisis Efektivitas Biaya Terapi Antidiabetes Oral Kombinasi Pada Pasien Diabetes Melitus Tipe 2 di RSUD Kota Madiun Tahun 2020. (Skripsi Sarjana, Stikes Bhakti Husada Mulia Madiun). http://repository.stikes-bhm.ac.id/id/eprint/1105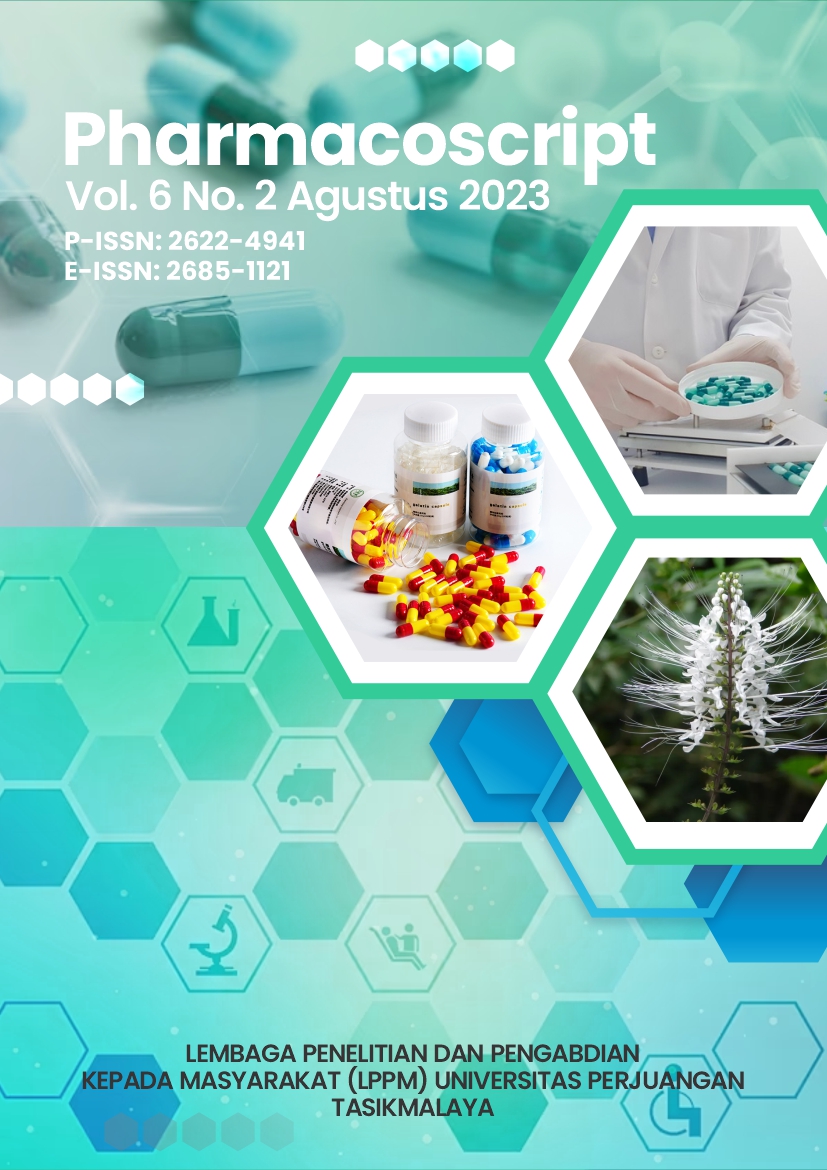 Downloads
License
Copyright (c) 2023 Kusuma Ema Nillafita Putri
This work is licensed under a Creative Commons Attribution-ShareAlike 4.0 International License.
Authors who publish with this journal agree to the following terms:
Authors retain copyright and grant the journal right of first publication, with the work [SPECIFY PERIOD OF TIME] after publication simultaneously licensed under a Creative Commons Attribution License that allows others to share the work with an acknowledgement of the work's authorship and initial publication in this journal.
Authors are able to enter into separate, additional contractual arrangements for the non-exclusive distribution of the journal's published version of the work (e.g., post it to an institutional repository or publish it in a book), with an acknowledgement of its initial publication in this journal.
Authors are permitted and encouraged to post their work online (e.g., in institutional repositories or on their website) prior to and during the submission process, as it can lead to productive exchanges, as well as earlier and greater citation of published work (See The Effect of Open Access).