FAKTOR RISIKO INFEKSI SEKUNDER BAKTERI DAN POLA SENSITIVITAS ANTIBIOTIK PADA PASIEN COVID-19 DI RUANG INTENSIF SALAH SATU RUMAH SAKIT TIPE A DI BANDUNG
Keywords:
infeksi sekunder, bakteri, COVID-19, faktor risiko, antibiotik, pola sensitivitas
Abstract
Pasien COVID-19 dapat mengalami infeksi sekunder selama perawatan di rumah sakit. Infeksi virus pada saluran pernafasan dapat menjadi predisposisi infeksi sekunder bakteri yang dapat meningkatkan morbiditas dan mortalitas. Beberapa penelitian melaporkan adanya infeksi sekunder pada pasien COVID-19 dengan prevalensi yang bervariasi. Tujuan penelitian ini yaitu untuk memberikan gambaran kejadian infeksi sekunder, menganalisis faktor risiko yang berkaitan dengan kejadian infeksi sekunder, dan mengidentifikasi bakteri serta pola kepekaannya terhadap antibiotik pada pasien COVID-19 di Intensive Care Unit (ICU). Penelitian ini merupakan dekskriptif analitik dengan metode cross sectional menggunakan data retrospektif di salah satu rumah sakit tipe A di Bandung pada periode Maret 2020-Februari 2022. Sebanyak 302 subjek yang memenuhi kriteria inklusi. Hasil penelitian menunjukkan 38,41% subjek mengalami infeksi sekunder bakteri. Bakteri Gram negatif yang paling banyak diidentifikasi pada sputum yaitu Acinetobacter baumannii (56,03%), Klebsiella pneumoniae (38,79%), dan Pseudomonas aeruginosa (9,48%). Sedangkan bakteri Gram positif yang diidentifikasi yaitu Staphylococcus haemolyticus (11,21%), Staphylococcus hominis (3,45%), dan Streptococcus mitis (2,59%). Antibiotik dengan sensitivitas tertinggi terhadap bakteri Gram negatif pada subjek yaitu amikasin dan tigesiklin. Sedangkan terhadap bakteri Gram positif pada subjek yaitu vankomisin, linezolid, tetrasiklin dan tigesiklin. Infeksi sekunder bakteri pada penelitian ini paling banyak disebabkan oleh bakteri Gram negatif. Infeksi sekunder bakteri berhubungan dengan riwayat penggunaan antibiotik, riwayat hospitalisasi, penggunaan ventilator dan penyakit diabetes melitus. Pola sensitivitas antibiotik dapat menjadi pedoman dalam memilih antibiotik yang sesuai untuk infeksi sekunder bakteri pada pasien COVID-19.
References
Alshrefy, A. J., Alwohaibi, R. N., Alhazzaa, S. A., Almaimoni, R. A., Almusailet, L. I., Alqahtani, S. Y., & Alshahrani, M. S. (2022). Incidence of Bacterial and Fungal Secondary Infections in COVID-19 Patients Admitted to the ICU. International Journal of General Medicine, 15, 7475–7485. https://doi.org/10.2147/IJGM.S382687
Bardi, T., Pintado, V., Gomez-Rojo, M., Escudero-Sanchez, R., Azzam Lopez, A., Diez-Remesal, Y., Castro, N. M., Ruiz-Garbajosa, P., & Pestaña, D. (2021). Nosocomial infections associated to COVID-19 in the intensive care unit: clinical characteristics and outcome. Eur J Clin Microbiol Infect Dis, 40(3), 495–502. https://doi.org/10.1007/s10096-020-04142-w/Published
Baskaran, V., Lawrence, H., Lansbury, L. E., Webb, K., Safavi, S., Zainuddin, N. I., Huq, T., Eggleston, C., Ellis, J., Thakker, C., Charles, B., Boyd, S., Williams, T., Phillips, C., Redmore, E., Platt, S., Hamilton, E., Barr, A., Venyo, L., … Lim, W. S. (2021). Co-infection in critically ill patients with COVID-19: An observational cohort study from England. Journal of Medical Microbiology, 70(4). https://doi.org/10.1099/JMM.0.001350
Bazaid, A. S., Barnawi, H., Qanash, H., Alsaif, G., Aldarhami, A., Gattan, H., Alharbi, B., Alrashidi, A., Al-Soud, W. A., Moussa, S., & Alfouzan, F. (2022). Bacterial Coinfection and Antibiotic Resistance Profiles among Hospitalised COVID-19 Patients. Microorganisms, 10(3). https://doi.org/10.3390/microorganisms10030495
Cataldo, M. A., Tetaj, N., Selleri, M., Marchioni, L., Capone, A., Caraffa, E., Caro, A. Di, & Petrosillo, N. (2020). Incidence of bacterial and fungal bloodstream infections in COVID-19 patients in intensive care: An alarming "collateral effect." Journal of Global Antimicrobial Resistance, 23, 290–291. https://doi.org/10.1016/j.jgar.2020.10.004
De Bruyn, A., Verellen, S., Bruckers, L., Geebelen, L., Callebaut, I., De Pauw, I., Stessel, B., & Dubois, J. (2022). Secondary infection in COVID-19 critically ill patients: a retrospective single-center evaluation. BMC Infectious Diseases, 22(1). https://doi.org/10.1186/s12879-022-07192-x
De Santis, V., Corona, A., Vitale, D., Nencini, C., Potalivo, A., Prete, A., Zani, G., Malfatto, A., Tritapepe, L., Taddei, S., Locatelli, A., Sambri, V., Fusari, M., & Singer, M. (2022). Bacterial infections in critically ill patients with SARS-2-COVID-19 infection: results of a prospective observational multicenter study. Infection, 50(1), 139–148. https://doi.org/10.1007/s15010-021-01661-2
Feldman, C., & Anderson, R. (2021). The role of co-infections and secondary infections in patients with COVID-19. Pneumonia, 13(1). https://doi.org/10.1186/s41479-021-00083-w
Garcia-Vidal, C., Sanjuan, G., Moreno-García, E., Puerta-Alcalde, P., Garcia-Pouton, N., Chumbita, M., Fernandez-Pittol, M., Pitart, C., Inciarte, A., Bodro, M., Morata, L., Ambrosioni, J., Grafia, I., Meira, F., Macaya, I., Cardozo, C., Casals, C., Tellez, A., Castro, P., … Torres, A. (2021). Incidence of co-infections and superinfections in hospitalized patients with COVID-19: a retrospective cohort study. Clinical Microbiology and Infection, 27(1), 83–88. https://doi.org/10.1016/j.cmi.2020.07.041
Ibrahim, S., Al-Saryi, N., Al-Kadmy, I. M. S., & Aziz, S. N. (2021). Multidrug-resistant Acinetobacter baumannii as an emerging concern in hospitals. In Molecular Biology Reports (Vol. 48, Issue 10, pp. 6987–6998). Springer Science and Business Media B.V. https://doi.org/10.1007/s11033-021-06690-6
Karaca, B., Aksun, M., Karahan, N. A., Girgin, S., Ormen, B., Tuzen, A. S., Demirdal, T., & Sencan, A. (2023). Are bacterial coinfections really rare in COVID-19 intensive care units? European Journal of Medical Research, 28(1). https://doi.org/10.1186/s40001-023-01004-x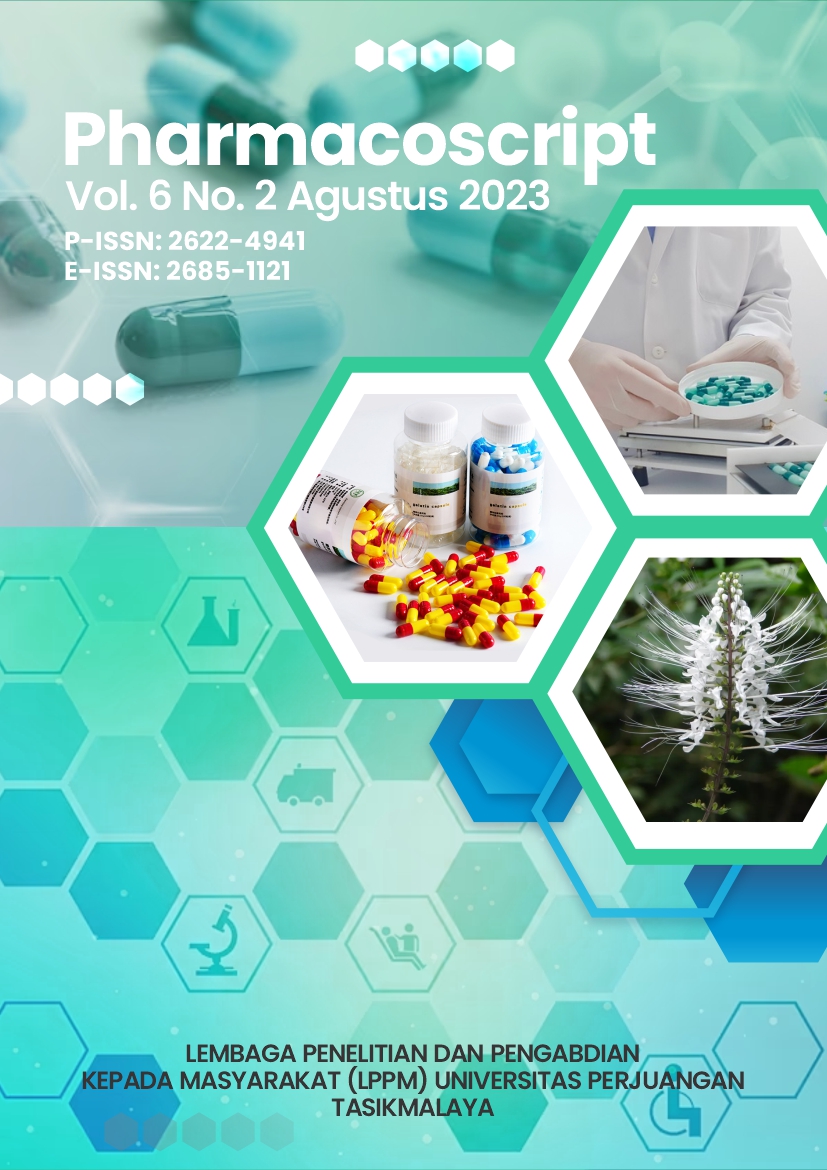 Downloads
License
Copyright (c) 2023 Rejeki Tri Ratna, Amalia Lia, Sumardi Uun
This work is licensed under a Creative Commons Attribution-ShareAlike 4.0 International License.
Authors who publish with this journal agree to the following terms:
Authors retain copyright and grant the journal right of first publication, with the work [SPECIFY PERIOD OF TIME] after publication simultaneously licensed under a Creative Commons Attribution License that allows others to share the work with an acknowledgement of the work's authorship and initial publication in this journal.
Authors are able to enter into separate, additional contractual arrangements for the non-exclusive distribution of the journal's published version of the work (e.g., post it to an institutional repository or publish it in a book), with an acknowledgement of its initial publication in this journal.
Authors are permitted and encouraged to post their work online (e.g., in institutional repositories or on their website) prior to and during the submission process, as it can lead to productive exchanges, as well as earlier and greater citation of published work (See The Effect of Open Access).