BIOAKTIVITAS DAN STUDI IN SILICO SENYAWA TURUNAN N'-BENZOYLISONICOTINOHYDRAZIDE (4-methyl, 4-chloro dan 3,5-dinitro) PADA Mycobacterium Tuberculosis (H37RV) BAKTERI GRAM POSITIF SERTA BAKTERI GRAM NEGATIF
Keywords:
In Silico, Isoniazid, In Vitro, MIC (Minimum Inhibitor Concentration).
Abstract
Isoniazid merupakan obat antituberkulosis yang memiliki aktivitas antimikobakterial yang baik yang bekerja secara aktif dengan menghambat biosintesis asam mikolat. Telah dilakukan pengujian In Vitro pada senyawa N'-(4-Methylbenzoyl) Isonicotinohydrazide N'-(4-Chlorobenzoyl) Isonicotinohydrazide dan N'-(3,5-Dinitrobenzoyl) Isonicotinohydrazide terhadap Mycobacterium tuberculosis H37Rv, bakteri gram positif serta bakteri gram negatif dengan menggunakan metode sumuran dan pada pengujian Mycobacterium tuberculosis H37Rv menggunakan metode REMA (Resazurin Microtiter Assay). Didapat nilai MIC terbaik pada senyawa N'-(3,5-Dinitrobenzoyl) Isonicotinohydrazide memiliki potensi tinggi sebagai antibakteri dengan nilai MIC 0,169 ppm terhadap bakteri e.colli. Ketiga senyawa yang diujikan pada  Mycobacterium tuberculosis H37Rv memiliki kemampuan sebagai anti tuberkulosis tetapi isoniazid lebih baik dari senyawa uji. Senyawa N'-(3,5-Dinitrobenzoyl) Isonicotinohydrazide di dockingkan pada reseptor 1KZN memiliki binding affinity yang lebih kecil dibandingkan senyawa pembanding yaitu isoniazid sebesar -6,89 kkal/mol.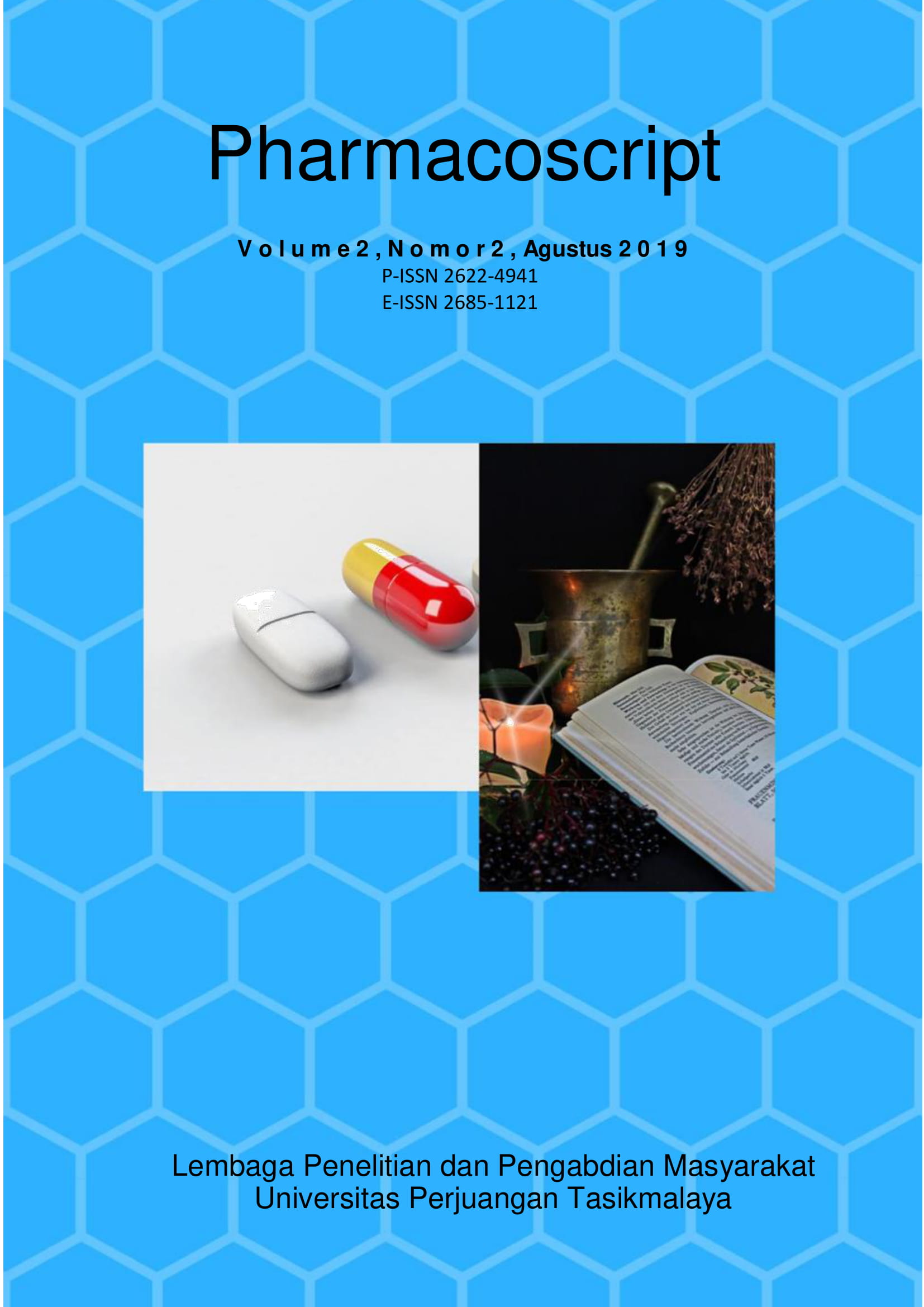 Downloads
License
Authors who publish with this journal agree to the following terms:
Authors retain copyright and grant the journal right of first publication, with the work [SPECIFY PERIOD OF TIME] after publication simultaneously licensed under a Creative Commons Attribution License that allows others to share the work with an acknowledgement of the work's authorship and initial publication in this journal.
Authors are able to enter into separate, additional contractual arrangements for the non-exclusive distribution of the journal's published version of the work (e.g., post it to an institutional repository or publish it in a book), with an acknowledgement of its initial publication in this journal.
Authors are permitted and encouraged to post their work online (e.g., in institutional repositories or on their website) prior to and during the submission process, as it can lead to productive exchanges, as well as earlier and greater citation of published work (See The Effect of Open Access).