ANALISIS SENYAWA DALAM PARFUM ISI ULANG YANG BEREDAR DI KOTA BANDUNG DENGAN METODE KROMATOGRAFI GAS-SPEKTROMETRI MASSA (KG-SM)
Keywords:
analisis komponen parfum, KGSM
Abstract
Pewangi atau parfum merupakan produk yang sangat banyak ditemukan dalam kehidupan sehari-hari. Produk parfum tidak dilengkapi dengan informasi yang cukup mengenai senyawa-senyawa yang digunakan didalamnya. Hal ini menyebabkan masyarakat tidak mengetahui potensi bahaya yang terkandung dalam parfum tersebut. Penelitian ini bertujuan menganalisis senyawa yang terdapat dalam parfum isi ulang tersebut. Analisis ini dilakukan dengan metode kromatografi gas-spektrometri massa (KG-SM). Berdasarkan hasil analisis, parfum dengan aroma yang mirip menunjukkan mengandung senyawa-senyawa yang mirip pula. Dari lima sampel yang diuji, diketahui bahwa setiap sampel mengandung sekurang-kurangnya 24 senyawa. Dari semua senyawa tersebut, baru 5 senyawa yang telah ditentukan statusnya dalam Standard IFRA, yaitu limonene dan linalool yang statusnya spesificated, benzaldehyde dan citronellol yang statusnya restricted, dan lily aldehyde yang berstatus prohibited/restricted.
References
Api, A. M. (2001). Toxicological profile of diethyl phthalate: A vehicle for fragrance and cosmetic ingredients. Food and Chemical Toxicology, 39(2), 97–108. https://doi.org/10.1016/S0278-6915(00)00124-1
Api, A. M., Belsito, D., Biserta, S., Botelho, D., Bruze, M., Burton, G. A., Buschmann, J., Cancellieri, M. A., Dagli, M. L., Date, M., Dekant, W., Deodhar, C., Fryer, A. D., Gadhia, S., Jones, L., Joshi, K., Lapczynski, A., Lavelle, M., Liebler, D. C., … Tsang, S. (2020). RIFM fragrance ingredient safety assessment, cinnamyl alcohol, CAS Registry Number 104-54-1. In Food and Chemical Toxicology. https://doi.org/10.1016/j.fct.2020.111337
Borgave, S., & Chaudhari, J. S. (2010). Adolescents' preferences and attitudes towards perfumes in India. Journal of Policy and Organisational Management, 1(2), 1–8.
Brendel, R., Schwolow, S., Rohn, S., & Weller, P. (2020). Comparison of PLSR, MCR-ALS and Kernel-PLSR for the quantification of allergenic fragrance compounds in complex cosmetic products based on nonlinear 2D GC-IMS data. Chemometrics and Intelligent Laboratory Systems, 205(May), 104128. https://doi.org/10.1016/j.chemolab.2020.104128
Guć, M., Cegłowski, M., Pawlaczyk, M., Kurczewska, J., Reszke, E., & Schroeder, G. (2021). Application of FAPA mass spectrometry for analysis of fragrance ingredients used in cosmetics. Measurement: Journal of the International Measurement Confederation, 168(May 2020). https://doi.org/10.1016/j.measurement.2020.108326
IFRA. (1995). Amendment 29 IFRA STANDARD Limonene formula : Structure : History : FRAGRANCE INGREDIENT IFRA STANDARD. 1995(Amendment 29), 1–3.
IFRA. (2004). IFRA Standards - 38th Amandement. 1–2.
IFRA. (2007). IFRA Standards - 42th Amandement. Annex 1 to the IFRA Standards.
IFRA. (2013). IFRA Standards - 47th Amandement. IFRA, 47th Amendment, 2, 2. https://ifrafragrance.org/standards/IFRA_STD48_0149.pdf
IFRA. (2020). Guidance for the Use of IFRA Standards. 45–46. https://ifrafragrance.org/docs/default-source/ifra-code-of-practice-and-standards/49th-amendment/ifra-49th-amendment-(att-01)---guidance-for-the-use-of-ifra-standardsa7006c445f36499bbb0eb141e8c0d4be.pdf?sfvrsn=7fb244c8_2
IFRA. (2021). IFRA Standards 50th Amandement - Index of IFRA Standards. 32(0). http://www.ifraorg.org/Upload/DownloadButtonDocuments/4d5e6594-9c1b-4b10-b650-3abdc0e0134a/Index of IFRA Standards 48th Amendment.pdf
Liu, S., & Zhu, Y. (2019). Determination of 27 fragrances in cosmetics and perfume raw materials by gas chromatography-mass spectrometry. Se Pu = Chinese Journal of Chromatography. https://doi.org/10.3724/SP.J.1123.2019.01045
Rodríguez-Maecker, R., Vyhmeister, E., Meisen, S., Rosales Martinez, A., Kuklya, A., & Telgheder, U. (2017). Identification of terpenes and essential oils by means of static headspace gas chromatography-ion mobility spectrometry. Analytical and Bioanalytical Chemistry, 409(28), 6595–6603. https://doi.org/10.1007/s00216-017-0613-2
Siti Zulaikha, R., Sharifah Norkhadijah, S. I., & Praveena, S. M. (2015). Hazardous Ingredients in Cosmetics and Personal Care Products and Health Concern : A Review. Public Health Research. https://doi.org/10.5923/j.phr.20150501.02
Tengku Ab Ghani, T. F., Maarof, H., & Hassan, M. N. (2014). Classification of perfume products using gas chromatography-mass spectrometry and pattern recognition. Malaysian Journal of Fundamental and Applied Sciences. https://doi.org/10.11113/mjfas.v10n3.266
Zarzo, M., & Stanton, D. T. (2006). Identification of latent variables in a semantic odor profile database using principal component analysis. Chemical Senses. https://doi.org/10.1093/chemse/bjl013
Zhang, Q., Sun, Y., Zhang, Q., Hou, J., Wang, P., Kong, X., & Sundell, J. (2020). Phthalate exposure in Chinese homes and its association with household consumer products. Science of the Total Environment, 719, 136965. https://doi.org/10.1016/j.scitotenv.2020.136965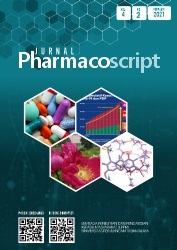 Downloads
Published
2021-08-18 — Updated on 2021-08-23
License
Copyright (c) 2021 Lisna - Egisnawati
This work is licensed under a Creative Commons Attribution-ShareAlike 4.0 International License.
Authors who publish with this journal agree to the following terms:
Authors retain copyright and grant the journal right of first publication, with the work [SPECIFY PERIOD OF TIME] after publication simultaneously licensed under a Creative Commons Attribution License that allows others to share the work with an acknowledgement of the work's authorship and initial publication in this journal.
Authors are able to enter into separate, additional contractual arrangements for the non-exclusive distribution of the journal's published version of the work (e.g., post it to an institutional repository or publish it in a book), with an acknowledgement of its initial publication in this journal.
Authors are permitted and encouraged to post their work online (e.g., in institutional repositories or on their website) prior to and during the submission process, as it can lead to productive exchanges, as well as earlier and greater citation of published work (See The Effect of Open Access).