SKRINING SENYAWA AKTIF DARI BALIK ANGIN A. excels (Fenzl) Benth. TERHADAP RESEPTOR TNF-alpha convertase (TACE) DENGAN METODE DOCKING
Indonesia
Keywords:
TNF-α, A.excels, stabilitas interaksi
Abstract
Tumor necrosis factor-alpha (TNF-α) merupakan sitokin proinflamasi yang terlibat dalam berbagai penyakit seperti radang selaput otak, rematik, asma, tuberkolosiS, periontitis kronis, crohn desease, hepatitis dan sinusitis hidung. Sehingga ekspresinya perlu dikontrol untuk mengatasi penyakit ini. Penelitian ini bertujuan melakukan skrining inhibitor reseptor TNF-alpha convertase (TACE) sehingga menurunkan ekspersi TNF-α. Dengan menurunnya produksi TNF-α maka dapat sebagai antiinflamasi atau imunosupresan. Salah satu tanaman yang dapat dipergunakan untuk skrining ini adalah A.excels. Metode yang dipergunakan untuk skrining melalui PASSonline dan Docking dengan PLANTS serta dilihat prediksi memasuki peredaran darah dengan SWISSADME. Berdasarkan PASSonline Senyawa yang memiliki skor probability to be active imunosupreasant tinggi adalah batulinic acid (0,724), alphitolic acid (0,763), cis-coumaroyl alphitolic acid (0,771). Sedangkan yang memiliki probability to be active antiinflamasi adalah batulinic acid (0,741) dan cis-coumaroyl alphitolic acid (0,783). Berdasarkan stabilitas interaksi, senyawa yang memiliki kemampuan minimal 80% terhadap ligand referensi adalah alphitonin (98,25%), alphitexolide (92,33%), cis-coumaroyl alphitolic acid (98,31%). Kesimpulannya senyawa yang berpotensi yang memiliki stabilitas interaksi yang bagus adalah cis-coumaroyl alphitolic acid dan alphitonin
References
Aggarwal, B. B., & Natarajan, K. (1996). Tumor necrosis factors: developments during the last decade. European Cytokine Network, 7(2), 93–124.
Bemelmans, M. H., van Tits, L. J., & Buurman, W. A. (1996). Tumor necrosis factor: function, release and clearance. Critical Reviews in Immunology, 16(1), 1–11. https://doi.org/10.1615/critrevimmunol.v16.i1.10
Black, R. A., Rauch, C. T., Kozlosky, C. J., Peschon, J. J., Slack, J. L., Wolfson, M. F., Castner, B. J., Stocking, K. L., Reddy, P., Srinivasan, S., Nelson, N., Boiani, N., Schooley, K. A., Gerhart, M., Davis, R., Fitzner, J. N., Johnson, R. S., Paxton, R. J., March, C. J., & Cerretti, D. P. (1997). A metalloproteinase disintegrin that releases tumour-necrosis factor-alpha from cells. Nature, 385(6618), 729–733. https://doi.org/10.1038/385729a0
Branch, G., Burgess, D., Dunstan, P., Foo, L., Green, G., Mack, J. G., Ritchie, E., & Taylor, W. (1972). Constituents of Alphitonia Species. III. Alphitexolide, a New Triterpene, and Other Extractives. Australian Journal of Chemistry, 25(10), 2209–2216. https://doi.org/10.1071/CH9722209
ChemAxon. (2016). ChemAxon - Software Solutions and Services for Chemistry and Biology. In MarvinSketch, Version 16.10.31. https://chemaxon.com/
Cock, I. E. (2020). Alphitonia excelsa (Fenzl) Benth. Leaf Extracts Inhibit the Growth of a Panel of Pathogenic Bacteria. Pharmacognosy Communications, 10(2), 67–74. https://doi.org/10.5530/pc.2020.2.14
Guo, Z., Orth, P., Wong, S.-C., Lavey, B. J., Shih, N.-Y., Niu, X., Lundell, D. J., Madison, V., & Kozlowski, J. A. (2009). Discovery of novel spirocyclopropyl hydroxamate and carboxylate compounds as TACE inhibitors. Bioorganic & Medicinal Chemistry Letters, 19(1), 54–57. https://doi.org/10.1016/j.bmcl.2008.11.034
Korb, O., Stützle, T., & Exner, T. E. (2009). Empirical scoring functions for advanced Protein-Ligand docking with PLANTS. Journal of Chemical Information and Modeling, 49(1), 84–96. https://doi.org/10.1021/ci800298z
Krieger, E., & Vriend, G. (2014). YASARA View—molecular graphics for all devices—from smartphones to workstations. Bioinformatics, 30(20), 2981–2982. https://doi.org/10.1093/bioinformatics/btu426
Lagunin, A., Stepanchikova, A., Filimonov, D., & Poroikov, V. (2000). PASS: prediction of activity spectra for biologically active substances. Bioinformatics (Oxford, England), 16(8), 747–748. https://doi.org/10.1093/bioinformatics/16.8.747
Lipinski, C. A. (2004). Lead- and drug-like compounds: the rule-of-five revolution. Drug Discovery Today. Technologies, 1(4), 337–341. https://doi.org/10.1016/j.ddtec.2004.11.007
Rodríguez, E., Arqués, J. L., Rodríguez, R., Nuñez, M., Medina, M., Talarico, T. L., Casas, I. A., Chung, T. C., Dobrogosz, W. J., Axelsson, L., Lindgren, S. E., Dobrogosz, W. J., Kerkeni, L., Ruano, P., Delgado, L. L., Picco, S., Villegas, L., Tonelli, F., Merlo, M., … Masuelli, M. (1989). Protein-Protein and Protein-Ligand Docking. Intech, 32(tourism), 137–144. https://www.intechopen.com/books/advanced-biometric-technologies/liveness-detection-in-biometrics
Systèmes, D. (2020). Free Download: BIOVIA Discovery Studio Visualizer - Dassault Systèmes.
https://discover.3ds.com/discovery-studio-visualizer-download#_ga=2.4935860.685747970.1587999055-a5d1c1c0-3176-11e9-a86f-e302515d21c8
William, S. (2021). Khasiat Tanaman Balik Angin Mengatasi Sakit Perut. https://pusakapusaka.com/balik-angin.html
Zhang, J.-M., & An, J. (2007). Cytokines, inflammation, and pain. International Anesthesiology Clinics, 45(2), 27–37. https://doi.org/10.1097/AIA.0b013e318034194e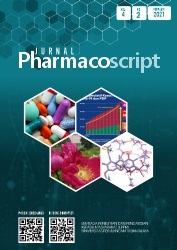 License
Copyright (c) 2021 samsul hadi
This work is licensed under a Creative Commons Attribution-ShareAlike 4.0 International License.
Authors who publish with this journal agree to the following terms:
Authors retain copyright and grant the journal right of first publication, with the work [SPECIFY PERIOD OF TIME] after publication simultaneously licensed under a Creative Commons Attribution License that allows others to share the work with an acknowledgement of the work's authorship and initial publication in this journal.
Authors are able to enter into separate, additional contractual arrangements for the non-exclusive distribution of the journal's published version of the work (e.g., post it to an institutional repository or publish it in a book), with an acknowledgement of its initial publication in this journal.
Authors are permitted and encouraged to post their work online (e.g., in institutional repositories or on their website) prior to and during the submission process, as it can lead to productive exchanges, as well as earlier and greater citation of published work (See The Effect of Open Access).