UJI AKTIVITAS IMUNOSUPRESAN SEDIAAN SIRUP EKSTRAK ETANOL DAUN BABADOTAN (Ageratum conyzoides L.) DENGAN METODE ANAFILAKSIS KUTAN AKTIF
Keywords:
Anafilaksis kutan aktif, Ageratum conyzoides L, Imunosupresan, Sediaan Sirup
Abstract
Babadotan merupakan tanaman obat yang digunakan masyarakat untuk menangani penyakit kulit, luka dan alergi. Penelitian sebelumnya menunjukkan bahwa ekstrak etanol daun babadotan terbukti memiliki aktivitas imunosupresan. Tujuan penelitian ini adalah untuk menentukan aktivitas imunosupresan sirup ekstrak etanol daun babadotan terhadap mencit jantan dengan menggunakan metode anafilaksis kutan aktif. Metode penelitian bersifat eksperimen menggunakan hewan percobaan mencit jantan galur swiss webster dibagi menjadi 5 kelompok masing-masing terdiri dari 5 mencit. Kelompok kontrol positif diberikan cetirizine 10 mg/20 g BB mencit, kelompok kontrol negatif diberikan sirup tanpa zat aktif, kelompok uji dosis 1 diberikan sediaan sirup dengan zat aktif ekstrak etanol babadotan (2,5 mg/20 g BB mencit), kelompok uji dosis 2 (5 mg/20 g BB mencit) dan kelompok uji dosis 3 (10 mg/20 g BB mencit). Pengamatan dilakukan terhadap diameter dan waktu hilangya bentolan biru. Hasil penelitian menunjukkan rata-rata diameter bentolan biru kelompok kontrol positif, kontrol negative, uji dosis 1, uji dosis 2 dan uji dosis 3 secara berturut-turut sebesar 0,52; 1,60; 1,38; 0,96 dan 0,66 cm dan waktu hilangnya bentolan biru sebesar 24,23; 120,53; 96,46; 72,46 dan 48,34 jam. Uji dosis 3 memiliki aktivitas imunosupresan paling baik karena secara statistik (p<0,05) tidak ada perbedaan signifikan data parameter yang diamati dibandingkan dengan kontrol positif. Perlu dilakukan pengujian toksisitas sediaan untuk melihat sejauh mana profil keamanannya.
References
Andhika D, Oon K, Ella N. Formulasi Dan Uji Sediaan Masker Anti Jerawat Kayu Manis (Cinamomum burmani (Nees& T Nees).Tersedia di perpustakaan Fmipa.unpak.ac.id/fileejurnal%20066109044.docx (Diakes tanggal 25 juli 2017).
Björkstén B, Clayton T, Ellwood P, Stewart A, Strachan D. (2008).Worldwide time trends for symptoms of rhinitis and conjunctivitis: Phase III of the International Study of Asthma and Allergies in Childhood. Pediatric Allergy and Immunology, 19 (2), 110–124.
Caubet., J. C., & Wang J (2011) Curents Understanding of Egg Allergy. Pediatric Clinics Of North America, 58920, 427-443
Depkes RI. (2000) Parameter Standar Umum Ekstrak Tumbuhan Obat, Cetakan Pertama, 3-11, 17-19, Dikjen POM, Direktorat Pengawasan Obat Tradisional.
Dewitasari W., Rumiyanti I (2017). Randemen dan Skrining Fitokimia pada Ekstrak Daun Sansiviera sp. Rendemen and Phytochemical Streening using Leaf extract of Sanseviera Sp. Jurnal Penelitian Pertanian Terapan, 17(3), 197-202
Kemenkes. (1979). Farmakope Indonesia Edisi Ketiga, : Departemen Kesehatan Republik Indonesia, Jakarta.
Kemenkes. (1995). Farmakope Indonesia Edisi Keempat, : Kementrian Kesehatan Republik Indonesia, Jakarta.
Kemp SF, and Lockey RF. (2002), Anaphylaxis: a review of cause and mechanisms. J Allergy Clin Immunol, 110 (3), 341-348
Kempuraj D, Madhappan B, Christodoulou S, Boucher W, Cao J, Papadopoulou N, Cetrulo CL, Theoharides TC. (2005). Flavonols inhibit proinflammatory mediator release, intracellular calcium ionlevels and protein kinase C theta phosphorylation in human mast cell. Br J pharmacol, 145(7), 934-44.
Park HH, Lee S, Son HY, Park SB, Kim MS, Choi EJ, Singh TS, Ha JH, Lee MG, Kim JE, Hyun MC, Kwon TK, Kim YH, Kim SH. (2008). Flavonoids inhibit histamin release and expression of proinflammatory cytokines in mast cells. Archieves of Pharmaceutical Research, 31(10), 3-11.
Rivai H., Misfadhila, S., Sari., K.L. (2019). Analisis Kualitatif dan Kuantitatif Kandungan Kimia dari Ekstrak Heksan, Aseton, Etanol dan Air dari Rimpang Kunyit (Curcuma domestica Val). Universitas Andalas, Padang.
Riwayanti. (2015). Reaksi hipersensitivitas atau alergi. Reaksi Hipersensitivitas atau Alergi. Jurnal Keluarga Sehat Sejahtera, 13 (2), 22-27
Singh, S. B., Devi, W. R., Marina, A., Devi, W. I., Swapana, N., & Singh, C. B. (2013). Ethnobotany, phytochemistry and pharmacology of Ageratum conyzoides Linn (Asteraceae). Journal of Medicinal Plants Research, 7(8), 371–385.
Sugarda, W.O. Dewi, K.D.C. Putra, K.W.A Yogiswara, M.B. Sukawati, C.B.A. C. Sutresna, P.A.R. Dewi, N.L.G.J. Arisanti, C.I.S. Yustiantara, P.S (2019). Formulasi Sediaan Sirup Peningkat Imunitas Dari Herba Meniran (Phylantus niruri L.). Jurnal Kimia, 13(2), 139-144.
Suhendy, H. (2019). Aktivitas Immunomodulator Ekstrak Etanol Daun Babadotan [Ageratum Conyzoides (L.)] Terhadap Mencit Jantan Galur Swiss Webster. Journal of Pharmacopolium, 2(1), 9–14.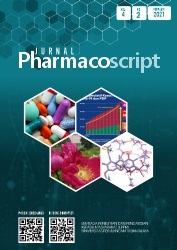 Downloads
Published
2021-08-18 — Updated on 2021-08-26
License
Copyright (c) 2021 Hendy Suhendy
This work is licensed under a Creative Commons Attribution-ShareAlike 4.0 International License.
Authors who publish with this journal agree to the following terms:
Authors retain copyright and grant the journal right of first publication, with the work [SPECIFY PERIOD OF TIME] after publication simultaneously licensed under a Creative Commons Attribution License that allows others to share the work with an acknowledgement of the work's authorship and initial publication in this journal.
Authors are able to enter into separate, additional contractual arrangements for the non-exclusive distribution of the journal's published version of the work (e.g., post it to an institutional repository or publish it in a book), with an acknowledgement of its initial publication in this journal.
Authors are permitted and encouraged to post their work online (e.g., in institutional repositories or on their website) prior to and during the submission process, as it can lead to productive exchanges, as well as earlier and greater citation of published work (See The Effect of Open Access).