3D-PHARMACOPHORE MODELING AND MOLECULAR DOCKING TO STUDY THE POTENTIAL ANTI-CANCER AGENT FROM Ficus septica Burm. L
Keywords:
Anticancer, Awar-awar leaves, Molecular docking, Pharmacophore screening
Abstract
In vitro testing showed that awar awar (Ficus septica Burm. L ) leaf had an anticancer activity. Ethanol extract from awar-awar leaves could selectively inhibit cancer cell growth with IC50 values, there were MCF7 breast cancer cells (48 µg/ml), HeLa cervical cancer cells (122.4 µg/mL), and WiDR cancer cells (75.9 µg/mL). However, the active compounds that play a role in inhibiting the three cancer cells are not yet found. Therefore, this research carried out to find out the active compound using in silico. 3D-pharmacophore modeling and Molecular docking were developed for finding out the potential compound that could be acted as an anti-cancer agent. Screening pharmacophore was performed using LigandScout® 4.4 software for searching the matching pharmacophore features against chemical structure databases. Docking was performed using Autodock Tools® and visualized using Discovery Studio Visualizer® software to see the ligand interaction with the active binding site at the receptor and continue with ADMET properties to evaluating the Pharmacodynamic activities of the Hit compounds. Among 17 types of compounds tested, 11 compounds showed anticancer activity and genistin was found promising and showed potential inhibitory characteristics as an anticancer compared to other active compounds of awar-awar leaves. This study suggests that these compound could be used as a lead compound for anticancer agents.
References
Agarwal, S., & Mehrotra, R. (2016). An overview of Molecular Docking. 4.
Anonim. (2008). Awar-awar (Ficus septica). https://ccrc.farmasi.ugm.ac.id/?page_id=67
Cheng, F., Li, W., Liu, G., & Tang, Y. (2013). In Silico ADMET prediction: Recent advances, current challenges and future trends. Current Topics in Medicinal Chemistry, 13(11), 1273–1289. https://doi.org/10.2174/15680266113139990033
Güner, O. F., & Bowen, J. P. (2014). Setting the Record Straight: The Origin of the Pharmacophore Concept. Journal of Chemical Information and Modeling, 54(5), 1269–1283. https://doi.org/10.1021/ci5000533
Kalyaanamoorthy, S., & Chen, Y.-P. P. (2011). Structure-based drug design to augment hit discovery. Drug Discovery Today, 16(17–18), 831–839. https://doi.org/10.1016/j.drudis.2011.07.006
Meng, X.-Y., Zhang, H.-X., Mezei, M., & Cui, M. (2011). Molecular Docking: A Powerful Approach for Structure-Based Drug Discovery. Current Computer Aided-Drug Design, 7(2), 146–157. https://doi.org/10.2174/157340911795677602
National Cancer Institute. (2021). What Is Cancer? https://www.cancer.gov/about-cancer/understanding/what-is-cancer
Sutedjo, I. R., Putri, H., & Meiyanto, E. (2016). Ekstrak etanolik awar-awar (ficus septica) sebagai agen kemopreventif selektif pada berbagai macam sel kanker (ethanolic leaves extract of awar-awar (ficus septica) as selective chemopreventive agent on various cancer cells). Nurse Line Journal, 1(2), 190–197.
WHO. (2019). Cancer. https://www.who.int/health-topics/cancer
Yang, H., Sun, L., Li, W., Liu, G., & Tang, Y. (2018). In Silico Prediction of Chemical Toxicity for Drug Design Using Machine Learning Methods and Structural Alerts. Frontiers in Chemistry, 6, 30. https://doi.org/10.3389/fchem.2018.00030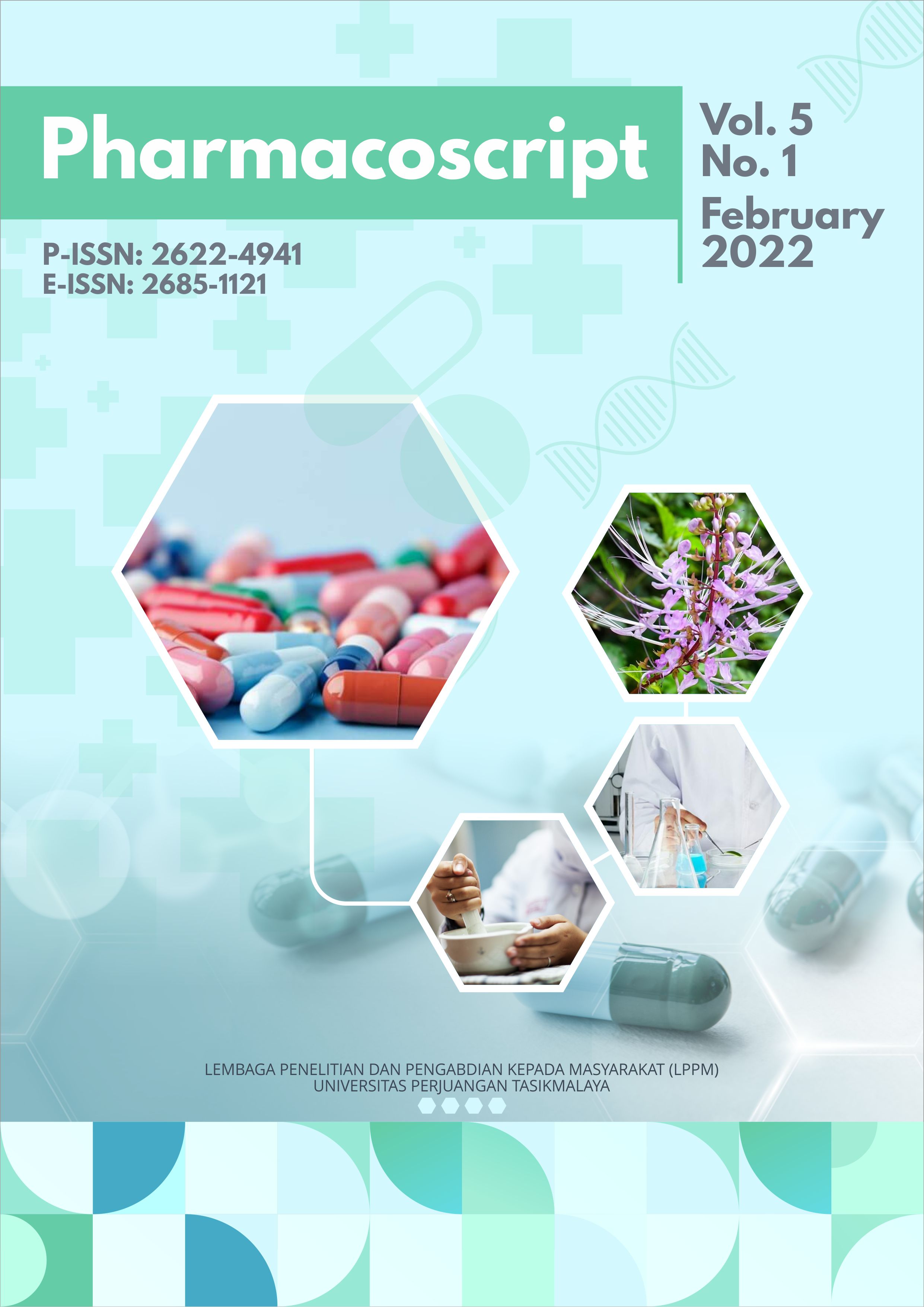 Downloads
License
Copyright (c) 2022 Sadino Asman, Permana Benny, Suherman Meilia, Ayu Noviartika Fuji
This work is licensed under a Creative Commons Attribution-ShareAlike 4.0 International License.
Authors who publish with this journal agree to the following terms:
Authors retain copyright and grant the journal right of first publication, with the work [SPECIFY PERIOD OF TIME] after publication simultaneously licensed under a Creative Commons Attribution License that allows others to share the work with an acknowledgement of the work's authorship and initial publication in this journal.
Authors are able to enter into separate, additional contractual arrangements for the non-exclusive distribution of the journal's published version of the work (e.g., post it to an institutional repository or publish it in a book), with an acknowledgement of its initial publication in this journal.
Authors are permitted and encouraged to post their work online (e.g., in institutional repositories or on their website) prior to and during the submission process, as it can lead to productive exchanges, as well as earlier and greater citation of published work (See The Effect of Open Access).