FORMULASI DAN UJI STABILITAS FISIK ESSENCE MASKER SHEET DARI EKSTRAK KULIT BUAH DELIMA (Punica granatum L.)
Keywords:
Essence, Ekstrak kulit buah delima, HPMC, Freeze drying, uji stabilitas
Abstract
Essence merupakan cairan berbahan dasar air yang mengandung ekstrak tumbuh-tumbuhan, biasanya diaplikasikan dengan selembar kertas khusus. Kulit buah delima merupakan tumbuhan yang mengandung antioksidan yang tinggi yang dapat dimanfaatkan sebagai produk perawatan kulit. Tujuan penelitian ini yaitu untuk melakukan formulasi dan uji stabilitas fisik essence dengan metode pengeringan freeze drying dan diuji stabilitasnya menggunakan metode cycling test dan suhu kamar terlindung sinar matahari maupun terpapar sinar matahari. Sediaan dibuat sebanyak 3 formula, ekstrak kulit buah delima yang digunakan yaitu 0,75% dan HPMC yang digunakan adalah 0,5% (F1), 0,75% (F2) dan 1% (F3). Evaluasi yang dilakukan meliputi uji organoleptik (warna, aroma dan tekstur), uji homogenitas, uji derajat keasaman (pH) dan uji viskositas. Hasil penelitian menunjukkan bahwa formula 1 merupakan formula terbaik dengan nilai pH 4,77, tampilan sediaan yang homogen, nilai viskositas 445 cps, dan paling stabil disimpan dalam penyimpanan suhu kamar yang terlindung sinar matahari.
References
Arikumalasari, J., Dewantara, I. G. N. A., & Wijayanti, N. P. A. D. (2013). Optimasi HPMC sebagai Gelling agent dalam Formula Gel Ekstrak Kulit Buah Manggis (Garcinia mangostana L.). Jurnal Farmasi Udayana, 2(3), 145–152.
Beringhs, A. O., Rosa, J. M., Stulzer, H. K., Budal, R. M., & Sonaglio, D. (2013). Green Clay and Aloe Vera Peel-Off Facial Masks: Response Surface Methodology Applied to the Formulation Design. AAPS PharmSciTech, 14(1), 445–455. https://doi.org/10.1208/s12249-013-9930-8
Budiman, M.H. (2008). Uji stabilitas fisik dan aktivitas antioksidan sediaan krim yang mengandung ekstrak kering tomat (Solanum lycopersicum L.). Universitas Indonesia.
Departemen Kesehatan Republik Indonesia. (1978). Materia Medika Indonesia Jilid II. Direktorat Jenderal Pengawasan Obat dan Makanan.
Departemen Kesehatan Republik Indonesia. (1979). Farmakope Indonesia Edisi III. Direktorat Jenderal Pengawasan Obat dan Makanan.
Departemen Kesehatan Republik Indonesia. (1995). Farmakope Indonesia Edisi IV. Departemen Kesehatan Republik Indonesia.
Djadjadisastra, J., & Amin, J. (2012). Uji Stabilitas Fisik Dan Aktivitas Antioksidan Formula Krim Yang Mengandung Ekstrak Kulit Buah Delima. Majalah Ilmu Kefarmasian, IX(2), 67–120.
Hanani, E. (2015). Analisis Fitokimia. Penerbit ECG.
Indriati, D. (2014). Formulasi dan Uji Efektivitas Losion Ekstrak Daun Mangkokan (Nothopanax scutellarium Merr.) dan Herba Seledri (Apium graviolens Linn.) Terhadap Laju Pertumbuhan Rambut Kelinci Jantan. Universitas Pancasila.
Kementerian Kesehatan Republik Indonesia. (2017). Farmakope Herbal Indonesia. Edisi II. Departemen Kesehatan Republik Indonesia.
Parveen, R., Akhtar, N., & Mahmood, T. (2014). Topical microemulsion containing Punica granatum extract: Its control over skin erythema and melanin in healthy Asian subjects. Advances in Dermatology and Allergology, 6, 351–355. https://doi.org/10.5114/pdia.2014.47117
Reveny, J. (2016). Formulation of Aloe Juice (Aloe vera (L) Burm.f.) Sheet Mask as Anti-Aging. International Journal of ChemTech Research, 9(7), 105–111.
Sinaga, A. A., Luliana, S., & Fahruroji, A. (2015). UJI EFEKTIVITAS ANTIOKSIDAN LOSIO EKSTRAK METANOL BUAH. Pharm Sci Res, 2(1), 11–20.
Virgita, V.M. (2015). Pemanfaatan Ketan Hitam Sebagai Masker Wajah. Universitas Negeri Semarang.
Widiastuti. (2018). Formulasi Dan Uji Stabilitas Masker Sheet Yang Mengandung Katekin Gambir (Uncaria gambir Roxb.) dan Lidah Buaya (Aloe vera Linn.). Universitas Pakuan Bogor.
Wijayati, M., Saptarini, N. M., & Herawati, I. E. (2014). Formulation of Effervescent Granule of Aloe Dry Juice as Food Supplement. Indonesian Journal of Pharmaceutical Science and Technology, 1(1), 1–6. https://doi.org/10.15416/ijpst.v1i1.7507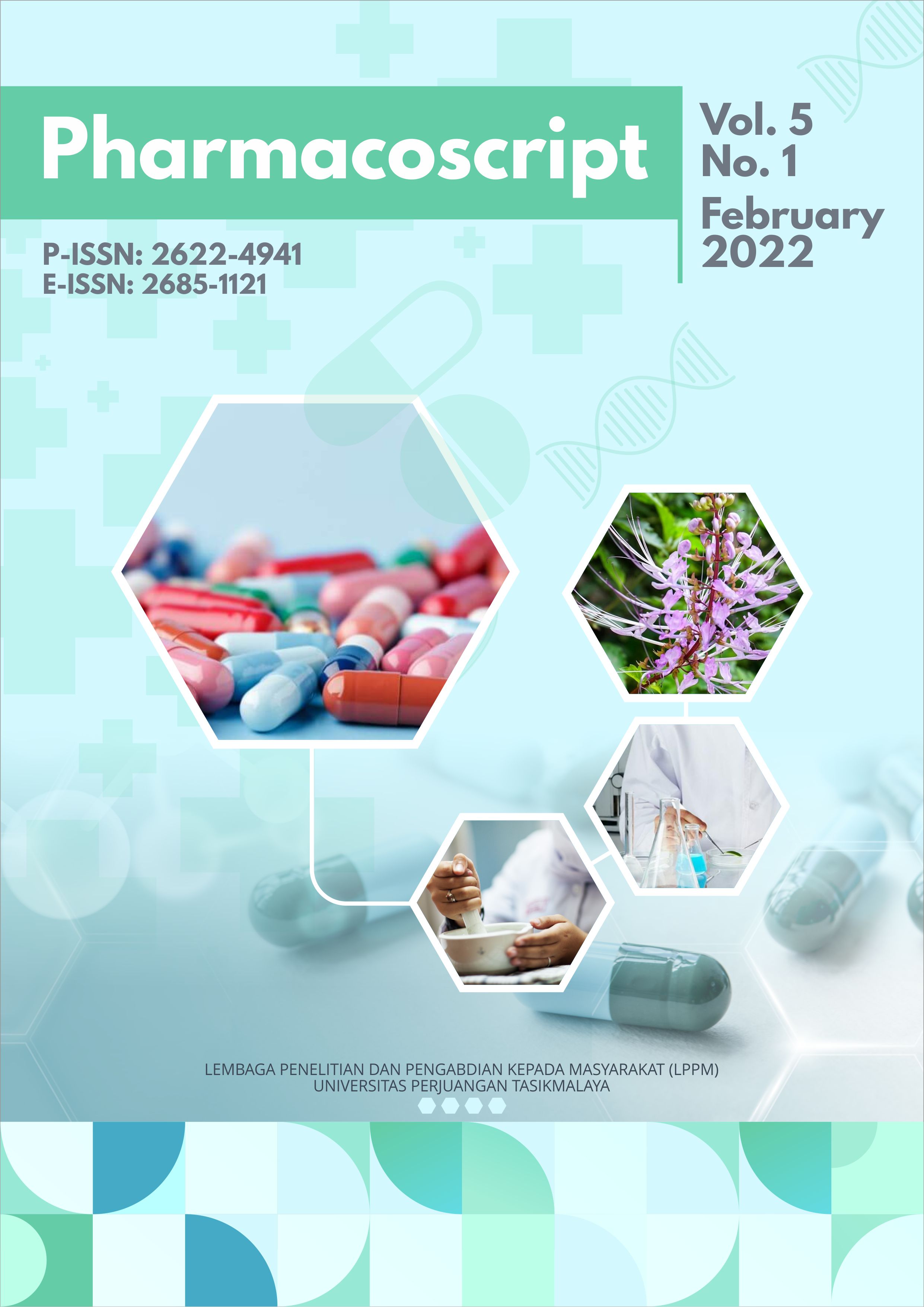 Downloads
License
Copyright (c) 2022 Rini Ambarwati, Anggraeni Wulan, Herlina Eka
This work is licensed under a Creative Commons Attribution-ShareAlike 4.0 International License.
Authors who publish with this journal agree to the following terms:
Authors retain copyright and grant the journal right of first publication, with the work [SPECIFY PERIOD OF TIME] after publication simultaneously licensed under a Creative Commons Attribution License that allows others to share the work with an acknowledgement of the work's authorship and initial publication in this journal.
Authors are able to enter into separate, additional contractual arrangements for the non-exclusive distribution of the journal's published version of the work (e.g., post it to an institutional repository or publish it in a book), with an acknowledgement of its initial publication in this journal.
Authors are permitted and encouraged to post their work online (e.g., in institutional repositories or on their website) prior to and during the submission process, as it can lead to productive exchanges, as well as earlier and greater citation of published work (See The Effect of Open Access).