Pertumbuhan Planlet Hasil Silangan Phalaenopsis pada Media Organik Kompleks
Abstract
Penelitian mengenai penggunaan tambahan  ekstrak organik sangat diperlukan untuk mendukung usahatani skala menengah ke bawah dengan adanya  paket teknologi  murah. Penelitian ini bertujuan untuk melihat respon pertumbuhan planlet anggrek Phalaenopsis menggunakan media dasar pupuk  Growmore sebanyak 2g/l yang diberi tambahan masing-masing ekstrak organik kompleks yaitu ekstrak kentang (PE), ekstrak tomat (TE), ekstrak jagung manis (CE) dan ekstrak taoge (SE) masing-masing dengan konsentrasi 75 g/l, dibandingkan dengan media Vacin & Went (VW) tanpa zat pengatur tumbuh (V0) dan VW yang diberi tambahan pepton 1g/L (P1) digunakan untuk menguji pertumbuhan embrio biji Phalaenopsis silangan 529, 508, dan 655. Hasil penelitian ini menunjukkan bahwa dari enam macam media, P1 merupakan media yang paling sesuai untuk pembesaran planlet Phalaenopsis, kemudian V0 hampir menyamai pengaruhnya seperti P1.  Ekstrak tambahan terbaik adalah ekstrak kentang (PE) sebanyak 75 g/L, selanjutnya diikuti ekstrak tomat (TE), kecambah (SE) dan terkecil pengaruhnya adalah ekstrak jagung manis. Jenis silangan tidak berpengaruh terhadap  pertumbuhan planlet pada media yang dikombinasi dengan ekstrak organik. Rekomendasi penggunaan media yang dapat diusulkan sebagai media murah berdasarkan respon planlet Phalaenopsis pada ekstrak organik yang ditambahkan pada media dasar pupuk daun adalah ekstrak kentang.
References
Aktar, S, Nasiruddin, KM & Hossain, K 2008, 'Effect of different media ang organic additives interaction on in vitro regeneration of Dendrobium orchid'. J Agric Rural Dev 6, pp. 69-74.
David D, Jawan R, Marbawi H, Gansau JA (2015) Organic additives improves the in vitro growth of native orchid Vanda helvola Blume. Not Sci Biol 7:192–197
Gnasekaran, P, Rathinam, X, Sinniah, UR & Subramaniam, S. 2010. ' A study on the use of organic additives on the protocorm-like bodies (Plbs) growth of Phalaenopsis violacea orchid'. J Phytology vol.2, no. 1, pp. 029-033.
Gnasekaran P, Poobathy R, Mahmood M, Samian MR, Subramaniam S (2012) Effects of complex organic additives on improving the growth of PLBs of Vanda Kasem's Delight. Aust J Crop Sci 6:1245–1248
Ichihashi, S & Islam, MO 1999, ' Effects of complex organic additives on callus growth in three orchid genera, Phalaenopsis, Doritaenopsis and Neofinetia'. J. Jpn. Soc. Hort. Sci, 68, pp. 269-274.
Islam, MO, Rahman, ARM, Matsui, SA & Prodan, KMA 2003, 'Effects of complex organic extracts on callus growth and PLB regeneration through embriogenesis in the Doritaenopsis orchids'. JARQ.vol. 37, no. 4.
Islam MO, Islam MS, Saleh MA (2016) Effect of banana extract on growth and development of protocorm like bodies in Dendrobium sp. orchid. Agriculturists 13:101.
Islam M, Akter M, Prodhan A (2012) Effect of potato extract on in vitro seed germination and seedling growth of local Vanda roxburgii orchid. J Bangladesh Agric Univ 9:211–215
Kongbangkerd A, Watthana S, Srimuang KO (2016) Influence of organic supplements on growth and development of in vitro shoots of Bulbophyllum dhaninivatii Seidenf. Appl Mech Mater 855:42–46
Kaplan M., Ulger S.,Kokten K., Uzun S., Oral E.V., Ozaktan H., Temizgul R., Kale H. Nutritional composition of potato (Solanum tuberosum L.) Haulms . Progress in Nutrition 2018; Vol. 20, Supplement 1: 90-95 DOI: 10.23751/pn.v20i1-S.5541
Rahman, A.R.M., O. Islam, A.K.A. Prodhan, S. Ichihashi. 2004, Effects of complex organic extracts on planlet regeneration from PLBs and planlet growth in the Doritaenopsis orchid. JARQ. 38 (1):
Shah T r, Prasad K, and Kumar P. 2016. Maize-a potential source of human nutrition and health: A review. Food Science and Technology. Rouf shah et al., Cogent Food & Agriculture (2016) 2 : 1166995
Sua Õ›rez, MH., E. M. Rodri Õ›guez Rodri Õ›guez, C. D. Romero. Chemical composition of tomato (lycopersicon esculentum) from Tenerife, The Canary Islands. Food Chemistry 106 (2008) 1046-1056
Ullah I., ali, M., and Farooqi A. 2010. Chemical and Nutritional Properties of some Maze ( zea Mays L) Varieties Grown in NWFP, Pakistan. Pakistan Joue=rnal of Nutrition 9 (11) : 1113-1117
Vyas S, Guha S, Bhattacharya M, Rao IU (2009) Rapid regeneration of plants of Dendrobium lituiflorum Lindl. (Orchidaceae) by using banana extract. Sci Hortic 121:32–37
Wongsiri S. Ohshima T, Duangmal K. Chemical composition, amino acid profile and antioxidant activities of germined Mung beans ( Vigna radiata). Journal of Food Processing and Preservation. ISSN 1745-4549. 2015 : 1-9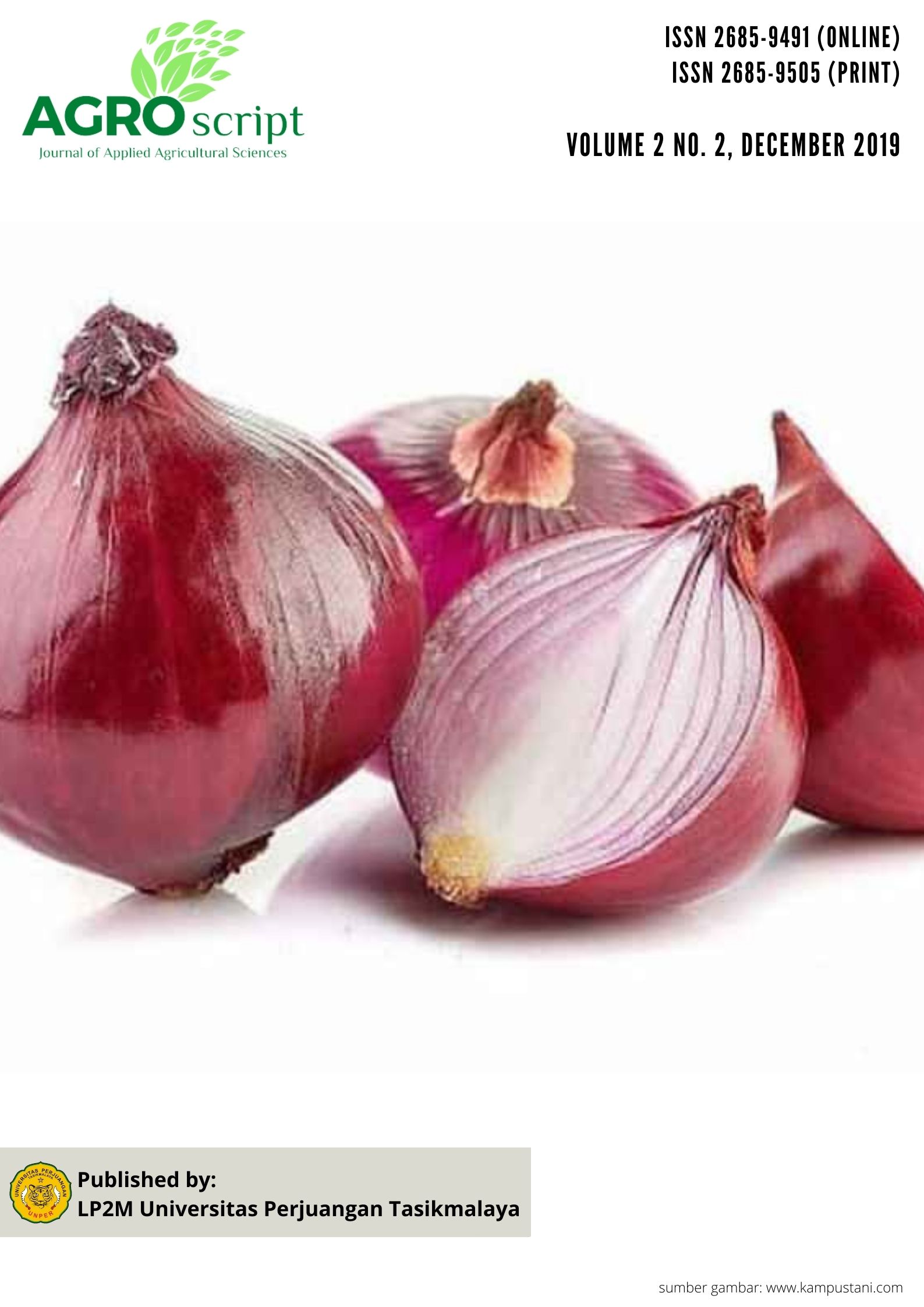 Downloads
How to Cite
Rianawati, S. .-. (2020). Pertumbuhan Planlet Hasil Silangan Phalaenopsis pada Media Organik Kompleks. AGROSCRIPT: Journal of Applied Agricultural Sciences, 1(2), 70–77. https://doi.org/10.36423/agroscript.v1i2.323
License
The Authors submitting a manuscript do so on the understanding that if accepted for publication, copyright of the article shall be transferred to AGROSCRIPT Journal of Applied Agricultural Sciences
This is an open-access journal in accordance with the Creative Commons Attribution-ShareAlike 4.0 International (CC BY-SA 4.0) license.