STIMULATING ENGLISH LEARNING IN GLOBAL KPOP COMMUNITY ON TWITTER
Abstract
This study aims to explore the phenomenon of K-pop on Twitter that can be the platform of English learning. The data gathered included writing documents like K-pop tweets, unstructured interviews and survey results. The researcher focused more on taking data from K-poper who use English as EFL (English as a foreign language). Data collection was taken by interview & poll to K-poper, observations and examination of K-pop tweets, included interactions among K-pop community on Twitter. K-pop Tweets was taken randomly with various topics by taking screenshots. The interview conducted by direct messages to some K-popers who gave consents to do the interview. The survey was executed by using Twitter's poll feature. Data analysis is carried out with a descriptive qualitative method, focused on finding the nature of the particular event on study. The finding of the study revealed that the interest of K-pop stimulates English learning for K-poper. English helps them to support and connect to their interest. The curiosity of K-pop eagers them to learn and improve English skill. It demands their self-learning in the process of improving English skill. English is a bridge to connect them with their K-pop idols. K-pop is boasting their interest to English than studying English in a classroom with a book. Keywords: English learning, learning media,K-pop, social media, Twitter
References
Alhabash, S., and Ma, M. (2017). A tale of four platforms: Motivations and uses of Facebook, Twitter, Instagram and Snapchat among college students?. SAGE Journals, pp. 1-13.
Alnujaidi, S.(2017). Social network sites effectiveness from EFL students' viewpoints. English Language Teaching Journals, pp. 39-49.
Ellison, Nicole B. (2007). Social network sites: Definition, history, and scholarship. Journal of Computer-Mediated Communication, 13/1, 210-230.
Eren, O. (2012). Students' attitudes towards using social networking in foreign language classes: A Facebook example. International Journal of Business and Social Science Vol. 3 No. 20.
Joyce, B.R., Weil, M., & Calhoun, E. (2000). Models of teaching. Pearson Education Company: Boston.
Monica, R. (2016). The definitive history Of social media. The Daily Dot. Retrieved from
https://www.dailydot.com/debug/history-of-social-media/
Obar, J. A., & Wildman, S (2015). Social media definition and the governance challenge: An introduction to the special issue. Telecommunications policy.
Yunus, M. Md., & Salehi, H. (2012).The Effectiveness of Facebook Groups on Teaching and Improving Writing Students' Perceptions.International Journal of Education and Information Technologies, 1/6, 87-96.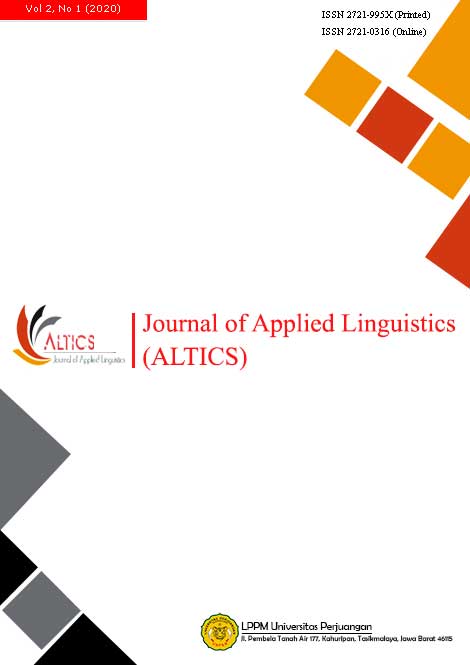 Downloads
License
As an author of the paper, you are entitled to a wide range of uses of your post, including use by your employing institution or company. There is no need to seek specific permission to exercise such author rights.
Authors and readers can copy and redistribute the material in any medium or format, as well as rewrite, turn, and expand on the material for any purpose, including for commercial purposes, but they must give appropriate credit (cite the article or content), provide a reference to the license and indicate if any changes have been made. You should distribute the contributions under the same license as the original when you remix, alter, or expand on the content.
The Authors submitting a manuscript do so on the understanding that if accepted for publication, copyright publishing of the article shall be assigned to Journal of Applied Linguistics (ALTICS) and Universitas Perjuangan Tasikmalaya.
The Copyright Transfer Form can be downloaded here