STUDENTS' PERCEPTIONS OF INSTAGRAM CAPTION AS MEDIA IN ENGLISH LANGUAGE TEACHING
Abstract
Everybody has Instagram account in this digital era. The lecturer uses Instagram as the media in English Language Teaching. The lecturer asks the students to write their idea in English as Instagram caption. This study presents the students' perceptions of using social media, Instagram. All the participants in this study are students of Mathematic Study Program who enroll in English class at Nahdlatul Ulama University Purwokerto. The data were analyzed by using both quantitative and qualitative method. The data taken from survey through questionnaire were analyzed quantitatively. Then, the researcher used qualitative analysis to present the data from interview. The finding showed that the students' perceived the advantages and disadvantages of using Instagram caption. The advantages showed that the participants have a positive perception of Instagram caption as a media in English Language Teaching. First, it stimulated the students to develop positive attitude in creative writing. Second, it improved students' grammatical competences. The last, it enhanced the students' motivation in English writing. Three disadvantages of using instagram as a media in teaching English included internet connection problem, low engagement rate of students' in Instagram, and language barrier. Some of the students still used Google Translate (GT) to ensure that their sentences were correct. Keywords: Students' Perceptions, Instagram, English Language Teaching 
References
Agustriana. (2017). Teachers' Perceptions Towards Social Media Use to Improve Professional Development and Integration in English Language Teaching. English Language and Literature International Conference (ELLiC), 1, 17-22.
Alhabash, S., and Ma, M. (2017). A Tale of Four Platforms: Motivations and Uses of Facebook, Twitter, Instagram, and Snapchat Among College Students?. SAGE Journals, pp. 1-13
Alufohai, P. (2016). Grammatical Errors in Written Composition of Junior Secondary School Students in Owan West Local Government Area of EDO State. International Journal of Academic Research in Progressive Education and Development, 6, 61-66.
Dornyei, Z. (2007). Research methods in applied linguistics quantitative, qualitative and mixed methods. Spain: Oxford University Press.
Creswell. J. W. (2012). Education Research, Planning, Conducting, and Evaluating Quantitative and Qualitative Research. Boston: Pearson Education.
Friedman, L.W. & Friedan, H.H. (2012). Using Social Media Technologies to Enhance Online Learning. Retrieved from http://thejeo.com/Archives/Volume10Number1/Friedman.pdf
Harmer, J. (2001). The Practice of English Language Teaching. London: Longman.
Ruddell, M.R. (2005). Teaching Content Reading and Writing. NJ: John Wiley & Sons. Inc.
Hornby, A.S. (2005). Oxford Advanced Learners' Dictionary of Current English. Oxford: Oxford University Press.
Kumala, B.P, Aimah, S, Ifadah, M. (2018). An Analysis of Grammatical Errors on Students Writing. English Language and Literature International Conference (ELLiC), 2, 144-149.
Muhsin, Arief. (2016). Analysing the Students Errors in Using Simple Present (A Case Study as Junior High School in Makassar). Pacific Science Review B: Humanities and Social Sciences, 2, 81-87.
Nurhayati, F.K. (2018). Teachers Perceptions Toward The Implementation of Curriculum 2013. English Language and Literature International Conference (ELLiC), 2, 76-87.
Rahmah, Rayinda, E. (2018). Quickgram for Facilitating The Students' Creative Writing Tasks. English Language and Literature International Conference (ELLiC), 2, 181-186.
Rahman, M. (2009). Approaches to Teaching Writing in Higher Education: An Enquiry from the Applied Linguistics Point of View. Stamford Journal of English, 5, 166-167.
Uddin, M. E. (2014). Teachers' Pedagogical Belief and ITS Reflection on the Practice in Teaching Writing in EFL Ter-tiary Context in Bangladesh. Journal of Education and Practice, 5, 116.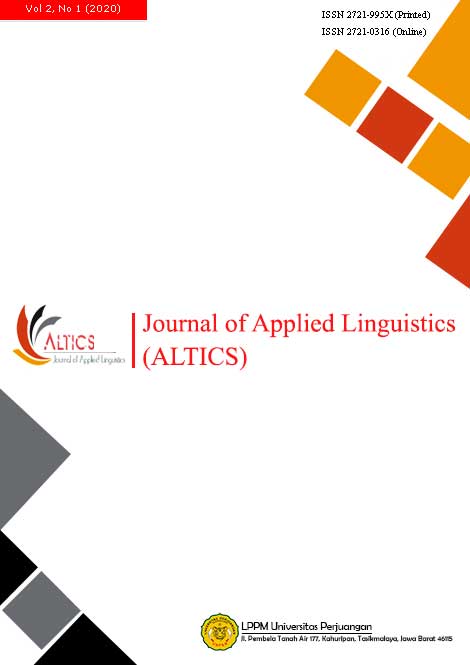 Downloads
License
As an author of the paper, you are entitled to a wide range of uses of your post, including use by your employing institution or company. There is no need to seek specific permission to exercise such author rights.
Authors and readers can copy and redistribute the material in any medium or format, as well as rewrite, turn, and expand on the material for any purpose, including for commercial purposes, but they must give appropriate credit (cite the article or content), provide a reference to the license and indicate if any changes have been made. You should distribute the contributions under the same license as the original when you remix, alter, or expand on the content.
The Authors submitting a manuscript do so on the understanding that if accepted for publication, copyright publishing of the article shall be assigned to Journal of Applied Linguistics (ALTICS) and Universitas Perjuangan Tasikmalaya.
The Copyright Transfer Form can be downloaded here