ENGLISH ZONE (EZO): A FUN ACTIVITY IN LEARNING ENGLISH SPEAKING SKILL FOR YOUNG LEARNERS
Abstract
This research aims to describe the implementation of English Zone (EZo) activities in learning English speaking skills for young learners. Employing qualitative descriptive study, this research included observation of teaching and learning process, and interview that was administered to 10 students from Kampung Sawah, West Hadimulyo. Ten meetings were observed thoroughly. Each observation took place in English language classroom every Sunday at Al-Fatimah Mosque. This research presented the implementation of English Zone (EZo) to young learners and students' responses to the implementation of EZo. The findings illuminated the powerful ways in which EZo was able to improve students' speaking skill. The students were having fun in the classroom which made them actively participate IN speaking practice with their friends or teachers. The findings further highlighted that EZo showed a good result in improving students' confidence during their speaking practice. EZo helped them to speak more and decreased hesitation. They felt more relaxed to speak.Keywords : English zone, speaking skill, young learners, activity
References
Abadi, C. P. (2015). Developing speaking skill in EFL English course. Journal on English as a Foreign Language (JEFL), 5(2), 133–140. https://doi.org/10.23971/jefl.v5i2.373
Abdulah, D. R. (2019). Promoting students' speaking spontaneity through games. Journal of Applied Linguistics (ALTICS), 1(1). Retrieved from https://www.e ournal.unper.ac.id/index.php/ALTICS/article/view/295
Apriani, E., Anshori, A., & Edy, S. (2019). Efektivitas English Zone Dalam Meningkatkan Kemampuan Berbicara Bahasa Inggris Mahasiswa di IAIN Curup. Cendikia, 17.
Creswell, J. W., & Clark, V. L. P. (2007). Designing and Conducting Mixed Methods Research. Calfornia: SAFE Publication.
Laisouw, fatmawati. (2019). The Effect of Debate Technique to Students' Speaking Ability. Langua, 2, 22.
Negara, A. L., Sukirlan, M., & Sudirman, S. (2014). An Analysis of Using Silent Way Method to Improve Young Learner Vocabulary. U-JET, 3(8). Retrieved from http://jurnal.fkip.unila.ac.id/index.php/123/article/view/6696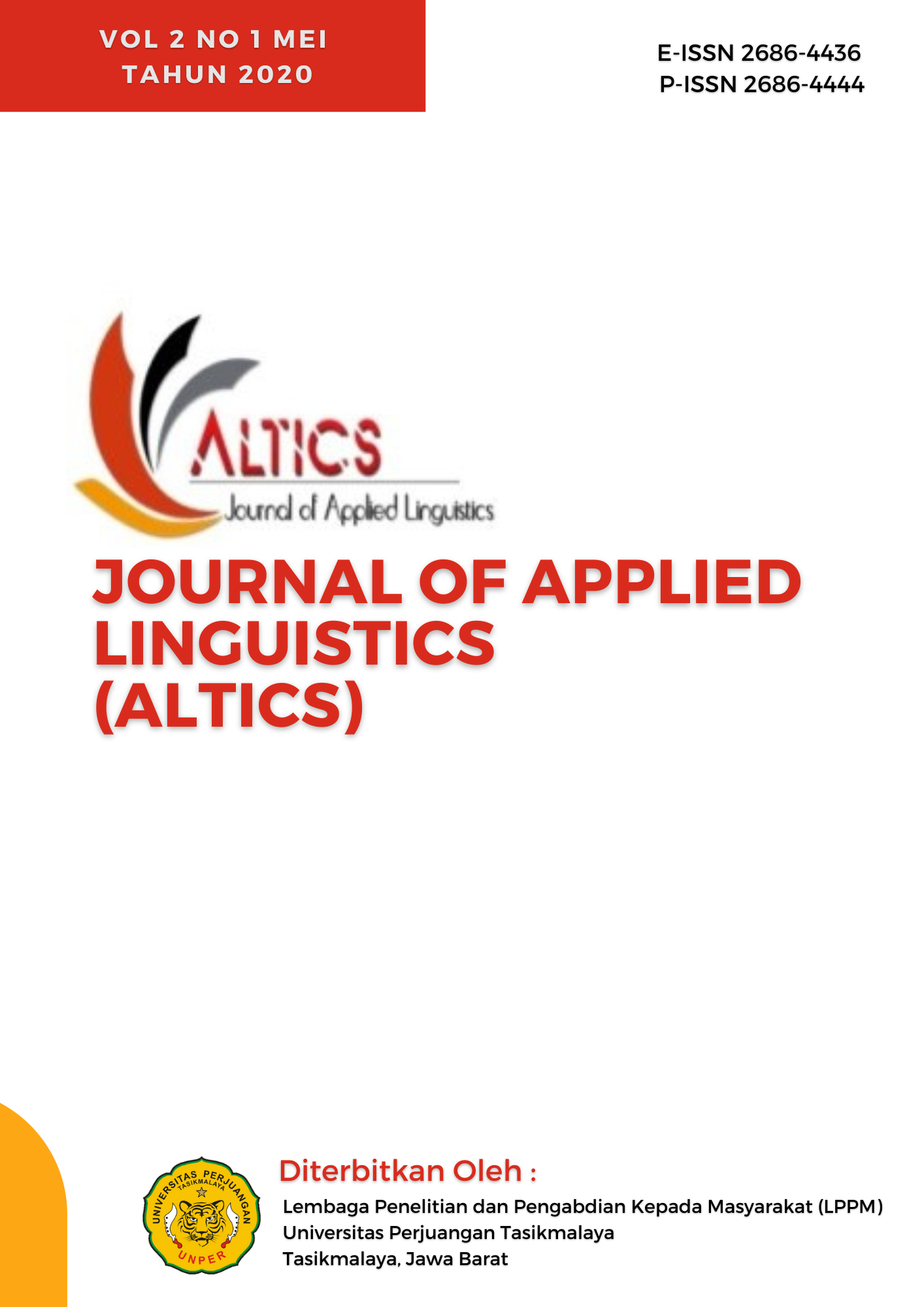 Downloads
How to Cite
Septiyana, L., widiarti, puri, sari, tika purnama, kasih, eka nur, & mukaromah, hijjriah al. (2020). ENGLISH ZONE (EZO): A FUN ACTIVITY IN LEARNING ENGLISH SPEAKING SKILL FOR YOUNG LEARNERS. Journal of Applied Linguistics (ALTICS), 2(1). https://doi.org/10.36423/altics.v2i1.432
License
CC Attribution 4.0