STUDI FARMAKOVIGILANS PADA PASIEN COVID-19
Keywords:
COVID-19, Efek samping, Farmakovigilans
Abstract
Coronavirus Disease 2019 (COVID-19) merupakan jenis SARS-CoV baru yang muncul pada bulan Desember tahun 2019 di kota Wuhan, Cina dan menyebar secara luas hampir ke seluruh negara. Jalur penyebaran virus ini sama seperti pada penularan penyakit saluran nafas. Dalam terapi pengobatannya, penyakit COVID-19 ini belum menemukan obat yang spesifik dan baru dalam tahap uji klinis. Terapi yang dilakukan dengan memberikan obat antivirus, dimaksudkan untuk menghambat sel yang terinfeksi dan menghambat virus dalam proses replikasi. Tujuan penelitian ini yaitu untuk mengetahui farmakovigilans dari obat yang dipakai sebagai obat terapi dari penyakit COVID-19 yang didapat dalam jurnal. Dengan metode penelitian secara sistematik literatur dengan menggunakan protokol PRISMA. Kata kunci untuk mendapatkan artikel adalah COVID-19 Pharmacovigilance, Side Effects of COVID-19, Drugs COVID-19 serta menggabungkan AND, OR, dan NOT. Data-base dari empat literatur yaitu PubMed, Europe PMC, Base dan Sciencedirect. Kriteria inklusi dari artikel tahun 2019-2021, berbahasa Indonesia dan Inggris, memiliki isi jurnal yang lengkap, dengan subjek manusia baik perempuan maupun laki-laki dengan golongan semua umur. Dari penelusuran didapatkan hasil sebanyak sebelas jurnal yang masuk kriteria inklusi dengan duabelas obat diantaranya Hydroxychloroquine, Chloroquine, Remdesivir, Azitromisin, Tocilizumab, Lopinavir/Ritonavir, Daruravir/Cobicistat, Ribavirin, Umifenovir, Dan Ceftriaxon, dengan efek samping yang dilaporkan paling banyak yaitu gangguan pada jantung seperti adanya perpanjangan interval QT, gangguan gastrointestinal, peningkatan enzim transminase, gagal hati, gagal ginjal akut, penurunan pendengaran, dan gangguan hepatobilier. Dari sistematik literatur ini, dapat disimpulkan bahwa obat-obat yang digunakan dalam penggunaan terapi COVID-19 menimbulkan berbagai efek samping yang tidak diinginkan sehingga diperlukan pemantauan sebelum dan sesudah terapi seperti pemantauan EKG, pemantauan kadar IL-6, serta pengecekan hasil laboratorium dalam upaya pemantauannya.
References
Abbas, H. M., Al-Jumaili, A. A., Nassir, K. F., Al-Obaidy, M. W., Al Jubouri, A. M., Dakhil, B. D., Abdulelah, M. M., & Al Khames, Q. A. (2020). Assessment of COVID-19 Treatment Containing Both Hydroxychloroquine and Azithromycin: A Natural Clinical Trial. International Journal of Clinical Practice, 75(4), 1–9. https://doi.org/10.1111/ijcp.13856
Badan Pengawas Obat dan Makanan. (2020). Modul Farmakovigilans Dasar.
Bernardini, A., Ciconte, G., Negro, G., Rondine, R., Mecarocci, V., Viva, T., Santini, F., & Innocentiis, C. De. (2020). Assessing QT Interval in COVID-19 Patients : Safety of Hydroxychloroquine- Azithromycin Combination Regimen. International Journal of Cardiology, 324, 242–248. https://doi.org/https://doi.org/10.1016/j.ijcard.2020.09.038 0167-5
BPOM. (2020). Informatoirum Obat Covid-19 di Indonesia (B. P. O. & M. R. Indonesia (ed.); Pertama). Badan Pengawas Obat & Makanan Republik Indonesia. online.flipbuilder.com/tbog/infi/mobile/index.html
Chouchana, L., Boujaafar, S., Gana, I., Preta, L. H., Regard, L., Legendre, P., Azoulay, C., Canouï, E., Zerbit, J., Carlier, N., Terrier, B., Kernéis, S., Batista, R., Treluyer, J. M., Zheng, Y., & Benaboud, S. (2021). Plasma Concentrations and Safety of Lopinavir/Ritonavir in COVID-19 Patients. Therapeutic Drug Monitoring, 43(1), 131–135. https://doi.org/10.1097/FTD.0000000000000838
Crescioli, G., Brilli, V., Lanzi, C., Burgalassi, A., Ieri, A., Bonaiuti, R., Romano, E., Innocenti, R., Mannaioni, G., Vannacci, A., & Lombardi, N. (2020). Adverse Drug Reactions In SARS Cov 2 Hospitalised Patients: A Case Series With A Focus On Drug–Drug Interactions. Internal and Emergency Medicine. https://doi.org/https://doi.org/10.1007/s11739-020-02586-8
El Ouarradi, A., Abdeladim, S., Oualim, S., Aniq Filali, R., Elharass, M., Hafid, S., Tazi, H., Naitlhou, A., Bouaiti, E. L. A., Moustaghfir, A., & Sabry, M. (2020). Hydroxychloroquine and Azithromycin as a Treatment of COVID-19: Electrocardiogram Variability. Journal of the Saudi Heart Association, 32(3), 350–357. https://doi.org/10.37616/2212-5043.1088
Falcão, F., Viegas, E., Carmo, I., Soares, J., Falcao, M., Solano, M., Cavaco, P., Mendes, D., Rijo, J., Povoa, P., Pais Martins, A., Carmo, E., Mansinho, K., Fonseca, C., Campos, L., Carvalho, A., Mirco, A., Farinha, H., Aldir, I., & Correia, J. (2021). A Prospective, Observational Study to Evaluate Adverse Drug Reactions in Patients With COVID-19 Treated with Remdesivir or Hydroxychloroquine: A Preliminary Report. European Journal of Hospital Pharmacy, 1–6. https://doi.org/10.1136/ejhpharm-2020-002613
Irmawartini, & Nurhaedah. (2017). Metodologi Penelitian (1st ed.). Kementrian Kesehatan Republik Indonesia.
Jiang, Y., Yin, W., & Xu, H. E. (2020). RNA-Dependent RNA Polymerase: Structure, Mechanism, and Drug Discovery for COVID-19. Biochemical and Biophysical ResearchCommunications, xxxx. https://doi.org/10.1016/j.bbrc.2020.08.116
Kitchenham, B. (2004). Procedures for Performing Systematic Reviews. In K. U. T. R. TR (Ed.), Department of Computer Science (Issue 1). Keele University Technical.
Nofiarny, D. (2016). Pengenalan Farmakovigilans : Apa dan Mengapa Diperlukan ? Medicinus, 29(April), 53–56.
World Health Organization. (2020). No Title. In World Health Organization.
Yofrido, F. M., Christine, I., & Harjana, L. T. (2018). Pemanjangan Interval Qt Terkoreksi (Qtc) Pada Pasien Hipokalemia Berat Dengan Penyulit Aritmia Ventrikel Fatal. Jurnal Widya Medika, 4(2), 106–113.
Yuan, J., Li, M., Yu, T. L., Lv, B., Han, B., Xiang, X., & Lu, Z. K. (2021). Pharmacotherapy Management for COVID‑19 and Cardiac Safety: A Data Mining Approach for Pharmacovigilance Evidence from the FDA Adverse Event Reporting System (FAERS). Original Research Article Pharmacotherapy. https://doi.org/https://doi.org/10.1007/s40801-021-00229-8
Zhao, H., Zhu, Q., Zhang, C., Li, J., Wei, M., Qin, Y., & Chen, G. (2020). Tocilizumab Combined With Favipiravir In The Treatment of COVID-19: A Multicenter Trial in a Small Sample Size. Biomedicine & Pharmacotherapy, 133(110825), 1–7.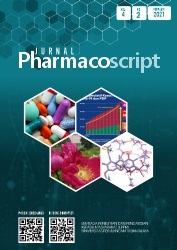 Downloads
Published
2021-08-18 — Updated on 2021-08-26
License
Copyright (c) 2021 ilham alifiar
This work is licensed under a Creative Commons Attribution-ShareAlike 4.0 International License.
Authors who publish with this journal agree to the following terms:
Authors retain copyright and grant the journal right of first publication, with the work [SPECIFY PERIOD OF TIME] after publication simultaneously licensed under a Creative Commons Attribution License that allows others to share the work with an acknowledgement of the work's authorship and initial publication in this journal.
Authors are able to enter into separate, additional contractual arrangements for the non-exclusive distribution of the journal's published version of the work (e.g., post it to an institutional repository or publish it in a book), with an acknowledgement of its initial publication in this journal.
Authors are permitted and encouraged to post their work online (e.g., in institutional repositories or on their website) prior to and during the submission process, as it can lead to productive exchanges, as well as earlier and greater citation of published work (See The Effect of Open Access).