Skrining Ketahanan Cekaman Salinitas Lima Varietas Kacang Hijau (Vigna radiata)
Keywords:
Mung Bean, Salinity, Stress
Abstract
Kacang hijau merupakan salah satu kacang-kacangan sumber vitamin (A, B1 dan C), mineral, termasuk protein, serat makanan dan sejumlah besar senyawa bioaktif. Kacang hijau di Indonesia menempati urutan ketiga sebagai tanaman pangan legum terpenting setelah tanaman kedelai dan kacang tanah. Permasalahan yang ada dalam budidaya kacang hijau adalah lahan subur yang semakin berkurang tetapi permintaan akan hasil pertanian mengalami peningkatan. Salah satu cara untuk mengatasi kebutuhan kacang hijau yang tinggi adalah dengan memanfaatkan lahan marginal seperti lahan salin. Pemanfaatan area yang memiliki salinitas dapat dilakukan dengan menggunakan tanaman yang toleran salinitas. Tujuan penelitian ini adalah untuk mengetahui pengaruh cekaman salinitas terhadap hasil produksi 5 varietas kacang hijau dan mengetahui varietas kacang hijau yang tahan terhadap cekaman salinitas. Bahan penelitian yang digunakan adalah 5 varietas kacang hijau yaitu varietas Vima 2, Vima 3, Kenari, Kutilang, Murai dan Sriti. Bahan lain yang dibutuhkan adalah NaCl yang akan dilarutkan pada 4 dosis perlakuan (0, 2, 4, 6 g.L-1). Data dari variabel pengamatan yang diamati dianalisis dengan program SAS (Statistical Analysis System), hasil analisis sidik ragam yang signifikan dilanjutkan dengan uji lanjut menggunakan uji DMRT (Duncan's Multiple Range Test). Peningkatan dosis NaCl menyebabkan pertumbuhan kelima varietas kacang hijau mengalami penurunan. Berdasarkan variabel pengamatan daya berkecambah, jumlah polong, jumlah biji dan bobot biji, varietas yang memiliki hasil tertinggi pada dosis NaCl 9 g.L-1 adalah varietas Kenari dan Vima 3.
References
Ashraf, M. (2002). Salt tolerance of cotton: Some new advances. Critical Reviews in Plant Science, 21(1), 1–30. Retrieved from: https://doi.org/10.1080/0735-260291044160.
Ashraf, M., & Harris, P.J.C. (2004). Potential biochemical indicators of salinity tolerance in plants. Plant Science, 166(1), 3–16. Retrieved from: https://doi.org/10.1016/j.plantsci.2003.10.024.
Brishti, F.H., Zarei, M., Muhammad, S.K.S., Ismail-Fitry, M.R., Shukri, R., & Saari, N. (2017). Evaluation of the functional properties of mung bean protein isolate for development of textured vegetable protein. International Food Research Journal, 24(4), 1595-1605. Retrieved from: http://www.ifrj.upm.edu.my/24%20(04)%202017/(34).pdf.
Hasanuzzaman, M., Nahar, K., Alam, Md.M., Bhowmik, P.C., Hossain, Md.A., Rahman, M.M., Prasad, M.N.V., Ozturk, M., & Fujita, M. (2014). Salt Stress in Plants. BioMed Research International. Mesir: Hindawi Publishing Corporation. Retrieved from: https://doi.org/10.1007/978-1-4614--6108-1-6.
Junandi, J., Mukarlina, M., & Linda, R. (2019). Pengaruh cekaman salinitas garam nacl terhadap pertumbuhan kacang tunggak (Vigna unguiculata L. Walp) pada tanah gambut. Jurnal Protobiont, 8(3), 101-105. Retrieved from: https://doi.org/10.26418/protobiont.v8i3.36869.
Lakitan, B. (1996). Fisiologi Pertumbuhan dan Perkembangan Tanaman. Jakarta: Raja Grafindo Persada.
Katiyar, M., Srivastava, D.K., Tomar, R., Kumar, R., & Nitesh, S.D. (2019). Salt stress restraining genotypes of mungbean (Vigna radiata L. Wilczek): gateway for genetic amelioration. International Journal of Current Microbiology and Applied Sciences, 8(12), 1063-1070. Retrieved from: https://doi.org/10.20546/ijcmas.2019.812.135.
Kementerian Pertanian. (2019). Data lima tahun terakhir. (Online). https://www.pertanian.go.id/home/?show=page&act=view&id=61. [Diakses pada tanggal 06 Januari 2022].
Koca M., Bor, M., Ozdemir, F., & Turkan, I. (2007). The effect of salt stress on lipid peroxidation, antioxidative enzymes and proline content of sesame cultivars. Environmental and Experimental Botany, 60(1), 344–351. Retrieved from: https://doi.org/10.1016/h.envexpbot.2006.12.005.
Kumar, P., Pal, M., Joshi, R., & Sairam, R.K. (2013). Yield, growth, and physiological responses of mung bean [Vigna radiata (L.) Wilczek] genotypes to waterlogging at vegetative stage. Physiol Mol Biol Plants, 19(2), 209-220. Retrieved from: https://doi.org/10.1007/s12298-012-0153-3.
Mahajan, S. & Tuteja, N. (2005). Cold, salinity and drought stresses: an overview. Achieves of Biochemistry and Biophysics, 444(2), 139–158. Retrieved from: https://doi.org/10.1016/j.abb.2005.10.018.
Manwan, I., Ismail, I. G., alihamsyah, T., & Partoharjono, S. (1992). Teknologi Pengembangan Pertanian Lahan Rawa Pasang Surut: Potensi, Relevansi, dan Faktor Penentu. Bogor: Puslitbangtan.
Naher N., A.K.M.M. Alam. (2010). Germination, growth, and nodulation of mungbean (Vigna radiata L.) as affected by sodium chloride. Int. J. Crop Prod, 5(2), 8–11.
Nasution, F.M., Hasanah, Y., & Mariati. (2020). Production response of mung bean (Vigna radiata L.) On the application of phosphorus fertilizer and oil palm bunch ash. Indonesian Journal of Agricultural Research, 3(1), 48-55. Retrieved from: http://ggfjournals.com/assets/uploads/8-111.pdf.
Parvaiz, A., & Satyawati, S. (2008). Salt stress and phyto-biochemical responses of plants – a review. Plant Soil Environ, 54(3), 89-99. Retrieved from: https://www.agriculturejournals.cz/pdfs/pse/2008/03/01.pdf.
Putri, R.S.J., Nurhidayati, T., & Budi, W. (2010). Uji ketahanan tanaman tebu hasil persilangan (Saccharum spp. Hybrid) pada kondisi lingkungan cekaman garam (NaCl) (Skripsi). Surabaya, Indonesia: Institut Teknologi Sepuluh Nopember.
Sari, M.F., Taryono, & Wulandari, R.A. (2019). Indeks ketahanan salinitas 10 klon tebu (Saccharum officinarum). Jurnal Planta Simbiosa, 1(2), 44-56. Retrieved from: https://doi.org/10.25181/jplantasimbiosa.v1i2.1487.
Sehrawat, N., Yadav, M., Bhat, K.V., Sairam, R.K., & Jaiwal, P.K. (2015). Effect of salinity stress on mungbean [Vigna radiata (l.) Wilczek] during consecutive Summer and spring seasons. Journal of Agricultural Sciences Belgrade, 60(1), 23-32. Retrieved from: https://doi.org/10.2298/JAS1501023S.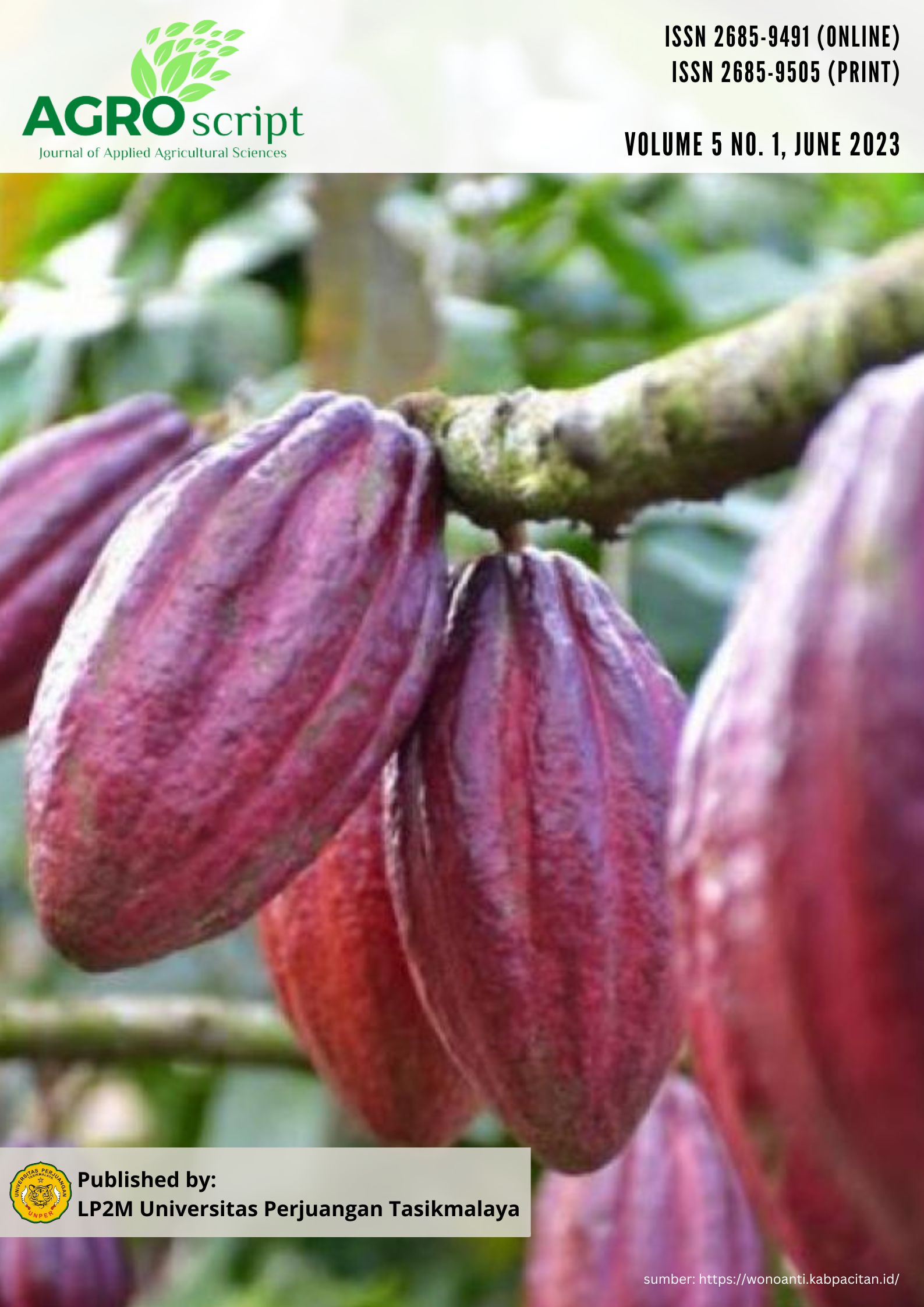 Downloads
How to Cite
Sari, M. F., Pradana, O. C. P., & Andini, S. N. (2023). Skrining Ketahanan Cekaman Salinitas Lima Varietas Kacang Hijau (Vigna radiata). AGROSCRIPT: Journal of Applied Agricultural Sciences, 5(1), 14–22. https://doi.org/10.36423/agroscript.v5i1.1220