PERCEPTION AND PREFERENCES OF GOAT BREEDERS TOWARD LIVESTOCK INSURANCE
Abstract
The paper explores goat breeders' perception and preferences toward livestock insurance. The respondents of the study were goat breeders in Manunggal IV farmers' group in Semarang Regency, Central Java Province. Descriptive analysis was used to illustrate the perception variables. The methodology was then followed by Conjoint analysis to explore the preferences of goat breeders toward livestock insurance based on three attributes. The study found that goat breeders have a negative perception toward livestock insurance product, although they are aware of climate change. The results showed that the preferences' utility of flexible premium insurance, outbreak coverage, and less than 1-month claim process are the best option. Premium insurance cost is the most important factor in the livestock insurance product.Keywords: Conjoint analysis, livestock insurance, preferences.
References
Cole, S., Bastian, G. G., Vyas, S., Wendel, C., & Stein, D. (2012). The effectiveness of index-based micro-insurance in helping smallholders manage weather-related risks. https://doi.org/978-1-907345-35-7
Daninga, P. D., & Qiao, Z. (2014). Factors Influencing Holding of Drought Insurance Contracts By Smallholders in Bunda. International Journal of Development and Economic Sustainability, 2(5), 16–30. Retrieved from http://www.eajournals.org/wp-content/uploads/Factors-Influencing-Holding-of-Drought-Insurance-Contracts-by-Smallholders-in-Bunda.pdf
Direktorat Jenderal Peternakan dan Kesehatan Hewan Republik Indonesia. (2016). Statistik Peternakan dan Kesehatan Hewan 2016/ Livestock and Animal Health Statistics 2016. Jakarta, Indonesia.
Direktorat Jenderal Prasarana dan Sarana Pertanian Kementerian Pertanian RI. (2016). Pedoman Bantuan Premi Asuransi. Jakarta, Indonesia. Retrieved from http://psp.pertanian.go.id/assets/file/2016/PEDUM AUTP 15 Jan 2016.pdf
Djunedi, P. (2016). Analisis Asuransi Pertanian di Indonesia : Konsep, Tantangan dan Prospek. Jurnal Borneo Administrator, 12(1), 9–27. https://doi.org/10.24258/jba.v12i1.209
Enjolras, G., Capitanio, F., & Adinolfi, F. (2012). The demand for crop insurance: Combined approaches for France and Italy. Agricultural Economics Review, 13(1), 5–22. https://doi.org/10.2139/ssrn.1836798
FAO. GLOSSARY OF TERMS FOR AGRICULTURAL INSURANCE AND RURAL FINANCE, FAO Agricultural Services Bulletin § (1992). Rome.
Fields, D., & Gillespie, J. (2008). Beef Producer Preferences and Purchase Decisions for Livestock Price Insurance. Journal of Agricultural and Applied Economics, 40(3), 789–803.
Fonta, W. M., Sanfo, S., Ibrahim, B., & Barry, B. (2015). Farmers Awareness, Perception of Climate Hazards and their Willingness to Participate in Crop Insurance Schemes in Southwestern Burkina Faso. Procedia Environmental Sciences, 29(Agri), 7–8. https://doi.org/10.1016/j.proenv.2015.07.127
Ghazanfar, S., Qi-wen, Z., Abdullah, M., Ahmed, J., Khan, I., & Ahmad, Z. (2015). Factors Hindering Pakistani Farmers' Choices Towards Adoption of Crop Insurance. Journal of Northeast Agricultural University (English Edition), 22(2), 92–96. https://doi.org/10.1016/S1006-8104(15)30038-6
Hill, R. V., Hoddinott, J., & Kumar, N. (2013). Adoption of weather-index insurance: Learning from willingness to pay among a panel of households in rural Ethiopia. Agricultural Economics (United Kingdom), 44(4–5), 385–398. https://doi.org/10.1111/agec.12023
Isaboke, H. N., Qiao, Z., Nyarindo, W. N., & Ke, W. (2016). EXPLAINING THE PERCEPTION OF SMALLHOLDERS TOWARDS WEATHER INDEX MICRO-INSURANCE ALONGSIDE RISKS AND COPING STRATEGIES. International Journal of Food and Agricultural Economics, 4(4), 59–77.
Iturrioz, R. (2009). Agricultural Insurance The World Bank series. Washington D.C.: The World Bank.
Liu, F., Corcoran, C. P., Tao, J., & Cheng, J. (2016). Risk perception, insurance recognition and agricultural insurance behavior–An empirical based on dynamic panel data in 31 provinces of China. International Journal of Disaster Risk Reduction, 20(October), 19–25. https://doi.org/10.1016/j.ijdrr.2016.10.005
Liu, Z. (2010). Interaction relationship between agricultural insurance and transfer of land contract rights based on game analysis of farmer selection. Agriculture and Agricultural Science Procedia, 1, 187–192. https://doi.org/10.1016/j.aaspro.2010.09.023
Ramm, G., & Steinmann, R. (2014, October 29). Agriculture insurance: freeing farmers from extreme weather risk. The Guardian.
Singgih Santoso, & Fandy Tjiptono. (2002). Riset Pemasaran: Konsep dan Aplikasi dengan SPSS. Jakarta, Indonesia: Elex Media Komputindo.
Xiu, F., Xiu, F., & Bauer, S. (2012). Farmers' Willingness to Pay for Cow Insurance in Shaanxi Province, China. Procedia Economics and Finance, 1(12), 431–440. https://doi.org/10.1016/S2212-5671(12)00049-4
Xu, J. F., & Liao, P. (2014). Crop insurance, premium subsidy and agricultural output. Journal of Integrative Agriculture, 13(11), 2537–2545. https://doi.org/10.1016/S2095-3119(13)60674-7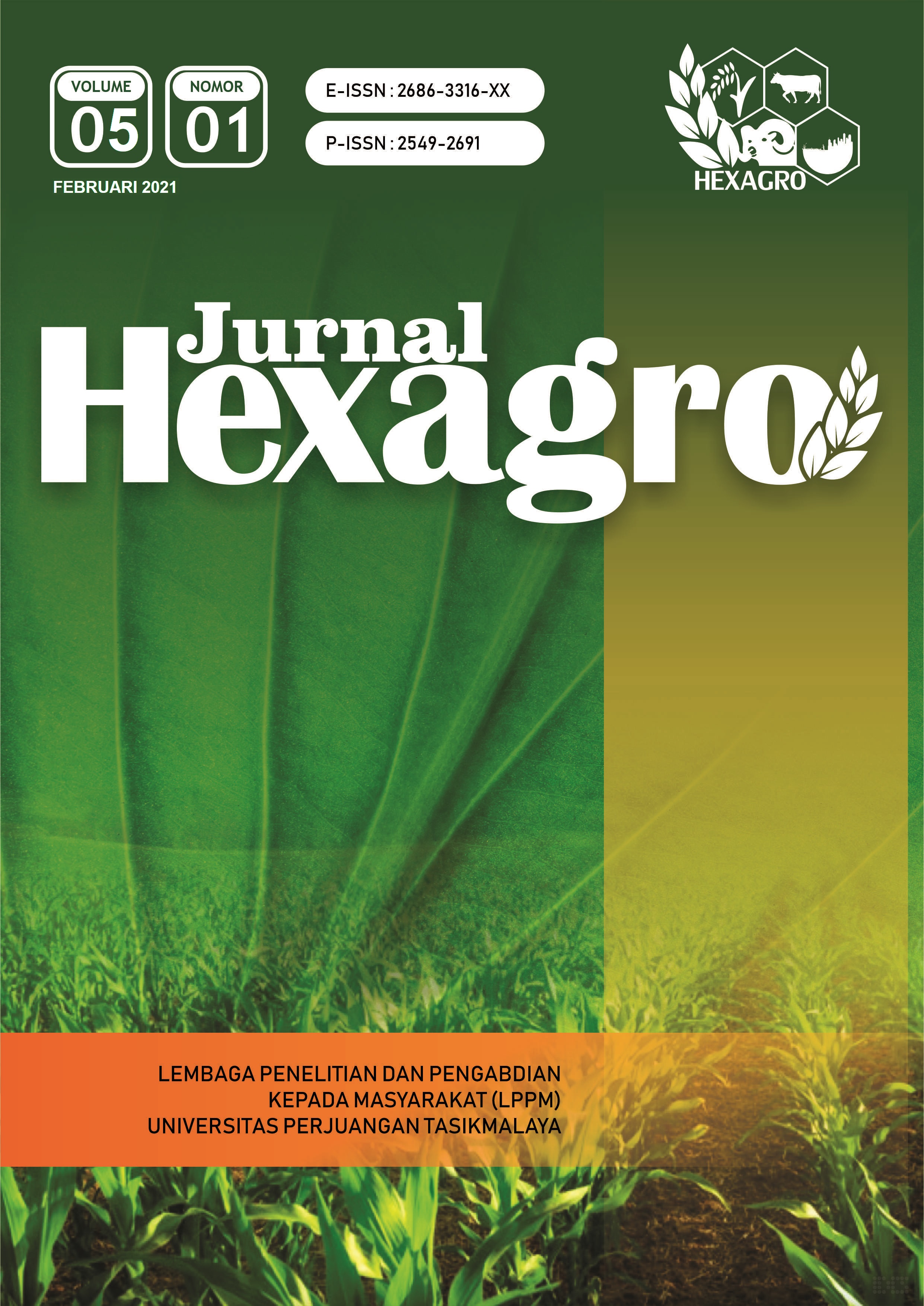 Downloads
How to Cite
Prastiwi, W. D., Handayani, M., Budiraharjo, K., & Setiyawan, H. (2021). PERCEPTION AND PREFERENCES OF GOAT BREEDERS TOWARD LIVESTOCK INSURANCE. Jurnal Hexagro, 5(1). https://doi.org/10.36423/hexagro.v5i1.572
License
Seluruh materi yang terdapat dalam situs ini dilindungi oleh undang-undang. Dilarang mengutip sebagian atau seluruh isi situs web ini untuk keperluan komersil tanpa persetujuan dewan penyunting jurnal ini.
Apabila anda menemukan satu atau beberapa artikel yang terdapat dalam Jurnal HEXAGRO yang melanggar atau berpotensi melanggar hak cipta yang anda miliki, silahkan laporkan kepada kami, melalui email.
Aspek legal formal terhadap akses setiap informasi dan artikel yang tercantum dalam situs jurnal ini mengacu pada ketentuan lisensi Creative Commons Attribution-ShareAlike (CC BY-SA).
Semua Informasi yang terdapat di HEXAGRO bersifat akademik. Jurnal HEXAGRO tidak bertanggung jawab terhadap kerugian yang terjadi karana penyalah gunaan informasi dari situs ini.