Keragaman Serangga Nokturnal dan Peranannya terhadap Agroekosistem di Kota Tasikmalaya
Abstract
Keragaman serangga dinilai dapat memberikan kontribusi terhadap kehidupan manusia, termasuk peranan serangga dalam suatu agroekosistem. Serangga memiliki berbagai peranan dalam agroekosistem meliputi serangga hama, polinator, predator, parasitoid, dan dekomposer. Monitoring serangga merupakan langkah awal yang dapat dilaksanakan guna mengetahui keragaman dan keberadaan serangga dalam suatu agroekosistem. Informasi mengenai keragaman serangga serta peranannya terhadap agroekosistem di kota Tasikmalaya masih sangat terbatas sehingga dirasa perlu untuk melaksanakan monitoring keragaman serangga. Metode yang digunakan dalam penelitian ini adalah dengan pemasangan light trap pada 6 kecamatan berbeda di kota Tasikmalaya yaitu kecamatan Cihideung, Mangkubumi, Tawang, Tamansari, Kawalu, dan Cibeureum selama tiga hari. Serangga yang terperangkap kemudian diidentifikasi dan ditentukan peranannya terhadap agroekosistem. Berdasarkan hasil pemasangan perangkap dan identifikasi, didapatkan 15 spesies serangga berbeda. Sembilan spesies berperan sebagai hama: Drosophila spp., Oryctes rhinoceros, Lepidioma stigma, Leptocorisa acuta, Acanthocephala spp., Scirpophaga innotata, Helicoperva armigera, Spodoptera frugiperda, dan Spodoptera litura. Tiga spesies sebagai polinator: Anopheles spp., Musca domestica, dan Camponotus pennsylvanicus. Dua spesies sebagai predator: Paederus fuscipes dan Ortethrum sabina. Satu spesies sebagai dekomposer: Coptotermes curvignathus.
References
Alrazik, M. U., Jahidin, J., & Damhuri, D. (2017). Keanekaragaman Serangga (Insecta) Subkelas Pterygota Di Hutan Nanga-Nanga Papalia. Jurnal Ampibi, 2(1), 1–10.
Arifin, M. (2012). Predator Hama Tanaman Dan Penular Penyakit Dermatitis. 5(1), 58–64.
Atallah, J., Teixeira, L., Salazar, R., Zaragoza, G., & Kopp, A. (2014). The making of a pest: The evolution of a fruit-penetrating ovipositor in Drosophila suzukii and related species. Proceedings of the Royal Society B: Biological Sciences, 281(1781). https://doi.org/10.1098/rspb.2013.2840
Baehaki, S. E. (2013). Hama Penggerek Batang Padi dan Teknologi Pengendalian. Iptek Tanaman Pangan, 8(1), 1–14.
Bandu, M. L., Tarore, D., & Tairas, R. W. (2018). Pest Beetle Attack (Oryctes rhinoceros L.) On Coconut Plants (Cocos nucifera L.) In Mapanget Talawaan Subdistrict North Minahasa Regency. Cocos, 1(4).
Barata, A., Santos, S. C., Malfeito-Ferreira, M., & Loureiro, V. (2012). New Insights into the Ecological Interaction Between Grape Berry Microorganisms and Drosophila Flies During the Development of Sour Rot. Microbial Ecology, 64(2), 416–430. https://doi.org/10.1007/s00248-012-0041-y
Borror, D. J., Charles, A. T., & Norman, F. J. (1992). Pengenalan Pelajaran Serangga Edisi Keenam. Yogyakarta. Gajah Mada University Press.
Buczkowski, G. (2011). Suburban sprawl: Environmental features affect colony social and spatial structure in the black carpenter ant, Camponotus pennsylvanicus. Ecological Entomology, 36(1), 62–71. https://doi.org/10.1111/j.1365-2311.2010.01245.x
Czepak, C., Cordeiro Albernaz, K., Vivan, L. M., Oliveira Guimarães, H., & Carvalhais, T. (2013). First reported occurrence of Helicoverpa armigera (Hübner) (Lepidoptera: Noctuidae) in Brazil. Pesquisa Agropecuária Tropical, 2013(1), 110–113. www.agro.ufg.br/pat
Douka, C., & Fohouo, F. N. T. (2014). Foraging and pollination activity of Musca domestica L.(Diptera: Muscidae) on flowers of Ricinus communis L.(Euphorbiaceae) at Maroua, Cameroon. Journal of Biodiversity and Environmental …, 4(3), 63–76. http://citeseerx.ist.psu.edu/viewdoc/download?doi=10.1.1.654.1888&rep=rep1&type=pdf
Early, R., González-Moreno, P., Murphy, S. T., & Day, R. (2018). Forecasting the global extent of invasion of the cereal pest Spodoptera frugiperda, the fall armyworm. NeoBiota, 50(40), 25–50. https://doi.org/10.3897/neobiota.40.28165
Fakhrah, F. (2016). Inventarisasi Insekta Permukaan Tanah Di Gampong Krueng Simpo Kecamatan Juli Kabupaten Bireuen. Jurnal Pendidikan Almuslim, 4(1), 116881.
FAO. (2019). Consultative Meeting on Fall Armyworm in Asia.
Fitriani. (2018). Identifikasi Predator Tanaman Padi (Oryza sativa) Pada Lahan Yang Diaplikasikan Dengan Pestisida Sintetik. AGROVITAL : Jurnal Ilmu Pertanian, 3(2), 65. https://doi.org/10.35329/agrovital.v3i2.208
Foster, W. A., & Takken, W. (2004). Nectar-related vs. human-related volatiles: behavioural response and choice by female and male Anopheles gambiae (Diptera: Culicidae) between emergence and first feeding . Bulletin of Entomological Research, 94(2), 145–157. https://doi.org/10.1079/ber2003288
Hasyimuddin, Syahribulan, & Usman, A. A. (2017). Peran ekologis serangga tanah di perkebunan Patallassang Kecamatan Patallassang Kabupaten Gowa Sulawesi Selatan. Prosiding Seminar Nasional Biology for Life, November, 70–78.
Houseman, R. M. (2002). Carpenter Ants. In MU Extension, University of Missourii -Columbia. University of Missouri--Columbia. Extension Division. https://hdl.handle.net/10355/51220
Indrayani, I. G. A. A., Subiyakto, S., & Chaerani, C. (2018). Pathogenicity of Entomopathogenic Nematode on Sugarcane White Grub Lepidiota stigma (Coleoptera: Scarabaeidae). Buletin Plasma Nutfah, 24(2), 83. https://doi.org/10.21082/blpn.v24n2.2018.p83-88
Leatemia, J. A., & Rumthe, R. Y. (2011). Studi kerusakan akibat serangan hama pada tanaman pangan di kecamatan bula, kabupaten seram bagian timur, propinsi maluku. Agroforestri, 6(1), 52–56.
Maharani, Y., Dewi, V. K., Puspasari, L. T., Rizkie, L., Hidayat, Y., & Dono, D. (2019). Cases of Fall Army Worm Spodoptera frugiperda J. E. Smith (Lepidoptera: Noctuidae) Attack on Maize in Bandung, Garut and Sumedang District, West Java. CROPSAVER - Journal of Plant Protection, 2(1), 38. https://doi.org/10.24198/cropsaver.v2i1.23013
Mandanayake, M. A. R. ., Amarakoon, A. M. ., Sirisena, U. G. A. ., Hemachandra, K. ., Wilson, M. R., & Kahawaththa, U. . (2014). Occurrence of Leptocorisa acuta (Thunberg) (Hemiptera : Alydidae) in Sri Lanka. Annals of Sri Lanka Department of Agriculture, 16(August 2016), 323–326.
Marwoto, & Suharsono. (2008). Strategi dan Komponen Teknologi Pengendalian Ulat Grayak (Spodoptera litura F.) Pada Tanaman Kedelai. 27(4), 131–136.
Nonci, N., Kalqutny, S. H., Mirsam, H., Muis, A., Azrai, M., & Aqil, M. (2019). Pengenalan Fall Armyworm (Spodoptera frugiperda J. E. Smith) Hama Baru Pada Tanaman Jagung di Indonesia. Kementrian Pertanian Badan Penelitian dan Pengembangan Pertanian Balai Penelitian Tanaman Serealia.
Nuessly, G., Hentz, M., & Beiriger, R. (2008). Insects That Feed on Faba Bean in Southern Florida. http://scholar.google.com/scholar?start=30&q=%22xylocopa+micans%22+pollinate&hl=en&as_sdt=0,9#0
Pinontoan, O. R., Lengkong, M., & Makal, H. V. G. (2011). HAMA PENTING TANAMAN UBI JALAR (Ipomea batatas L.(Lamb)) DI KABUPATEN MINAHASA, MINAHASA UTARA, DAN KOTA TOMOHON. Eugenia, 17(2), 114–122. https://doi.org/10.35791/eug.17.2.2011.3532
Razak, T. A., Santhakumar, T., Mageswari, K., & Santhi, S. (2014). Studies on efficacy of certain neem products against Spodoptera litura (Fab.) T. 5(1), 160–163.
Reddy, G. V. P., & Tangtrakulwanich, K. (2013). Action threshold treatment regimens for red spider mite (Acari: Tetranychidae) and tomato fruitworm (Lepidoptera: Noctuidae) on tomato. Florida Entomologist, 96(3), 1084–1096.
Rizal, S., & Hadi, M. (2015). Inventarisasi Jenis Capung (Odonata) Pada Areal Persawahan Di Desa Pundenarum Kecamatan Karangawen Kabupaten Demak. Bioma : Berkala Ilmiah Biologi, 17(1), 16. https://doi.org/10.14710/bioma.17.1.16-20
Rohman, A., & Faradisa, N. (2020). Dragonfly Diversity (Insect: Odonata) in Asem Binatur River, Pekalongan, Indonesia. Borneo Journal of Resource Science and Technology, 10(1), 79–84. https://doi.org/10.33736/bjrst.1986.2020
Saeed, S., Sajjad, A., Kwon, O., & Kwon, Y. J. (2008). Fidelity of Hymenoptera and Diptera pollinators in onion (Allium cepa L.) pollination. Entomological Research, 38(4), 276–280. https://doi.org/10.1111/j.1748-5967.2008.00187.x
Satria, R., Viet, B. T., & Eguchi, K. (2017). New synonymy and redescription of Anochetus mixtus Radchenko, 1993, and distinction from the other members of the Anochetus rugosus group (Hymenoptera: Formicidae: Ponerinae). Asian Myrmecology, 9(1993). https://doi.org/10.20362/am.009006
Shahabuddin, Hidayat, P., Nordjito, W. A., & Manuwoto, S. (2005). Research on insect biodiversity in Indonesia: Dung beetles (Coleoptera: Scarabaeidae) and its role in ecosystem. Biodiversitas, Journal of Biological Diversity, 6(2), 141–146. https://doi.org/10.13057/biodiv/d060215
Sunarto, D. A., & Subiyakto. (2020). Verification of the Implementation of Land Cover Technology with Plastic Mulch for Control of White Grubs Lepidiota stigma Fabricius in Sugarcane. 8(Iccesi 2019), 201–207. https://doi.org/10.2991/absr.k.200513.035
Sunarto, T., & Irwan, A. W. (2019). Testing of Entomopathogenic Nematode Steinernema spp. Concentration on Mortality of Lepidiota stigma F. (Coleoptera: Scarabaeidae). CROPSAVER - Journal of Plant Protection, 2(2), 77. https://doi.org/10.24198/cropsaver.v2i2.23947
Sung, I.-H., Lin, M.-Y., Chang, C.-H., Cheng, A.-S., Chen, W.-S., & Ho, K.-K. (2006). Pollinators and Their Behaviors on Mango Flowers in Southern Taiwan. Formosan Entomol, 26(January 2006), 161–170. http://citeseerx.ist.psu.edu/viewdoc/download?doi=10.1.1.607.2610&rep=rep1&type=pdf
Tampubolon, A. E., Oemry, S., & Lubis, L. (2015). Uji Daya Hidup Rayap Tanah (Coptotermes curvignathus Holmgren) (Isoptera : Rhinotermitidae) dalam Berbagai Media Kayu di Laboratorium. Online Agroteknologi, 3(3), 864–869.
Toni, I., Diba, F., & Nurhaida. (2015). Pengendalian Rayap Coptotermes Curvignathus Holmgren dengan Umpan Rayap Hexaflumuron Bentuk Briquette pada Perkebunan Kelapa Sawit ( Elaeis Guineensis Jacq). Hutan Lestari, 4(1), 9–20.
Walsh, D. B., Bolda, M. P., Goodhue, R. E., Dreves, A. J., Lee, J., Bruck, D. J., Walton, V. M., O'Neal, S. D., & Zalom, F. G. (2011). Drosophila suzukii (Diptera: Drosophilidae): Invasive pest of ripening soft fruit expanding its geographic range and damage potential. Journal of Integrated Pest Management, 2(1), 3–9. https://doi.org/10.1603/IPM10010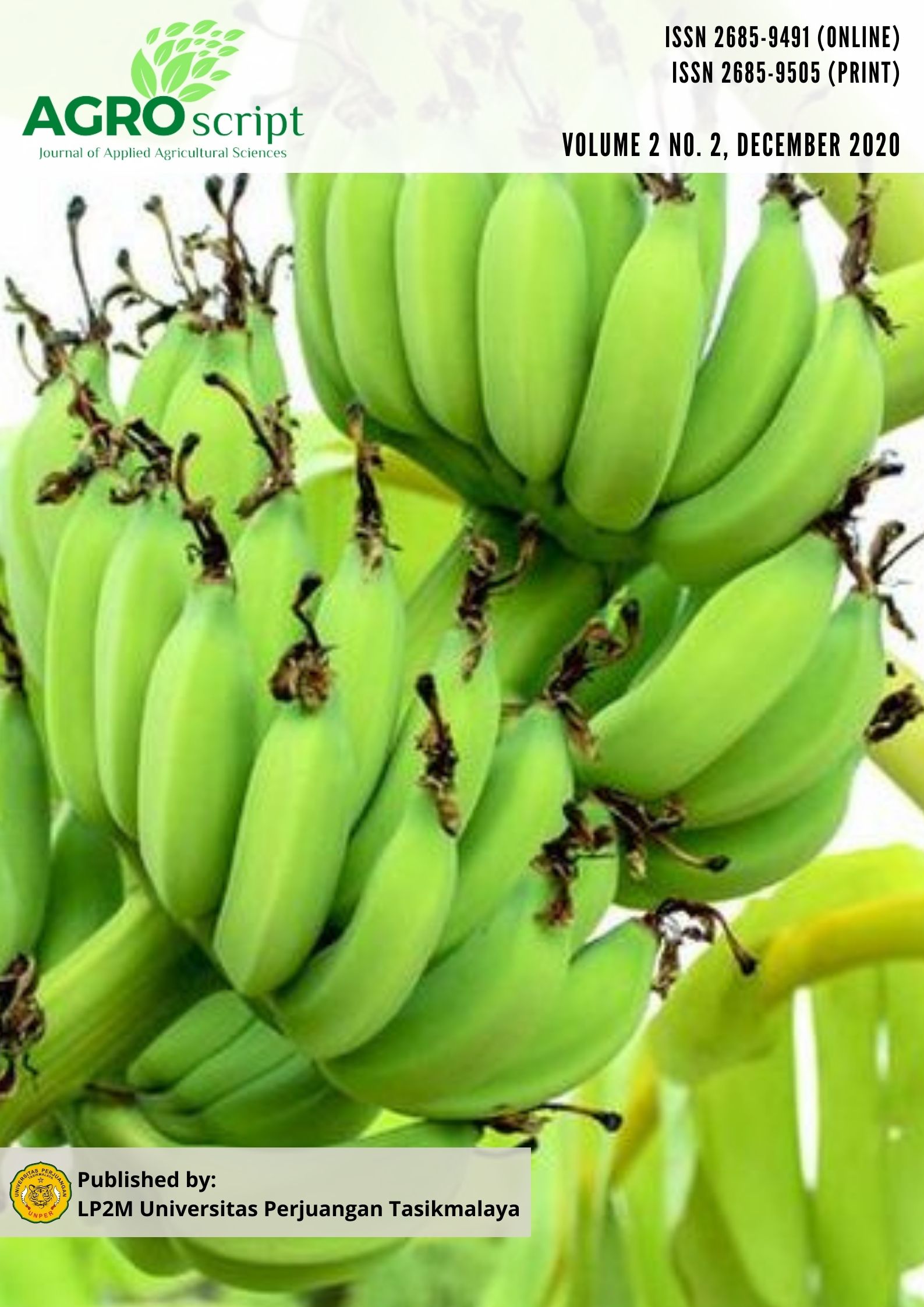 Downloads
How to Cite
Ramadhan, R. A. M., Mirantika, D., & Septria, D. (2020). Keragaman Serangga Nokturnal dan Peranannya terhadap Agroekosistem di Kota Tasikmalaya. AGROSCRIPT: Journal of Applied Agricultural Sciences, 2(2), 114–125. https://doi.org/10.36423/agroscript.v2i2.585