Pengaruh Beberapa Pupuk AB Mix terhadap Tanaman Honje (Etlingera elatior Jack)
Abstract
Honje merupakan salah satu tanaman rempah di Indonesia bermanfaat untuk obat-obatan, karena mengandung antioksidan dan anti kanker. Pemupukan menggunakan pupuk AB Mix diharapkan dapat dapat menghasilkan pertumbuhan yang optimal, produksi yang lebih tinggi dibandingkan dengan tanaman honje yang ditanam menggunakan pupuk konvensional. Penelitian dilaksanakan pada bulan Maret sampai Juni 2019 di Screen House Rusunawa Universitas Perjuangan, Kota Tasikmalaya. Rancangan percobaan menggunakan rancangan acak lengkap dengan 5 perlakuan dan 5 ulangan. Dosis pupuk yang digunakan yaitu 5 macam jenis pupuk AB Mix dengan dosis1680 ppm. Hasil penelitian menunjukkan pemberian pupuk AB Mix tidak memberikan pengaruh terhadap semua variabel pengamatan yang meliputi: tinggi tanaman, jumlah daun, panjang dan lebar daun serta jumlah rumpun tanaman honje.
References
Brady, N.C & Weil, R.R. (2002). The nature and properties of soils. 13* Edition., New Jersey. USA: Upper Saddle River.
Fithryan, D.S. (2009). Respons pertumbuhan dan produksi jahe (Zingiber officinale Rosc.) Sistem keranjang terhadap jumlah bibit dan pemberian pupuk majemuk NPK. Skripsi. Universitas Sumatera Utara. Medan.
Habsah, M., Lajis, N.H., Sukari. M.A., Yap, Y.H., Kikuzaki, H., Nakatani, N., & Ali, A.M. (2005). Antitumour-promoting and cytotoxic constituents of Etlingera elatior. Malaysian journal of Medical Sciences. 12: 6-12
Hartini, S & Puspitaningtyas, D.M. (2005). Flora Sumatera Utara eksotik dan berpotensi. Bogor (ID): Pusat Konservasi Tumbuhan Kebun Raya Bogor LIPI.
Haraguchi, H., Yuwata K, Inada K, Shingu K, Miyahara K, Nagao M, & Yagi A. (1998). Antifungal activity from a. galanga and the competition for incorporation of unsarturated fatty acid in cell growth.Plant Medicine.62 (4) : 308-313
Havlin JL, Beaton JD, Tisdale SL, & Nelson WL. (2005). Soil fertility and fertilizers. An intoduction to nutrient management. Seventh Edition. New Jersey : Pearson Education Inc. Upper Saddle River.
Homer ER. (2008). The effectnitrogen application timming on plant available phosphorus. Thesis. Graduate school of The Ohio State University. USA.
Maimulyanti A., & Prihadi A.R. (2015). Chemical composition, phytochemical and antioxidant activity from extract of Etlingera elatior flower from Indonesia. Journal of Pharmacognosy and Phytochemistry, 3(6), 233-238.
Ibrahim H & Setyowati FM. (1999). Etlingera Giseke dalam: de Guzman CC, Siemonsma JS, editors. Plant Resources of South-East Asia 13 : Spices. Leiden: Backhuys Publisher.
Silvany R., Ginting M., & Ginting A. (2016). Pengujian antioksidan minyak atsiri, ekstrak air, dan ekstrak etanol dari batang kecombrang (Etlingera elatior) dengan metode DPPH. Chempublish Journal, 1(2), 1-6.
Januwati M. (1999). Optimalisasi usaha tani tanaman jahe. Makalah disampaikan pada semi orasi di Balai Penelitian tanaman rempah dan obat Bogor, 23 Juni 1999.31 hlm.
Rahmawati E. (2018). Pengaruh berbagai jenis media tanam dan konsentrasi nutrisi larutan hidroponik terhadap pertumbuhan tanaman mentimun Jepang (Cucumis sativas). Skripsi. Fakultas Sains dan Teknologi UIN Alauddun. Makassar.
Syarif R.A., Sari F., & Ahmad A.R. (2015). Rimpang kecombrang (Etlingera elatior Jack) sebagai sumber fenolik. Jurnal Fitofarmaka Indonesia, Vol 2 (2), 102-106.
Wang YP, Houlton BZ, & Field CB. (2007). A model of biogeochemical cycles of carbon, nitrogen, and phosphorus including symbiotic nitrogen fixation and phosphatase production. Global Biogeochemical Cycles 21, 1018-1029.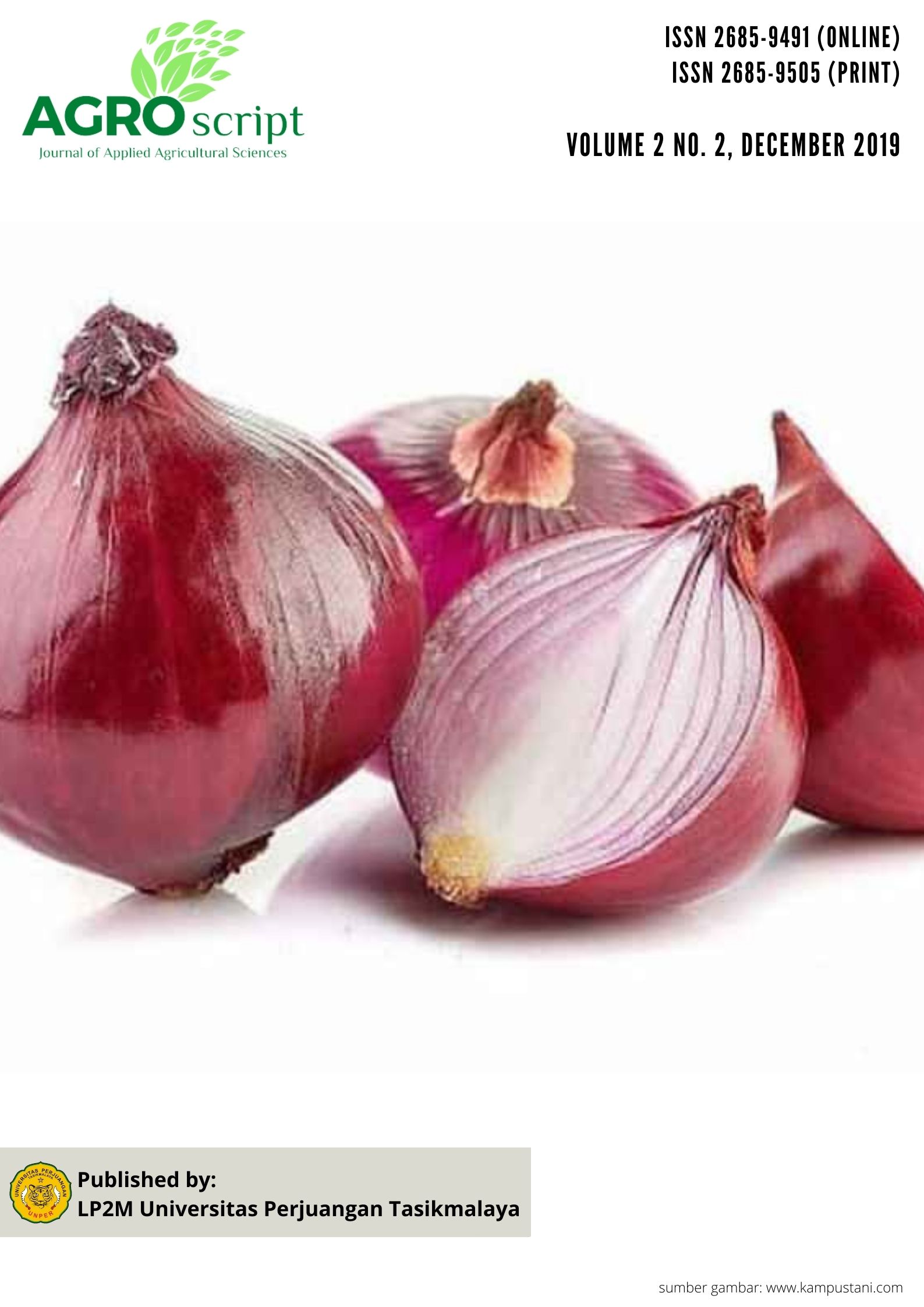 Downloads
How to Cite
Permadi, D., Rosmala, A., & Isnaeni, S. (2020). Pengaruh Beberapa Pupuk AB Mix terhadap Tanaman Honje (Etlingera elatior Jack). AGROSCRIPT: Journal of Applied Agricultural Sciences, 1(2), 101–106. https://doi.org/10.36423/agroscript.v1i2.332