PENGARUH PERAWATAN BETON (CURING) TERHADAP KUAT TEKAN BETON NORMAL
Abstract
Abstract— Concrete is a mixture consisting of sand, small stones, cement, and water that forms a solid mass. To produce good-quality concrete, concrete work control is needed, and one of those that must be considered is curing during the concrete hardening process until the planned concrete strength age. The curing is carried out to keep the concrete humid and avoid excess water evaporation that might affect the quality of the concrete negatively. This research aimed to determine the effect of three methods of curing (immersion curing method, water curing method, and natural curing method) on normal concrete compressive strength fc' 20 MPa. From the 28 days of testing, it shows the results: immersion curing method at 25,267 MPa, water curing method at 29,604 MPa, and natural curing method at 23,29 MPa. Based on the three test results above, water curing methods have a higher optimal compressive strength value than the rest of the methods, which are immersion curing methods and natural curing methods. Keywords — Concrete, curing, compressive strength. Abstrak— Beton merupakan suatu campuran yang berisi pasir, kerikil, semen dan air yang membentuk suatu masa padat. Untuk menghasilkan mutu beton yang baik diperlukan kontrol pengerjaan beton, salah satu yang harus diperhatikan ialah perawatan beton (curing) selama proses pengerasan beton sampai umur kekuatan beton yang direncanakan. Perawatan tersebut dilakukan untuk menjaga kelembapan beton dan mencegah terjadinya penguapan air berlebih yang dapat memberi pengaruh negatif terhadap mutu beton. Penelitian ini bertujuan untuk mengetahui pengaruh dari tiga metode curing (rendam, perawatan siram, dan tanpa perawatan) terhadap kuat tekan beton normal fc' 20 MPa. Dari pengujian yang dilakukan selama 28 hari diperoleh hasil sebagai berikut metode perawatan rendam sebesar 25,267 MPa, metode perawatan siram sebesar 29,604 MPa, dan metode tanpa perawatan sebesar 23,29 MPa. Berdasarkan hasil dari ketiga metode diatas, metode perawatan siram memiliki nilai kuat tekan yang lebih optimal dibandingkan dengan dua metode lainnya yaitu metode perawatan rendam dan metode tanpa perawatan. Kata kunci — beton, perawatan beton (curing), kuat tekan.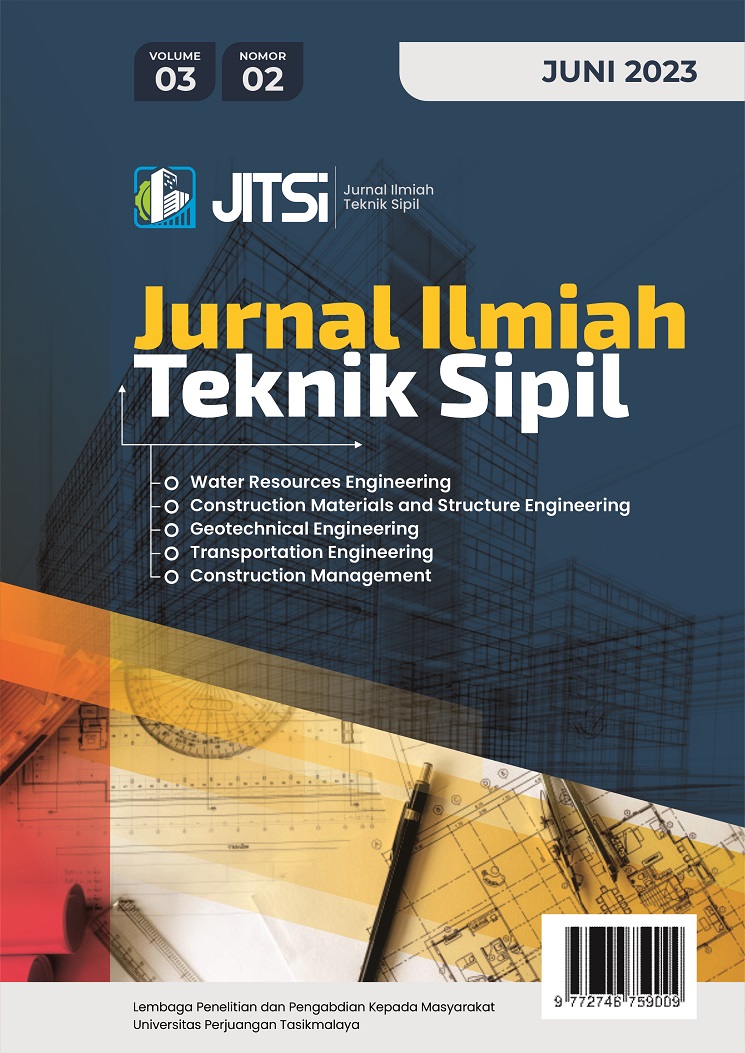 Downloads
How to Cite
Purnomo Adi, T. (2023). PENGARUH PERAWATAN BETON (CURING) TERHADAP KUAT TEKAN BETON NORMAL. JITSi : Jurnal Ilmiah Teknik Sipil, 3(2), 61–66. https://doi.org/10.36423/jitsi.v3i2.1489
License
Naskah yang diserahkan oleh penulis diserahkan pada juri (Reviewer) melalui tim editor secara anonim, serta hasil penilaian yang diberikan oleh juri (Review) untuk penulis dikembalikan secara anonim.